Finding the best camera to take with you while traveling is a complicated and constantly-evolving problem. We want small, compact, high megapixel, long battery life, something that can go from a wide-angle to super-telephoto zoom. Oh, and we want it to all fit in our pocket! It's a never-ending challenge to find better and better gear in a smaller and smaller package. Thankfully the technology is getting more advanced and providing us with more of these options, letting us get much more capability out of something actually small and close to pocket-sized.
As a long time shooter, I have owned several DSLRs, mirrorless systems, large & medium format cameras, and countless pocket / adventure / compact Point & Shoot cameras. And if you're anything like me when you travel, you want to bring them all. But if you really value your travel, adventure, and holiday memories, you'll want to invest in a proper travel camera to be sure you are able to capture each and every experience perfectly so you can share and enjoy them for years to come!
What Makes The Best Camera For Travel Photography?
Just like Matthew recently stated in his Best Landscape Photography Camera post, the best camera for travel photography isn't necessarily the best choice for all types of photography. Some of the more advanced and special features or specs are less important, while others are more important when choosing something for travel. Big cameras like the Canon 1D MkIV, Nikon D5, or Sony A9 II might be "flagship" cameras that are excellent choices for professional photography, but there are better-suited, (and more affordable!), cameras for you to bring with you on your travels that'll deliver a high-quality image in a much smaller package.
Basically, when traveling, you may not need a super-high-speed camera with a massive megapixel count and an amazing autofocus system. What you definitely need is something small, lightweight, that gives you manual control, has a decent megapixel size, has a good zoom or small interchangeable lenses, can shoot in RAW, and can survive in the elements. Why the last one? Well, who knows where you're camera will be? The extreme arid and dry heats of a desert? Or the wet raining and humid areas of the UK or Newfoundland? No matter what you'll want to have something that has some decent weather sealing or optional cases to protect your system from the elements.
To help make this search a little easier we've compiled a few different lists of cameras you can trust to deliver the performance and features that are perfect for your travel photography needs. Remember, these are just lists; for more information about the strengths and weaknesses of a specific camera, read our review(s) of that camera!
[Related Reading: 5 Useful Photography Travel Tips From A Pro]
What Features To Look For In A Good Travel Photography Camera
The best travel camera is one that combines portability, image quality, versatility, ease of use, and obviously, the price. The most important thing about a travel camera is it doesn't get in the way of you enjoying your adventure, but it still needs to be able to capture great images and provide you with a lasting memory. The big thing is we need to define what we really need out of the camera. What are our needs in a travel camera? Are you looking for something waterproof? Affordable? Interchangeable lenses or a digital zoom? Something that can do brilliant landscapes as well as do good video Vlogging?
Let's discuss some of the key features you should be aware of when picking a travel camera
Price – Obviously the price point is important. We want something that has a great quality, but doesn't cost a fortune. Depending on how much you want out of your travel camera the price can range pretty significantly, but we'll try to keep our list rather consistent
Portability – While we may want the control and quality of a giant DSLR with a bag full of lenses, the ideal camera for travel photography is small, lightweight, and can still pack a punch in the quality of its images.
Megapixels – A large megapixel system with a large full-frame sensor will give you a higher detail image, allowing you to crop in more without reducing much quality.
Weatherproofing – This one is pretty important. In your travels, you may end up in a desert, a snow-packed mountain, or in the middle of a rainstorm. So you'll want a system that can stand up to the elements, provide some protection against dust and moisture. Maybe you're considering something that can go underwater? In which case you'd want to either buy a watertight case, or a system that is waterproof already.
User-Friendly – On a travel camera, you want something that is quick and easy to use, but still has the ability to manually control all the camera settings so you can dial in the exact settings to get the perfect shot in different conditions.
RAW – RAW files save the images without any profile information (as opposed to most JPG captures), but it provides you with a larger file, containing much more information letting you have way more control over your final edits.

Consider shooting RAW for scenes like this (with High Dynamic Range).

Bonus Tip: To save memory card space, you might also consider switching back and forth from RAW to JPEG, using RAW for the scenes and moments that require more information, such as scenes with high dynamic range, and sticking to JPEG for images that will likely require less flexibility in editing.

Wifi / Bluetooth – Some cameras have the ability to create their own wifi network and/or bluetooth connections, allowing you to upload and transfer your images (raw and/or .jpg) instantly to your smartphone or computer. This is incredibly handy if you need to share an image to social media and you don't have easy access to your computer. Technically speaking, if you had enough memory cards, you may be able to go your entire trip without uploading to your computer and still share images while on the move!
Stabilization – some cameras can provide a stabilization feature to compensate for handshaking or slower shutter speeds to help you capture sharper images in low-light situations.
Video – Most cameras now come with the capability to at least capture 1080p video, some even can do 4k, or systems like the new Canon R5 can capture 8K! Likely, especially for general travel purposes, this is much more than you'd ever need, and if you pick something up that can shoot in 4k or more, the cost will likely also be higher. Also, if you're doing some Vlogging on your adventures, you'll want to look for a camera that has a screen that can flip and tilt so you can see yourself while shooting.
Interchangeable Lenses vs Zoom – This will be a big factor in what you choose. Do you want to carry around additional lenses? Some that will have a much wider aperture and incredible focal length, giving you the perfect lens for each situation for the trade-off of more things to carry. Or, find a system like the new Nikon P950 which has a zoom lens with a mind-boggling range —

Additionally on this point, if you choose a system with a fixed lens, you'll want to find something that has a "lower" f stop (f/1.4 – 4) ideally, to let you get the most out of its lens in a low light situation.

Battery Life & USB Charging – When you travel around the world, it's great to have a camera with long-lasting battery life. However, inevitably, finding the right power outlet adapter and/or charger can be tricky. Luckily, some cameras now allow you to charge the battery by connecting it (the camera) directly to a USB, so that you don't have to worry about finding the right outlet adapter! Just remember that USB charging can be a lot slower than direct battery charging on a traditional charger, and plan accordingly.
Backups and Recovery –  Taking regular backup of photos is a must. You will never know when your photos can go missing on your SD card from accidentally deleting the card or from card damage.  If that happens, be sure to try and recover missing photos from SD card such as Remo Software (or other similar programs) before giving up and calling git a loss.
Let's Look At The Best Cameras For Travel Photography
To be clear, these cameras we are listing are based on reviews and top-selling camera trends around the globe. These recommendations are based on our own, and our peers' experiences with them. These cameras are for those who want more out of their images than what you can just capture with your average smartphone. Basically, these are all systems we'd recommend to our friends and family to take when them on their travels.
These cameras all have some pros & cons when compared to each other, but each and every one of them are fantastic travel cameras in their own right. Let's dive into the list and then break them up into separate sections.
Best Travel Cameras On A Budget
Okay so we've got a great list of cameras that are options for you to take on vacation, but you want to keep the spend to a minimum. Lets figure out which cameras provide some incredible features but won't break your bank!
As luck would have it, pretty much 1/2 of our list of the best cameras for travel photography fall into the Under $500 category, making them all an incredible bang for the buck! Each of these cameras will provide you with the ability to capture in RAW format (except the GoPro), along with a plethora of other features including timers, weather sealing to varying degrees, interchangeable or zoom lens options, and with cameras like the Panasonic DC-TS7 and GoPro, completely waterproof.
Best Cameras for Travel Photography with Interchangeable Lenses
The professional photographers out there, as much as we'll complain about wanting to have something small and easy to hide in our pockets, we'll still always love and relish the ability to change out the lenses on our camera to get as much control out of our shots as possible. So here are the cameras on our Best Cameras for Travel Photography that have interchangeable lenses
These systems are all great, have a decent level of weather sealing, and all have a HUGE library of lenses available to choose from when deciding on what you really want to bring with you on your travels. If you're a perfectionist, you can fill your bags with prime lenses that have super sharp capabilities, or you can go the generalist route and find some incredible zoom-range lenses (ie the Sony a6400 has an 18-135mm f/3.5-5.6 lens that can cover practically any scenario you'd encounter while traveling.)
Best Cameras for Travel Photography with a Fixed Lens
If you're looking for something a little more on the convenient side for your travels, you'll likely be looking for something that has a fixed lens (prime or zoom), making your only tough decision being "how to frame your shot." These cameras we've found will help make capturing your memories on the road a breeze.
While the Leica Q2 is definitely on the "luxury" side of things, each of these fixed lens cameras are incredible options for you to bring with you on vacation. The Ricoh is one of the top rated cameras for candid/street photos on the market in its class, while the new NIkon P950 has an absolutely insane focal range of 24-2000mm! You can quite literally shoot the moon with it!
Best Cameras for Travel Photography that are Waterproof
If you're anything like me, you're going to want to go swimming (weather permitting), or still head out to take photos when it's pouring rain & snow. So it's important that you have a camera with great weather sealing that's designed to take on the elements, or in a few cases, go directly in and under some water! While most of the cameras on this list have pretty great weather proofing/seals, only 2 are designed to specifically go into the water with you. So if you think you'll be capturing some images in and around the water, these are the rigs for you!
The GoPro's are pretty great cameras that can do a ton of things, but in terms of a professional images they are somewhat limited. Which is why we also recommend the Panasonic Lumix DC-TS7. These guys can shoot in 4k or full HD video (like the new GoPro), but at a focal range a little less "Action camera" feeling, an ISO range of 80-6400(extended), AF Tracking, and can shoot in RAW!
Best All Round Travel Camera
At the end of the day, there are a ton of factors to consider, and personal choices to make. But after a ton of sales data, reviews, and peer research, one camera keeps coming up on the top of the list of professional photographers favorite camera, and the best for travel photography. And that is currently the Sony a6400!
The Mirrorless APS-C camera from Sony is a 24.2 megapixel camera body that weighs just around 1lb (slightly more or less depending on what lens you have attached), and is among the best selling mirrorless cameras in history! Sony has had a 6000 series camera release every few years lately, and each one includes some pretty impressive upgrades over the last generation. the 6400 boasts a much improved build quality, with a rotating touch screen (perfect for vloggers), and an absolutely insane autofocus system which includes Real-time Eye AF (including animals), and tracking for moving objects!
The a6400 will also shoot 4k video, 11fps stills (RAW),  has a great auto-white balance system and an iso range that's absolutely stellar, letting you get some great shots regardless of your lighting conditions. Plus, it has a ton of automatic shooting modes as well as full manual control for those who want to completely control every element of their shot!
While the Sony a6400 costs a little more than some of the other best cameras for travel photography on this list, ($1298 with the 18-135mm lens), there are so many features, controls, and benefits to this camera that make it a perfect choice that'll serve you for ages in your travel photography, while saving you a ton of space and weight in your bags! It truly is one of the best APS-C sensor cameras available and definitely deserves a slot on your travel bag.
Conclusion
We'll update this list if new cameras come out that are optimal for travel photography! Also, remember, even if you don't see your camera on this list, you can still get out and create beautiful photos with any camera!
(This list was last updated in 2021)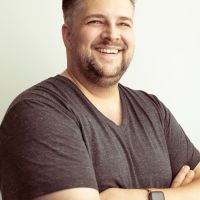 David J. Crewe
David J. Crewe is a full-time commercial photographer and Senior Editor with SLR Lounge. Based out of both Southern California & Las Vegas, Nevada. View his work and blog:
DavidJCrewe.com
Follow his Instagram:
@DavidJCrewe