Fuji has announced their X-T4 flagship camera body, and to get right to the point, it appears to offer everything you ever wanted in an APS-C flagship camera. To its already well-specced predecessor, the X-T3, Fuji has added the features that everybody wanted: from IBIS that can work together with lens-based stabilization, to a significantly improved battery, it seems every feature and performance spec has RSVP'd to this 2020 launch party. Oh, and there's a fully-articulated LCD.
We've been lucky enough to get our hands on an X-T4 for a few days, and take it out for a spin. It's been an absolute delight to work with this camera so far, and we're looking forward to using it in some even more demanding and/or professional shooting environments soon, to bring you our full review.
Specifications
Sensor: 26-megapixel X-Trans CMOS APS-C (23.5×15.6mm)
ISO: 160-12800 (80-51200 extended)
 Shutter: 15 FPS mechanical shutter, 300,000 actuation rating, 20 FPS electronic shutter, 30 FPS electronic shutter @ 1.25x crop
Autofocus: 425-point, Phase-Detect autofocus, face/eye AF, -6EV low-light capability
Physical Construction: Metal body, fully weather-sealed
Stabilization: Sensor-based stabilization, 5-6.5 EVs, (depending on lens)
Video: 4K @ 60 fps,  1080p @ 240 fps, 10-bit F-LOG
Memory Cards: SD, dual card slots, UHS-2
Battery: 600-shot CIPA rating (eco mode), 500-shot CIPA rating, up to 1700-shot with battery grip (3x batteries!)
Size & Weight: 134x92x63mm, 607g w/battery
Availability & Price: As early as April, $1699
Fuji X-T4 vs Fuji X-T3 | What's New?
Compared to the already impressive X-T3, what does the X-T4 have to offer? At first glance, from the front and top, it does look relatively identical. Then, when you look at the rear of the camera, and maybe then the bottom, (hint, open the battery door!) …you'll see a couple of very significant differences: a fully articulated LCD, and a relatively large battery.
Another mechanical feature that you might not notice is, of course, the IBIS. It's pretty advanced, too, with 5-6.5 EVs of stabilization capability, plus the ability to work in conjunction with lens-based IS, as well as a digital stabilization (with a 1.25x crop) that can offer even more.
Additionally, the autofocus is improved with new AF tracking, face/eye detection, although it has the same number of AF points. This is something we're especially excited to take to some more challenging situations, such as low-light wedding portraits and candids. (As if tracking a bee in flight wasn't challenging enough?)
By the way, the Fuji X-T3 isn't going anywhere, actually. At its noticeably lower price point of $1299, Fuji plans to keep making the X-T3 for those who find it to be already more than enough "flagship" for their needs. (Hint, if the sensor and overall weather-sealing are indeed the same, then landscape and nightscape photographers might find some great opportunities to jump on an X-T3 soon!)
Initial Review
We reviewed the X-T3 recently, and it stood as basically the only truly flagship APS-C mirrorless camera on the market. the X-T4 improves on that. With that in mind, here's what we're finding so far about the X-T4…
Fuji X-T4 | Image Quality
It's too early to call it an official lab test, but suffice it to say, the fact that Fuji uses a different sensor array from other camera makers is clearly to their great benefit- as always, their flagship sensor has truly incredible image quality. Beautiful colors, incredible detail/resolution, …and these are just the JPG files, by the way!
Both the overall dynamic range and the noise levels are truly impressive; we felt comfortable shooting at ISOs  that we wouldn't have even accepted on the oldest generations of full-frame digital cameras. ISO 3200 and even 6400 are clean and impressive, like they were on the X-T3. (We're told it's the same sensor, but again, we'll wait until we can get a few hundred or a few thousand raw files processed from real-world work before we make a judgment call.)
Oh, and since we've been reviewing a camera based on its JPG files so far, we ought to mention just how beautiful Fuji's colors overall are. Whether you're shooting JPG (or TIF, they now offer 8-bit and 16-bit TIF format, too!) …or you're shooting raw files, you'll likely find that Fuji's sensors aren't just about the geeky stuff like dynamic range; they also offer beautiful colors that folks generally love, from portrait photographers to landscapes & wildlife…
Fuji X-T4 | Build Quality & Design
When I say "flagship camera body", you probably think of the utterly enormous camera bodies like the Canon 1D-series or the Nikon D5, etc. Rest assured, however, the Fuji X-T4 is built like a flagship. Despite its relatively compact size and weight, as soon as you pick it up you feel that it's a solid, durable workhorse of a camera.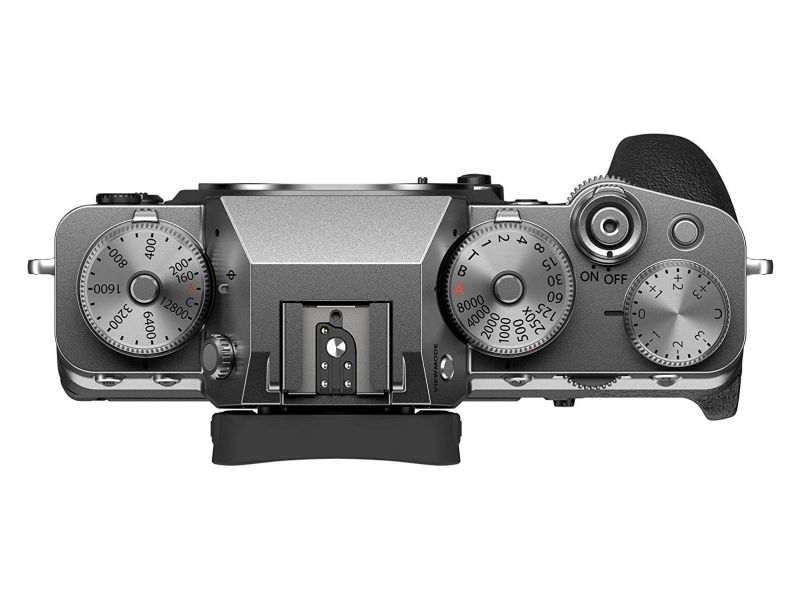 The physical design, being similar/identical to the X-T3, does still leave me wishing for a slightly bigger, deeper grip as with all of the other Fuji cameras we've handled. Also, the rear AF point control joystick is the same small-ish, smooth bump that we wish was just a little bigger and more grippy.
Other than these quibbles, the camera itself is a fantastic combination of mechanical elegance (and, let's be honest, is one of the best-looking cameras on the market) …plus overall professional quality.
Fuji X-T4 | Features & Functions
What can we say? When it comes to features, Fuji seems to have a loud-and-clear message for its competitors: "this is how it's done!" Clearly, they're listening to everything their users are asking for, and adding everything they can possibly cram into the camera.
Yes, there's the one thing that everybody missed in the X-T3: IBIS. There's also the fully-articulated LCD screen, the improved battery, and the improved autofocus.
Of course, these features alone could be  Fuji's answer to the trend of, "is it an upgrade, or an update?" seen with many other camera makers over the years. However, the X-T4 didn't stop there. It also has quite a few other very useful features, such as an (accessory) battery grip that holds two batteries while the camera itself still holds the 1st battery, effectively allowing three, yes three, batteries.
Oh, and speaking of the batteries, no, an external charger is apparently not included, however, the provided USB-C charger is very special- it puts 3 amps (9 volts) into the camera, which is enough juice to charge the in-camera battery very quickly.
Simply put, it's hard to find anything missing from the camera. For those who will snarkily comment and say, "but it's not full-frame!" well, remember this: Fuji's flagship sensor is among the cleanest APS-C sensor on the market, which to many photographers negates the need for full-frame in terms of overall image quality.
Then, if that's not enough, let's remind ourselves that Fuji's X-mount lens lineup is the most complete of any APS-C system, with numerous flagship-grade f/1.4 and even f/1.2 prime lenses to choose from. This really helps make any desires for ultra-shallow depth (DOF) very easy to achieve with this "cropped" sensor.
Just about the only thing missing is a headphone jack/port. This is, admittedly, a pretty surprising omission, considering how perfect of a camera the X-T4 is in every other way. The X-T3 has one, so we're not sure why it was dropped from the X-T4; there's plenty of space on that "port" side of the camera. (Okay, has anybody else laughed at the "nautical dad joke" that is the fact that most camera ports are, in fact, on the PORT side of the camera?)
To be fair, you can use a USB-C adapter to gain the functionality of headphones, but one huge advantage to having direct pass-through of USB power (something Canon and Nikon mirrorless still doesn't have, BTW, while Sony does) …is that you can just velcro an Anker 10-20,000 mAh battery to your SmallRig or tripod leg, and shoot video for an entire 10-12+ hour wedding without ever changing your battery.
So, I guess it's a good thing the X-T4 battery pack allows you to use THREE batteries, lol; that's probably enough to get through any long day, even shooting video…
So, in short, sensor size does not matter as much as the performance and features of the camera itself, and the lenses you can mount on it. And in these regards, Fuji is the leading system.
Fuji X-T4 | Value
At $1699, it's one of the more pricey APS-C sensor cameras on the market, however, that's still a very small fraction of the price of any full-frame flagship action sports camera. If you want the absolute best camera body for a given lens mount, this is the most affordable one around. (Even the best Micro Four Thirds bodies cost more than the X-T4, by the way!)
By the way, though, if ~$1700 is still out of your price range, the great thing about Fuji's X-mount system is that they have a very complete lineup overall. From the X-T3 that will stay in production, to the numerous other 2-digit and 3-digit "X-T" model cameras, we're excited to see at least some of these features potentially trickle down to other Fuji cameras.
Complete Fuji X-T4 Review Coming Soon!
Stay tuned for our full review! We've had a final production camera in our hands for a few days now, however, as usual, we weren't able to edit the raw files yet in our favorite raw applications. Once we've had a truly thorough experience of the camera, and have had a chance to edit a few hundred (or a few thousand) raw files in Lightroom and/or Capture One, we'll bring you our full and final review! Stay tuned. (By the way, if you have any questions about this camera, please leave a comment below!)
For now, you can pre-order the Fuji X-T4 here, starting at $1699:
B&H