Today Elinchrom has officially unveiled their new mid-range compact studio flashes; the ELC 125 & ELC 500. Built to handle creative adventures, the ELCs feature TTL with Manual Lock, HSS, Smart Pro- Active Cooling, Auto-On, and direct compatibility with Elinchrom's world-renown light modifiers as well as delivering maximum reliability, extended lifetime and enhanced usability.
The Single Light Kits are launching with an MSRP of $619 US for the ELC 125 and $899 US for the ELC 500. They are also available in 2 unit kits starting at $1,239 US for the ELC 125 kit, $1,499 US for a ELC 125 & 500 kit, and $1,599 US for the ELC 500 kit.
The ELCs are ready to go the moment inspiration strikes you. With Auto-On, the unit is always in standby mode with your previous settings saved, and the onboard TTL speeds up dialling in your next exposure. The Manual Lock function enables a quick switch from TTL to Manual without losing exposure settings for quick adjustments or to explore creative effects.
These lights also feature new Pro-Active cooling which adapt their cooling cycles around your shooting style, to prevent interrupting your creative flow, and allegedly create VERY little noise. This feature, i'm very intrigued to play with and see just how good it is.
The lights also continue to use the Quick-Lock bayonet system letting you use all the previous elinchrom compatible modifiers quickly and easily, as well as boasting a VERY consistent and accurate color temperature letting you save time by editing less.
Key Features For The New ELC 125 / 500 Units:
Color Accuracy

Elinchrom employs precise color science ensuring accuracy over the whole power range

Smart Pro-Active Cooling

The ELCs learn your shooting style and adapt their cooling cycle around it. The airflow design and low -noise speed-controlled fan can handle heavy workloads.

TTL with Manual Lock

Enables a quick switch from TTL to Manual without losing exposure settings.

Sync up to 1/8000s with HSS

Freeze motion, overpower ambient light and darken backgrounds.

Illuminated Group Color Indicators

The side logos illuminate in the given color group for immediate visual identification.

Robust Metal Tilt-Head

Practical ergonomics and a two-way metal tilt-head let you adjust large modifiers swiftly and precisely.

Unique Centered Umbrella Fitting

Created to maximize umbrella illumination and extend creative options with the Elinchrom Deflector System to modify hardness, softness, or tone sharp shadow edges.

Wide Power Range

The ELC 125 and ELC 500 can be powered down to 7 Ws to reach your desired depth of field or add only a hint of light.

Bright LED Modelling lamp

Output of 3000 Lumens at 5700K / CRI92

Bayonet Quick-Lock System

An improved speed ring mount grants you direct access to Elinchrom's world-renowned light modifiers.

Intuitive and Clear Interface

Clever and clear interface designed to provide the most efficient user experience with the vital flash duration information displayed.

Customizable Favorite Button

Grants direct access to your favorite feature.

Compatible with the Best Modifiers

The potential to evolve your lighting style is endless.
Technical Specifications
Final Thoughts
Given the price point, these lights will be very interesting to test out and compare to the FJ400's from Westcott and the Profoto B Series. I've already put in a request to get hands on with these lights to test and review, but in the meantime, if you have any questions or thoughts on these lights, please let us know in the comments below! For more information you can find the official announcement here and the product pages here. For anyone who happens to get hands on with these before we do, I'd love to hear your feedback on the cooling system and recycling times. That's what i'm most interested in testing out.
Sample Images & BTS Gallery
Check Pricing & Availability of the ELC 125 & 500's Here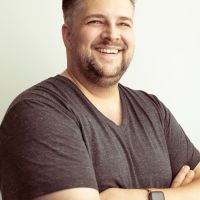 David J. Crewe
David J. Crewe is a full-time commercial photographer and Senior Editor with SLR Lounge. Based out of both Southern California & Las Vegas, Nevada. View his work and blog:
DavidJCrewe.com
Follow his Instagram:
@DavidJCrewe