Compact digital cameras, or point and shoot cameras, were incredibly popular in the early and mid-2000s, but they declined steadily as phone cameras became ubiquitous. Today, phones have almost completely eliminated the entire compact camera market! However, the best point-and-shoot camera is still much better than almost any phone, whether you are a beginner or a professional. That is why I am writing this article today: for aspiring photographers who actually want a "real" compact camera!
With the best compact cameras, you don't necessarily have to give up very much in terms of image quality, performance, or reliability compared to big, heavy cameras. There are some excellent compact cameras that could be perfect for you, and that's what we're going to talk about in this article.
What To Look For In The Best Compact Cameras For Beginners
There are a few things that all photographers should look for in any point and shoot camera, such as good image quality, decent autofocus, and if possible, image stabilization. Thankfully, pretty much every camera on the market these days offers excellent image quality, so that's almost a non-issue. Also, most cameras have advanced autofocus capabilities, and either sensor stabilization or lens stabilization.
Aside from these things, there are a few other features that beginners, in particular, should look for, that are different from what an experienced pro might be looking for… (Pros, you should read this article here!)
Ease Of Use
First and foremost, if a camera doesn't make sense when you pick it up, then it can have a negative effect on the fun and passion of photography if you don't quickly master the technical aspects. So, an intuitive, easy-to-use compact camera is always a good idea. In fact, even experienced professional photographers still prefer one camera system more than another simply because the buttons, dials, and menus just make more sense to us, even after years of experience!
Kit Lens (Included Lens) Options
Most beginner-oriented compact point-and-shoot cameras will have multiple buying options: you can buy just the camera body alone, or the body with one, sometimes two lenses.
Thankfully, "kit lenses" are not necessarily a bad thing. They're usually mid-range zooms that cover wide to telephoto focal lengths, such as 24-70mm or the equivalent. This can be useful, but there are some drawbacks and exceptions. For example, if you know you want to do portrait photography, you might consider a compact, fast-aperture prime lens instead. Or, if you're looking to do mostly landscape and travel photography, a wide-angle zoom is a great first lens, but isn't always offered as part of a kit. Oppositely, if you're really interested in wildlife photography, there are kit lenses such as 55-200mm or 70-300mm telephoto zooms that are a must-have.
So, if your compact digital camera uses interchangeable lenses, regardless of the brand name, there will be kits that include one or two excellent kit zoom lenses, and some even offer a kit with a prime lens too! The awesome thing is, you can always upgrade to an even better lens later.
For fixed-lens point-and-shoot cameras, however, they may have a zoom or prime lens permanently attached to the camera. So, you'll have to make this very important decision at the time you buy your camera. If you want the best all-around compact camera, look for one with a 24-200mm equivalent lens. Other photography genres may incline you to instead go with a 24-70mm equivalent lens with a faster aperture, or even a fixed wide-angle lens, such as for vlogging or extreme sports.
Built-In Tutorials / Help Features
One excellent feature that is increasingly common on all cameras these days is built-in help features. Look for a question mark button or a menu icon, and it will likely lead to a brief explanation of whatever feature you're selecting at the moment!
Online Tutorials
Honestly, we never open our cameras' user manual, except as an encyclopedia to look up the really obscure camera menu options. Why do we recommend this approach even to beginners? Because it is so much better to learn visually, with someone talking you through the camera operation and settings! Therefore, when buying a new camera, it's always good to check if there are online video guides for mastering that camera.
This last tip can be your secret weapon for going from beginner to professional photographer very rapidly!
What To Look For In The Best Compact Cameras For Professionals
There are a few more things beginners might not need to worry about, that professionals might. You should read this article here if you're a professional photographer who is looking for a compact camera!
However, if you're a beginner, at least keep in mind that these other things might eventually interest you too, as you become more serious about photography:
Ease Of Manual Control & Customization
Backup (Dual Card Slots)
Long-Term Durability
High-Speed Performance & Autofocus
Lens Selection
Customer Support & Repair/Service
Best Compact Cameras For Beginners
It is important to note that if you're a beginner but you already know you have a very specific genre of photography or videography that interests you, some of the cameras on this list might not be right for you. For example, if you're very certain that you are interested in super-telephoto wildlife photography, or you plan to be doing photography in truly terrible weather such as serious rain or dust storms, we once again must highly recommend checking out this other article here: The Best Compact Cameras For Professional Photographers.
With that said, let's dive in!
Google Pixel ($599+ | B&H | Amazon)
First and foremost, it must be said that today's phones do have really good cameras in them. That's cameras, plural! Many phones have 2-4 cameras and lenses, which allows them to achieve multiple focal lengths such as ultra-wide and telephoto, or achieve shallow depth of field for portraits.
So, if you're curious about photography or videography but you're not ready to commit to buying a camera, try to get the most out of the phone camera(s) you currently have. Or, make sure that your next phone has really good camera specs.
We could list a dozen or more phones with excellent cameras, but that is an entirely different article, indeed. For now, we are simply going to suggest looking into the various Google Pixel phones; they're definitely some of the best, especially in terms of value, for both photographers and videographers.
Sony RX100 VII ($1,298, B&H | Amazon)
For the beginner and aspiring photographer who is ready for a high-end camera capable of very professional results, the first recommendation we can make is this camera: the Sony RX100 VII is simply the best. It is perfect for almost all types of photography, with its excellent image quality and the sharp zoom lens with ample range and a fast aperture. For its "tiny" size, the raw images truly defy all expectations for the "point-and-shoot" form factor.
With Sony's Real-Time AF tracking that is amazing at detecting faces and eyes, plus many other advanced features, this is the do-all camera for beginner photographers.
Sony ZV-1 Mark II ($898 | B&H | Amazon)
Of course, for those photographers who do a lot of social media photo+video work, such as influencers or lifestyle/travel vloggers, we recommend this camera that is very similar to the RX series. The Sony ZV-1 Mark II has a few key changes that make it perfect for vlogging and selfies; specifically an 18-50mm equivalent zoom lens that is perfect for hand-held self-portraits, and general lifestyle imagery.
Indeed, with its additional features such as the excellent built-in microphone and "product showcase" mode, the entire Sony ZV series is specifically designed for vloggers who are creating videos of themselves. Keep in mind that this camera is not a replacement for its predecessor/sibling, the Sony ZV-1, which you should also check out if you'd rather have a 24-70mm equivalent lens instead of the 18-50mm.
Best Compact Mirrorless Cameras For Beginners
Although the above list contains some of the most compact and most capable point-and-shoot cameras on the market, there are obvious limitations to having a fixed-lens camera. Even the cameras like the RX100 VII with a 24-200mm equivalent zoom could leave a very serious photographer wishing for something a little more, such as ultra-wide or super-telephoto capabilities.
With that in mind, the following are some of the best compact cameras that allow interchangeable lenses.
Fujifilm X-S20 ($1,299, 1,399 w/kit lens)
(B&H | Amazon)
Fujifilm's X-S20 is one of the best all-around entry-level mirrorless cameras for many reasons. It is one of the few cameras in its price range to offer image stabilization, making it a perfect choice for all-around photographers and videographers who are looking for a lightweight, compact camera that can deliver professional results.
Nikon Zfc ($856, $996 w/kit lens)
(B&H | Amazon)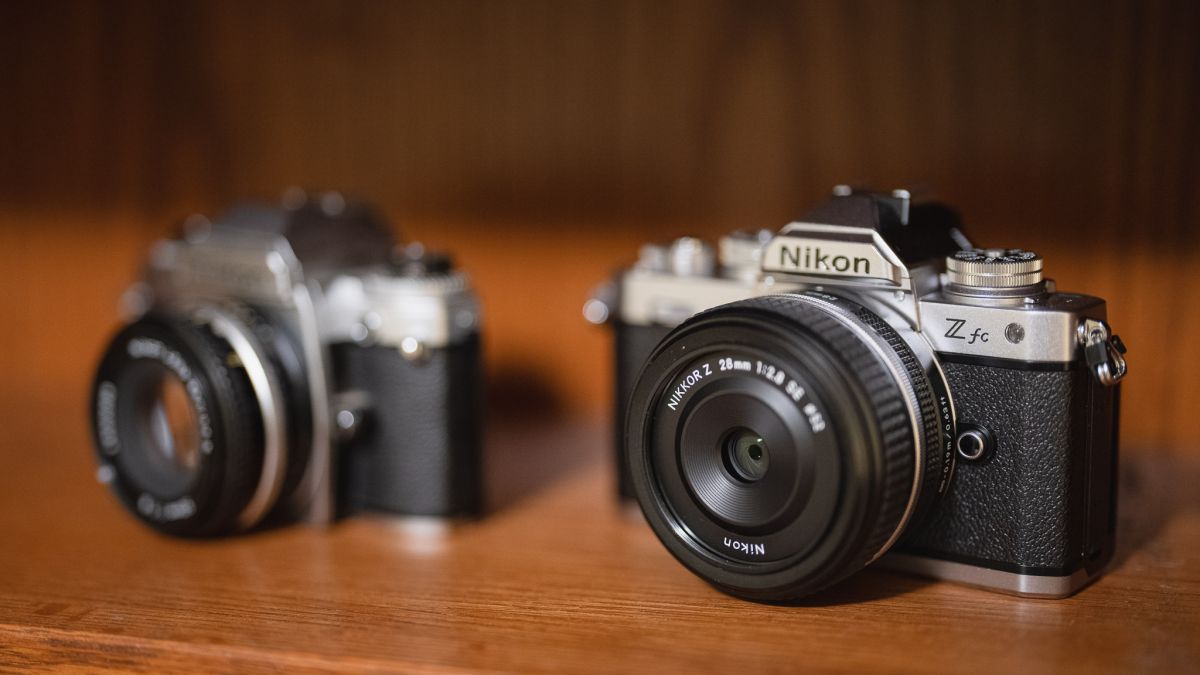 For beginner photographers who want a stylish, retro-looking camera that harkens back to the all-manual film SLR days of photography, (and yet is filled with modern features) …the Nikon Zfc is a perfect choice. It doesn't just look like one of the coolest cameras around; it offers solid performance for basic photo and video functions.
Also, Nikon is releasing many new DX lenses that are perfect for the photographer who is on a budget and looking for a compact camera kit. There is the Nikon DX 12-28mm for landscape photographers, and the Nikon DX 24mm f/1.7 for portrait & candid people photographers.
Plus, for beginner photographers who might eventually want to upgrade to a full-frame mirrorless camera someday, Nikon makes a wide assortment of full-frame lenses that are very compact and affordable as well. Lenses like the Nikon Z 26mm f/2.8, or Nikon Z 40mm f/2, are fantastic for both DX and FX users.
Canon EOS R7 ($1,399, $1,799 w/  superzoom)
(B&H | Amazon)
The Canon EOS R7 is also one of the only beginner-oriented, budget-friendly mirrorless cameras to offer a professional feature: dual card slots. If you are a beginner who has professional aspirations, the R7 is an excellent choice because it can get you through your first few paying jobs. Plus, it can also serve as a backup camera if you upgrade to a pro full-frame mirrorless camera once your business gets going!
Sony ZV-E10 ($698, $798 w/ kit lens)
(B&H | Amazon)
Much like the compact, fixed-lens Sony ZV-series cameras, the Sony ZV-E10 is a compact mirrorless camera that is made specifically for vloggers. With interchangeable lenses, though, you have some truly excellent options that are perfect for vlogging, such as the Sony E 15mm f/1.4 G or the Sony E 10-20mm f/4 G. Then, for B-roll and other video footage, you can switch lenses to one of Sony's excellent portrait lenses, macro lenses, or telephoto wildlife lenses!
Conclusion | Best Compact Cameras in 2023 for Beginner Photographers
Even though phone cameras have caused the compact digital camera, or the "point and shoot camera" to almost completely disappear in recent years, there are still quite a few excellent options. Indeed, there are also plenty of great reasons why you should consider buying a compact camera, too!
If you're passionate about photography as a craft and are looking for the most compact, lightweight options, these are it! Please feel free to leave us a comment if you have any questions about specific cameras or specific types of photography that you're looking to do, and we'd be happy to answer!