Photographing a sunset or a sunrise sounds like a pretty easy thing to do, but if you ask any serious landscape photographer, they'll tell you that having a good camera can be a huge help.
On the one hand, pretty much every camera these days can take great photos. You can photograph a landscape with an iPhone! But, on the other hand, there are a handful of things that can make a camera much more well-suited to landscape photography!
[Additional Reading: What Is The Best Lens For Landscape Photography?]
What Makes The Best Camera For Landscape Photography?
The best camera for landscape photography isn't necessarily the best choice for all types of photography. Some features or specs are less important, while others are more important. Cameras like the Canon 1DX mkIII, Nikon D6, or Sony A9 II might be "flagship" cameras that are excellent choices for sports photography, but there are better-suited, (and more affordable!) cameras for those who photograph more landscape and nature scenes than anything else.
In other words, as a landscape photographer, you don't usually need a high-speed camera, with amazing autofocus or an extremely high framerate. What you need are things like maximum overall image quality and a sturdy, well-built camera body that can survive the elements.
The good news is, these days virtually every camera brand out there makes at least one or two cameras that are really good for landscape photography. So, you don't necessarily need to switch brands if you're getting serious about landscapes!
So, we've compiled a few different lists of cameras you can trust to deliver the performance and features that are perfect for a landscape photographer's needs. Remember, these are just lists; for more information about the strengths and weaknesses of a specific camera, read our review of that camera!
Good Image Quality For Landscape Photography
Landscape and nature scenes may not challenge your camera in some ways, like action sports or wildlife will challenge your camera's autofocus, however, even a dramatic sunset or sunrise can present a challenge for your equipment: Does your camera's sensor have enough dynamic range to capture the entire scene, or will your highlights or shadows be clipped? Will the colors look right?
The cameras on this list are known for having incredible dynamic range, capable of capturing most scenes in a single click of the shutter. They also have rich colors and tones overall, to capture all of the vibrant scenes nature has to offer.
Nikon D850
Nikon Z7 II
Sony A7R IV
Sony A7R III
Fuji X-T4
Fuji X-T3
Pentax K-1
Resolution (Megapixels) For Landscape Photography Printing
Landscape photos are often printed very large, so this is one time when it's okay to go for the camera with more megapixels. Even though you don't need more than 12-24 megapixels for viewing your images beautifully on a computer display, let alone a mobile device, if you're planning to print your landscape photos as big as 3ft or 1m, or larger, then you'll want as much resolution as you can get.
This list of cameras has at least 40-50 megapixels, and some of them have 60-100 megapixels!
Sony A7R IV
Sony A7 III
Fuji GFX100
Fuji GFX 50R
Nikon D850
Nikon Z7 II
Canon EOS R5
Panasonis S1R
The Best Camera For Landscape Photography Has Weather Sealing!
One of the most common challenges that a landscape photographer will face is bad weather. Sometimes, if you want the best landscape photos, you'll have to endure rain, snow, or maybe even a sand storm or dust storm. (By the way, sand and dust can be a lot worse for your camera gear than a little bit of rain!)
The cameras on this list have excellent, professional-grade weather-sealing. That doesn't mean they're totally waterproof, but their sealing gaskets will help them survive some of the worst types of weather.
(Of course, many other cameras also have some level of weather-sealing, though it might not be as extensive.)
Nikon D850
Nikon Z7 II
Canon 5D mkIV
Canon EOS R5
Sony A7R IV
Olympus E-M1 mk3
Pentax K-1
Special Functions & Features For Landscape Photography Cameras
There are a few more features that can really help a landscape photographer capture beautiful, sharp images, such as avoiding camera shake caused by the camera's mirror or shutter, to shifting the pixels of the sensor (Pixel-Shift) for increased total resolution. Also, of course, if you're a wilderness adventure type of landscape photographer, you'd like your camera's batteries to last a long time, and be easy to charge via USB or even a solar panel!
These cameras have a pixel shift mode that can double or even quadruple your images' final megapixel count:
Olympus E-M1 mk3
Sony A7R III
Sony A7R IV
Pentax K-1/K-1ii
Panasonic S1R
Panasonic S5
These cameras have electronic first curtain shutter (and exposure delay modes, aka, self-timer) to help you capture shake-free images:
Canon EOS R5
Canon 5D mkIV
Sony A7R IV
Sony A7R III
Nikon Z7 II
Nikon D850
Nikon D780
Fuji X-T4
Fuji X-S10
Panasonic S1R
Panasonic S5
Olympus OMD E-M1 mk3
These cameras have fast USB battery charging, and direct USB power, for your longer landscape photography adventures. (And timelapse photography or nature videos!)
Nikon Z7 II
Sony A7R III
Sony A7R IV
Olympus OMD E-M1 MK3
Fuji X-T4
Fuji X-S10
Panasonic S1R
Panasonic S5

Conclusion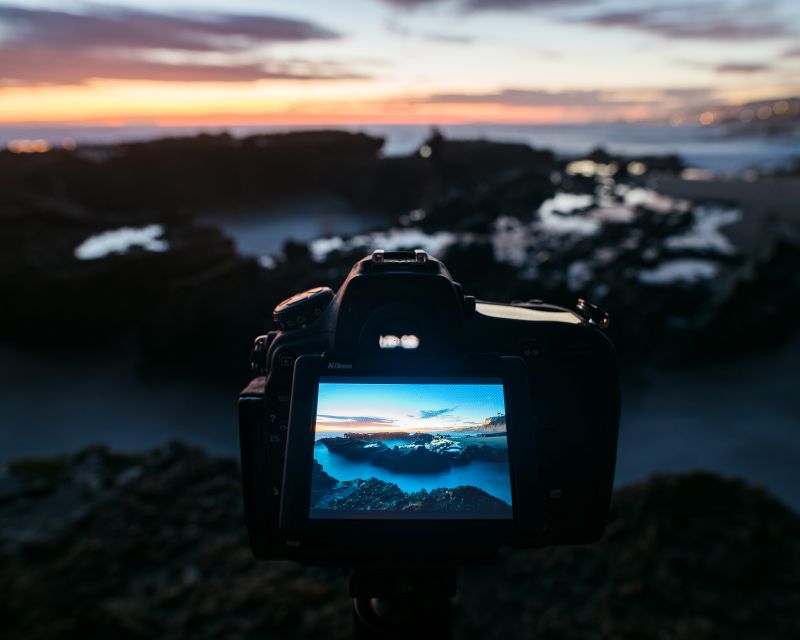 Are there a lot of great cameras out there that will truly excel at landscape photography? Yes, absolutely! In fact, almost any high-megapixel camera made in the past few years will be highly capable.
However, you can't help but notice that certain cameras, such as the Sony A7R IV and the Nikon Z7 II, show up on almost every one of the lists of additional features or "perks" that will make your landscape photography not just better, but easier to capture, too!
We'll update this list if new cameras come out that are optimal for landscape photography! Also, remember, even if you don't see your camera on this list, you can still get out and create beautiful photos with any camera!
(This list was last updated in 2020)