The photography industry has now completely shifted to mirrorless cameras.  Today, in 2022, both Canon and Nikon are making almost all mirrorless cameras, and almost no DSLRs! Indeed, things have changed dramatically in the last few years; mirrorless camera technology is fully matured. So, which is the best mirrorless camera for beginners?
With so many excellent options available today, determining which camera to buy can be confusing, especially for a beginner.  One differing letter or number in the name of two identical-looking cameras can mean a huge difference in terms of price and features.
So, if you have a passion for photography and are looking to step up from that camera phone to an interchangeable lens camera system, this article is for you!
This post will provide you with an overview of the top 5 mirrorless cameras for beginners. We will consider both budget-friendly and more professional options, ensuring every photographer can find a camera that fits their specific needs.
1. Sony Alpha A6100 Mirrorless Camera
If your budget allows for it, the Sony Alpha A6100 Mirrorless Camera is definitely worth looking at. The camera is compatible with the popular Sony E mount system, which means you have access to the widest range of lenses for APSC and full-frame sensors. (The A6100 is a 24-megapixel APSC sensor; one of the best available!)
You can choose between the body alone or a kit that comes with additional lenses to get you shooting as soon as you open the box.
Being highly compact and lightweight, the Sony A6100 is an excellent choice for things like everyday and travel photography, and general video shooting with 4K video.
2. Nikon Z50 Mirrorless Digital Camera
For the aspiring photographer who wants a camera that feels more like a traditional camera, Nikon's Z50 is worth considering. It is one of the most well-built beginner mirrorless cameras available!
An excellent balance of portability, durability, and affordability, the Z50 also offers one of the best APSC image sensors on the market. It offers 20 megapixels and both low ISO and high ISO performance that rivals full-frame sensor cameras!
Thanks to Nikon's long history of excellent DSLR F-mount lenses, Nikon's growing lineup of DX Z-mount mirrorless lenses can easily be supplemented via the FTZ Adapter as well.
3. Fujifilm X-S10 Mirrorless Digital Camera
The retro look of the Fujifilm X-S10 mirrorless digital camera offers a unique "classic camera" aesthetic, while the specifications and features inside the camera are cutting-edge.
This Fuji is the perfect mirrorless camera for beginners who can afford it because it's the only APSC camera under $1000 that offers sensor-based stabilization.
The camera alone is priced at $999. and a kit with the camera and lens will cost $1,399. Fuji's X-mount is the largest native/name-brand lens lineup of APSC mirrorless cameras on the market, with additional lenses to fit any budget and every type of photography!
4. Canon EOS M50 II Mirrorless Digital Camera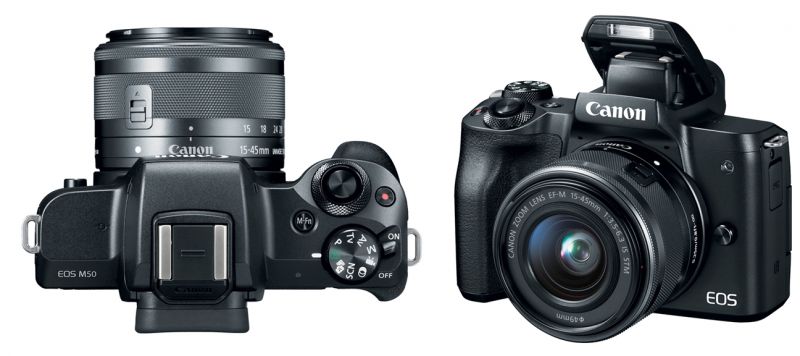 When budget is a limitation, the Canon EOS M50 II mirrorless digital camera is a good option to consider. This one offers a more affordable price point when entering the world of photography.
The camera comes standard as a base kit without a lens for $599, however, alternatives with an included lens can be selected too, starting at $699 to include the Canon 15-45mm lens.
The Canon EOS M50 II includes built-in sensor stabilization (IBIS) that also works in conjunction with (optional) lens-based image stabilization (IS), for truly impressive low-light shooting capabilities for both stills and video. Speaking of video, the Canon M50 Mark II offers up to 4K 24p recording.
The Olympus OM-D E-M10 Mark III camera is another affordable option that offers both professional features and classic camera styling & ergonomics. This kit does include a lens in its $599 price, making it an unbeatable value. This is partly thanks to its Micro Four Thirds sensor, as opposed to APSC and full-frame sensor cameras.
Don't be fooled by the affordable price tag, though! This is a well-built camera with impressive durability, beautiful image quality, and professional-grade features including in-body stabilization.
To perfectly match your own personal aesthetic, the Olympus E-M10 Mark III comes in both silver and black options.
6. Sony ZV-E10 Mirrorless 4K Vlogging Digital Camera
The last option on our list is for those who aren't just photographers, but who want to create video content! Specifically, if you are interested in vlogging, then absolutely do consider the Sony ZV-E10.
A 24-megapixel APS-C CMOS sensor delivers great quality still photos, but the claim to fame for this camera is how perfect it is set up for "selfie" video capture. This camera includes a large microphone and a windscreen, giving it some of the best quality audio without any additional accessories.
Plus, the fully articulated LCD display has the benefit of a red box around the frame when recording, as well as a bright red "REC" light.
Conclusion
A small, affordable mirrorless camera offers an excellent entry point for beginner photographers. There are many options to choose from, ranging from very beginner-friendly to advanced and professionally capable.
Knowing what to look for is important, as not all mirrorless cameras can meet every single photographer's needs. The options in this list can provide basic functionality when starting out but also help the photographer grow in their passion and/or profession!