Very few lenses earn the title of, "never been done before", but this one is literally the only one of its kind! I am the most excited I have been in years, writing this Sigma 14mm f/1.4 review. In fact, as a nightscape photographer, I am more excited about this lens than almost any other lens, ever. Once again, Sigma has done something unprecedented, and they achieved perfection.
I don't know what else to say, except this: Sigma now has an entire lineup of all the best nightscape photography lenses, period. If we combine this 14mm f/1.4 with Sigma's other wide-angle primes and ultra-wide zooms, it is the most-complete arsenal for astro-landscape photography.
I've already reviewed the near-perfect Sigma 14-24mm f/2.8 DG DN Art, and its portable, affordable sibling the Sigma 16-28mm f/2.8 DG DN Contemporary. I'm currently finishing up reviews of the (spoiler alert!) equally amazing Sigma 20mm f/1.4 DN Art and 24mm f/1.4 DN Art. All of which are impressive, made-for-mirrorless lenses.
With that being said, let's dive into this review! The Sigma 14mm f/1.4 is a highly specialized lens, made for a very specific purpose, and it does its job better than any other lens on the market. The images are impressive, indeed almost perfect, and you'll just have to see them to believe me.
Sigma 14mm f/1.4 DG DN Art Specifications
FOCAL LENGHT & ANGLE OF VIEW: 14mm, 114.2° (full-frame)
LENS MOUNT(S): Sony E, Sigma/Panasonic/Leica L mounts
APERTURE & RANGE: f/1.4-16, 11 rounded blade aperture
STABILIZATION: NO
AUTOFOCUS: High-Response Linear Actuator AF motor
MANUAL FOCUS: Yes, electronically controlled
OPTICAL CONSTRUCTION: 19 Elements in 15 Groups, 3 super low dispersion, 1 F low dispersion, 4 aspherical elements
MECHANICAL CONSTRUCTION: Metal & "Thermally Stable Composite" material, fully weather-sealed, tripod collar included
MAGNIFICATION & FOCUS DISTANCE: 0.1x, 11.8" (30 cm)
FILTER THREADS & HOOD: rear drop-in filters, fixed hood, filter holders in lens cap
SIZE: 4 x 5.9″ (101.4 x 149.9 mm)
WEIGHT: 2.58 lb / 41.3 oz (1170 g)
Sigma 14mm f/1.4 DG DN Art Review | Who Should Buy It?
The Sigma 14mm f/1.4 is not your average ultra-wide lens. In fact, it's not even your "average" ultrawide nightscape photography lens. This is, without hyperbole, the most specialized ultra-wide nightscape photography lens ever made.
As such, we can start and finish this whole review by saying that if you're not very serious about astro-landscape photography, this isn't the right lens for you. Oppositely, if you love to photograph the Milky Way, then this is your new dream lens, period.
There are a select few other photography genres where you might find this lens to be useful, but it would still be untruthful to call it a practical, ideal choice for anything besides photographing the night sky. It's really that simple!
Furthermore, even if you are very serious about nightscape photography, there are a few excellent alternatives that might better suit your needs. So, if you're very concerned about the size, weight, or overall versatility of your lenses, then once again this might not be the right lens for you.
With those disclaimers out of the way, let's talk about which types of photographers should actually consider this lens, and why!
Nightscape & Astro-Landscape Photography
For nightscape photography, it's all about two things: brightness and sharpness. Of course, these things sound simple enough, but they are actually very complicated when you are trying to photograph the night sky. Brightness isn't just about sheer aperture, the number on the lens. In reality, brightness is about the actual light transmission of a lens, which accounts for vignetting, and how that transmission improves (vignetting goes away) as you stop the lens down.
That is why this 14mm f/1.4 lens is not just the only 14mm f/1.4 lens ever made, it is also the best 14mm f/1.8 lens, and the best 14mm f/2.8 lens.This is because, of course, as you stop this f/1.4 prime down, image quality and transmission get better and better,while the various competitors are still using their apertures wide-open.
In other words, if you want the absolute best, this lens is it. You'll have to deal with the incredible size and heft of the lens, however, which will be a common theme throughout the rest of this review. However, it's worth it.
Low-Light Wildlife, Action, & Outdoor Photography / Video
Although the Sigma 14mm f/1.4 is explicitly designed for astro-landscape photography, there are a few other highly specialized applications where it might also truly shine. (Pun intended?)
Basically, it all comes down to this: Do you need to capture a scene in extremely low light, with as fast a shutter speed as possible? Maybe you are trying to capture moonlit photos of a nocturnal animal, or anything that moves and therefore requires a fast shutter speed.
Of course, I would usually recommend a slightly less wide f/1.4 lens for these applications, such as the truly impressive Sigma 20mm f/1.4 DG DN Art or the Sigma 24mm f/1.4 DG DN Art. However, if you need 14mm, this is literally the only f/1.4 option around.
Also, with a physical aperture ring that can be de-clicked, this 14mm f/1.4 lens joins the lineup of Sigma mirrorless primes, including their newest 35mm, 50mm, and 85mm f/1.4 DG DN Arts, that are perfect cinema lenses. A few other primes and zooms also have this useful feature for movie-making productions.
Landscape Photography
To be completely honest, if I only did "traditional" landscape photography and not astro-landscape photography, then I would prefer almost any other lens besides this one. Namely, the Sigma 14-24mm f/2.8 DG DN Art is one of the best landscape photography lenses on the market. Also, for those who don't need 14mm, and/or those who don't need f/2.8, the better alternatives abound.
Architecture & Real Estate Photography
14mm is certainly very useful for real estate and architectural photography. However, almost all of that type of work is usually done at very tight apertures, for more depth of field. I can't imagine ever needing f/1.4 in such a situation, and to be honest I simply prefer ultra-wide zooms for any sort of real estate or architectural work
Thus, once again, Sigma's existing 14-24mm f/2.8 DG DN, or even the DSLR-made 12-24mm f/4 DG HSM, would be better suited to real estate and architectural photography.
Sigma 14mm f/1.4 DG DN Art Review | Pros & Cons
Let's talk about the specific qualities that make this monster of a lens so good at what it does. The Sigma 14mm f/1.4 DG DN Art is indeed a very large, heavy lens, but there are a lot of big, heavy, and even much more expensive ultra-wide lenses out there! So, what makes this one so much better than all its competitors?
It starts with the aperture, of course; this is the fastest 14mm lens ever made. That's not the only special thing about this lens, though; it also has a lot to do with the exact optical formula and design of the lens. Sigma specifically optimized this lens for things like perfect sharpness at far distances, an almost perfectly flat plane of focus, and and extremely minimal aberrations such as sagittal astigmatism or coma.
In short, Sigma set out to make a perfect nightscape photography lens, and that is indeed what they accomplished.
Image Quality

Sharpness
At a wide-open aperture, sharpness is already impressive throughout the entire image frame, including the corners. There is plenty of resolving power coming from this lens, even on the 60-megapixel Sigma fp L, or, say, the Sony A7R V with its same megapixel count.
When you stop down to f/2 or f/2.8, the central part of the image becomes impeccably sharp, and the extreme corners become truly impressive. In fact, I dare say that if you have anything LESS than 40-60 megapixels, you will not even be able to tell the difference between the dead-center and the extreme corners, in terms of resolving power!
Again, as I hinted earlier, keep in mind that this testing is referring to far distance subjects, such as stars at infinity. The lens maintains this incredible sharpness at normal and moderately close distances, too.
ALSO NOTE: at f/1.4, even distant subjects that are ~25 yards away will appear slightly soft. That is the drawback of having so much light-gathering capability; you'll need to learn to focus stack if you plan to use this lens at f/1.4 a lot!
Color Fringing, Aberration, Coma & Astigmatism
I'm going to re-arrange the order of testing details for this lens review, simply because to be totally honest I am not nearly as concerned about things like bokeh or close-up magnification with this lens. We'll get to those things last. Now, let's get to the reason you're reading this review: 100% crops of the Sigma 14mm f/1.4, focusing on stars with a 60-megapixel sensor… (The Sigma fp L, captured at ISO 3200 and 6 sec and 13 sec for f/1.4 and f/2, respectively…)
Simply put, all the different types of aberrations are impressively low with this lens. Coma and astigmatism are virtually nonexistent, even at f/1.4. At f/2, this lens delivers truly impressive extreme corners, and by f/2.8, well, it is just utterly destroying all the f/2.8 options. As you can see in the previous sharpness sample, you're more likely to run into issues with stars "moving" through your frame, (even at 15 sec!) …than you are likely to notice any sagittal astigmatism. WOW.
Color fringing and chromatic aberration are both extremely minimal as well. I always leave the in-camera corrections for chromatic aberration turned on, and by f/2 I would say that there is virtually nothing to report.
Vignetting & Distortion
Vignetting can "kill" an otherwise excellent astro-landscape photography lens. It doesn't matter what the number (aperture) on the lens says; if the optics themselves cause too much light loss at the edges and corners of the lens, then you are effectively working with an f/4, f/5.6, or even an f/8 lens by the time you get to the extreme corners.
In fact, for all wide-angle f/1.4 lenses, even when looking at the very center of the image, you might not encounter maximum brightness! See the example above with a comparison between f/1.4 and f/2. The shutter speed was adjusted to keep the effective exposure the same, and yet, the f/2 image is significantly brighter everywhere in the image. This is very normal for wide, fast lenses, and I have over-edited the above sample image to dramatize how dark the corners can get. (I did not add vignetting, just lots of contrast to the whole image.)
NOTE: I noticed that the "Distortion" option for the built-in lens profile was greyed out in Adobe Lightroom Classic. (See below) This means that turning off the distortion correction may be impossible in post-production, and therefore I would strongly advise choosing your preferred option before taking pictures. Personally, I tend to leave in-camera vignetting correction on all the time, however, I often turn in-camera distortion correction off because it can create terrible artifacts in shadow areas when using extremely high ISOs such as 6400 or 12800. I did not notice any such effect with this lens, however!
Thankfully, Sigma has just crammed a ton of glass into this optic, and this delivers relatively low vignetting for such a fast aperture. In other words, you're going to actually see a real brightness advantage when using f/1.4 compared to, say, f/1.8 or f/2.8. Furthermore, when stopping down to f/2 or f/2.8, vignetting becomes even less noticeable. This effectively gives you the brightest f/2 and f/2.8 options on the market, too.
Colors & Contrast
Although you'll most likely be using this lens to photograph dark skies and very dimly lit subjects, I'm happy to report that colors and contrast are clear, crisp, and vibrant.
This can actually have more of an impact than you would think for wide-field astrophotography; even the slightest bit of haze in an image can harm a lens' ability to "see" the fainter stars and their subtle colors.
Sunstars & Flare
Flare can be a problem with some exotic lenses, because you may find yourself photographing the moon within the image frame sometimes. If this results in a weird flare, it can look like some bizarre UFO and ruin your nightscape photos!
Once again, thankfully, I found flare "dots" to be either minimal or nonexistent, depending on where your light sources are.
NOTE: As with all ultra-wide lenses that have large front elements, if you put a very bright light source in the image itself, this will "highlight" every speck of dust on the glass. So, while flare may be minimal, always remember to keep your lens' front element perfectly clean, especially if you plan to shoot directly into the sun or moon!
Thanks to the aperture's rounded 11 blades and extremely fast starting aperture, sunstars are very "pointy" as soon as f/5.6 or f/8.
Bokeh
The Sigma 14mm f/1.4 does of course deliver beautiful background blur, thanks to its f/1.4 aperture. However, this must definitely be caveated by saying that to achieve any significant amount of background blur you must be focusing rather close-up to your subject, and this lens is, simply put, NOT optimized for close focusing. (Read on…)
Macro & Close-Up Photography
Up close, quite honestly, this lens doesn't do very well. Sharpness is noticeably diminished at f/1.4, and unfortunately it does not improve very much even when stopping down to f/2.8 or f/4.
Furthermore, the plane of focus is optimized to be flat at infinity, so, when focusing up-close that really tends to deteriorate. This effectively means that if you focus on a central subject, anything off-center is almost guaranteed to be not just soft but literally out of focus.
Having said that, bokeh is indeed quite smooth, and background blur is amazing with such a fast aperture.
Design & Durability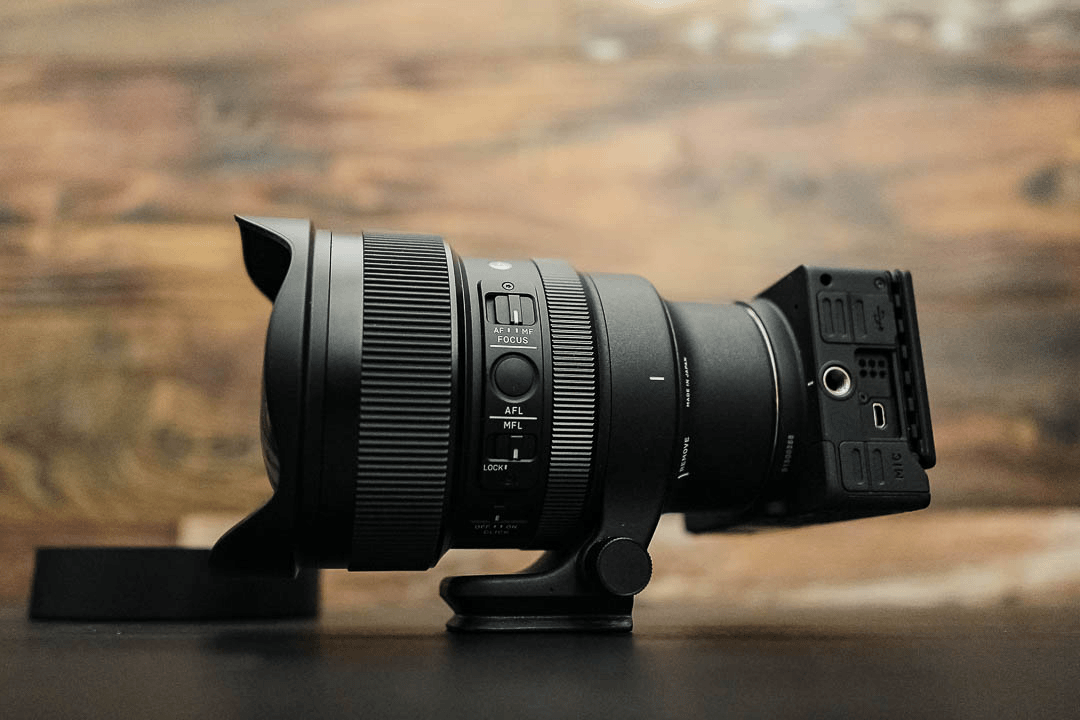 As far as I know, this is the only ultra-wide lens that requires a tripod collar. It's big and heavy, and it does not easily fit into just any camera bag! Having said that, the overall design is excellent, and the physical durability seems very professional.
One of the elements (pun intended?) of design that I am grateful for is the front element itself. Unlike most other ultra-wide lenses that reach 14mm or wider, this one is not obscenely bulbous. It is very large, indeed, but neither the glass element nor the hood itself are particularly unwieldy. I hope this results in fewer of these gorgeous lenses having nasty scratches on their front element!
The other most noticeable design feature. of course, is the fact that this lens comes with a tripod collar. No other ultra-wide lens includes one, as of this writing! It's a good thing, though, because despite having a relatively "modest" front element, make no mistake, this lens is incredibly front-heavy from all that exotic glass. I would recommend always using the tripod collar, because not doing so with such a heavy lens can gradually stress the lens mount of your camera body, and potentially result in a slightly tilted plane of focus if you're frequently applying any kind of strain on such a setup. (Also, always transport your astro-landscape photography cameras and lenses detatched from each other, for this same reason!)
Ergonomics & Portability
Portable, this lens is not. It is, quite simply, the exact opposite of compact and lightweight. If you're committing to this lens, then be prepared to re-arrange the dividers in your camera backpack, and I hope you have a very strong, stiff tripod and ball head!
Having said that, ergonomically this lens is a delight to work with. The tripod collar actually makes it infinitely more practical and easy to use compared to any other giant ultra-wide zoom. It allows the setup to balance perfectly on a tripod, whether you're using the ultra-compact Sigma fp L body, or something larger like a Sony A7R series.
Also, the switches, focus ring, zoom ring, and the custom function button are all relatively well-positioned and well-dampened. I do wish that the AF/MF switch were in a completely different position, maybe, such as between the tripod collar and the mount, so as not to confuse it with all the other switches on the lens.
Autofocus & Manual Focus Performance
Focusing with extreme precision is very important for astrophotographers, because even the slightest error causes significant loss of sharpness/detail in stars. Thankfully, the AF on this lens is very precise, and can even lock focus on brighter celestial objects such as the nearer planets and brighter stars.
Manual focusing is also a breeze, with plenty of precision in the focus ring's electronic sensitivity.
I used to strongly dislike electronically controlled manual focus lenses for the specific task of astro-landscape photography, but all of Sigma's recent Art and Contemporary series lenses have been a delight to work with in this regard.
Features & Customizations
As I mentioned before, aside from the optics themselves, this lens has other features that are optimized for nightscape photography, too. There is the excellent manual focus precision, plus, one of my favorite features: A dedicated MF-L switch! Separate from the AF/MF switch, this lower switch resides beneath the AF-L button. As its name implies, locking the MFL switch completely turns off both the camera autofocus and the manual focus ring. This is, of course, an excellent feature for everyone who photographs the stars, especially those who do long time-lapses and don't want to accidentally bump the manual focus ring in the middle of the night!
Last but not least, the lens cap is also completely redesigned, and thankfully it is very good at staying "clamped" on the lens. It even has unique, built-in, click-to-open slots for your rear drop-in filters!
Value
All in all, clearly this is a unique lens that is highly specialized and unique. However, it is priced at $1,599, which is an interesting price range for ultra-wide lenses in general. We'll get more in-depth with the competitors next, but here's the bottom line when it comes to the value of the Sigma 14mm f/1.4: Your two next closest likely choices are the Sony 14mm f/1.8 GM, at $1,598, and the Sigma 14-24mm f/2.8 DG DN Art, at $1,279.
Thus, objectively, this lens' price tag represents an excellent value, considering the nearest alternatives as well as the fact that it truly stands alone with its f/1.4 aperture. Still, there is not much more I can say about value without breaking down why you might consider the alternatives… So, read on!
Sigma 14mm f/1.4 DG DN Art Review | Compared To The Competition
As I said, the two closest alternatives are also close in price. However, they are also very different, in very important ways.
First, the Sony 14mm f/1.8 GM is almost the same price, however, it is TINY compared to the Sigma 14 1.4. The Sony is less than half the Sigma's weight, too. In fact, it's about 40%! (460g versus 1170g)
Considering how sharp the Sony is, I do have to give it a nod for any adventurous nightscape photographers who are climbing mountains for a lot of their images, or just traveling a lot. Is the Sigma optically superior? Yes, absolutely. But the Sony is still excellent and I have very little to complain about, despite the Sigma being much better at f/1.8 and f/2.8.
The opposite alternative is Sigma's own 14-24mm f/2.8 DG DN. It's actually a bit more affordable, at $1,279, and it's also a bit lighter, too, at just under 800g! This makes it much more versatile, and honestly, preferable for many astro-landscape photographers who also do at least some general daytime "adventure landscape photography".
I could continue listing alternatives, however, few other lenses really come close to this incredible optic. The Sony 12-24mm f/2.8 GM could be attractive with its wider focal length, but it's nearly $3,000. Going in the opposite direction, a Rokinon/Samyang 14mm f/2.8 is very compact, lightweight, and just $497. However, of course, they don't even come close to the Sigma, not optically, nor in terms of build quality etc. They feel like toys compared to this exotic, professional optic.
So, it really is all about just those three flagship lenses. The Sigma 14mm f/1.4 is the best 14mm lens, but if you're looking for something more portable and/or versatile, you might consider one of the two main alternatives.
Sigma 14mm f/1.4 DG DN Art Review | Conclusion
Indeed, the Sigma 14mm f/1.4 DG DN Art is simply, and quite literally, the best. It is peerless as an f/1.4 prime at 14mm. Furthermore, when stopped down to f/1.8, f/2, and f/2.8, it is totally superior to all competitors, in virtually every way.
Even if you plan to mostly use it at f/2.8, this lens will blow away every f/2.8 zoom, especially with regard to vignetting and corner sharpness.
This performance comes at a price, of course; mainly in terms of size and heft. This is not just a specialty lens; it is a serious commitment to even fit it in your camera bag, let alone carry its weight for any number of hours.
Thankfully, however, the relatively decent price tag still puts this one-of-a-kind lens within reach of anyone who is serious enough to be willing to commit to it. If you're a serious, passionate nigthscape photographer, then the Sigma 14mm f/1.4 DG DN Art is indeed your new dream lens.
Check Pricing & Availability
The Sigma 14mm f/1.4 DG DN Art is currently available, and priced at $1,599. At the time of writing it was only released within the last year, so we do not have any information about common rebates yet. Just keep an eye out for the potential of a rebate around the holidays, of course!
Pros
Best image quality of any 14mm lens
Unique features especially for nightscape photography
Professional, durable build quality
Impressive value for a peerless champion
Cons
Size and weight make it unweildy
Value exclusively aimed at nightscape photographers
Features, Customizations, Accessories
10
Ergonomics & Portability
8
Autofocus & Manual Focus Performance
10
Final Verdict
Sigma set out to create the best nightscape photography lens ever, and they accomplished this goal, without question. The Sigma 14mm f/1.4 is a champion!