Sigma Art lenses have gained a reputation for being extremely sharp, indeed, they are ready for the next generation of high-megapixel digital cameras. Now, Sigma has taken it one step further, potentially disproving all the nay-sayers who claimed that high-end full-frame mirrorless lenses couldn't actually be smaller (or cheaper) than their DSLR competitors.
The Sigma 14-24mm f/2.8 DG DN Art is made exclusively for the Sony E-mount and Leica L (Panasonic) mount, and it stands alone (currently) as the only full-frame ultra-wide f/2.8 zoom exclusively for full-frame mirrorless that achieves the highly desirable 14mm focal length.
Is it the right lens for you, though? Especially if you already have a DSLR ultra-wide zoom, (Sigma already makes a great one for both Canon and Nikon DSLRs) that is pretty impressively sharp? (Indeed, almost every wide-angle zoom lense these days is very sharp!) As much as we dislike adapters, this Sigma is still a ~$1400 investment…
Well, to spoil most of the review, just ask yourself these questions: are you addicted to sharpness and pixel-peeping? What about ultra-wide focal lengths and fast apertures? Are you already used to the ultra-wide trend of fixed hoods that don't allow threaded filters? Do you wish your existing wide-angle f/2.8 lens was more compact and lightweight? If you answered "yes" to all of these questions, then start saving up now; you're going to want this lens.
In short, indeed the Sigma 14-24mm f/2.8 DG DN Art is the new champion of an already impressive collection of full-frame wide-angle zooms. There's virtually nothing to dislike about it, and a whole lot to praise.
Sigma 14-24mm f/2.8 DG DN Art Specifications
Focal Lenght & Angle Of View: 14-24mm, 114.2-84.1°
Lens Mount(s): Sony E, (FE full-frame) Leical SL (Leica & Panasonic full-frame)
Aperture & Range: f/2.8-22, 11 rounded blades
Optical Construction: 18 elements, 13 groups, 5 special low-dispersion (SLD), 1 FLD, Super Multi-Layer Coating, Nano Porous Coating,
Stabilization: None (sensor-based)
Autofocus: twin-motor silent stepper motor
Manual Focus: physical focus ring, electronically controlled focus
Mechanical Construction:  Weather-sealed, metal mount, metal barrel, rubber focus & zoom rings, plastic (fixed) hood
Magnification & Focus Distance: 0.14x, 11″ (27.94cm)
Size: 33.35×5.16″ (85x131mm)
Weight: 795g (28.04oz)
Filter Threads & Hood: No front filters; rear drop-in filter available (optional accessory)
Price: $1399
Sigma 14-24mm f/2.8 DG DN Art Review | Who Should Buy It?
On the one hand, 14-24mm is a specialty focal range. On the other hand, such a zoom range has never seen this impressive balance of flagship-grade optics and relative affordability and overall portability. In short, no matter what type of photography you do,  any Sony, Leica, or Panasonic full-frame shooters who are at all interested in the 14-24mm range, should at least consider this lens…
Wedding & Portrait Photographers
If you're a full-time wedding & portrait photographer, you need to invest in durable lenses that can stand the test of time, but you also may be pressed for space in your camera bag. I've lost count of how many wedding & portrait photographers I met over the last 10+ years who bought the Nikon 14-24mm, the Tamron 15-30mm, or Tokina 16-28mm, …only to start leaving them at home or never taking them out of their bags after just a month or two.
The Sigma 14-24mm f/2.8 is finally an f/2.8 zoom that goes to 14mm and yet isn't obnoxiously heavy. It balances decently well for hand-holding on wedding reception dance floors, and the autofocus is extremely reliable for all types of low-light work. In short, if you really want the whole zoom range, this is the best lens out there for you.
Having said that, maybe you don't necessarily need 14mm as a wedding or portrait photographer; if dramatic landscape-y type portraits are just not your style, but you still want something wider than your 24-70mm, you might instead consider an even smaller, less-wide zoom like the Tamron 17-28mm f/2.8.
Fashion & Editorial Photographers
If you do a lot of editorial or commercial work, you need sharp images with clear tones, accurate colors, and low distortion. The Sigma 14-24mm f/2.8 DG DN Art delivers on all those fronts. So, it might not be the first lens you think about for fashion portraits, but if you need to go wider than your favorite 35mm or whatever prime lens, this is the best optic out there.
We'll get more into this next issue later, (and you can faintly see it in the corners of the architectural sample below) but there is one thing to note for anyone to whom color consistency across the frame is very important: As with almost every wide-angle lens on many mirrorless cameras lately, there is a faint amount of color shifting from the center to the corners. It appears as either a warm central area in the image, and/or a cool or magenta color cast in the corners. Again, this seems to be a common problem that we are trying to investigate more in-depth, and will publish a report soon.
Architectural Photographers
Real estate photographers, or any type of architectural photography, will be concerned with things like low distortion, good color reproduction, overall contrast, (or, an aversion to "blooming" when shooting indoors and including windows to outside where it is extremely bright) …and again, in all of these regards, the Sigma delivers. If you don't need to go wider than 14mm, this could be your new favorite lens. Just be sure to always turn on the in-camera vignetting and distortion corrections, and you'll be set!
Candid & Street Photographers
Street photography usually requires a photographer to be incognito. And, while the Sigma 14-24 DN is much smaller and lighter than the Sigma 14-24 HSM, it's still not exactly "tiny".  With that in mind, if you're looking for a truly diminutive, portable ultra-wide lens, then your two best options might be the Tamron 17-28mm f/2.8, or the Rokinon/Samyang 18mm f/2.8. Of course 17mm and 18mm are very, very different from 14mm, so it's almost not even fair to compare them.
Action Sports Photographers
In-your-face action sports is a realm where fast apertures can be helpful, for faster shutter speeds in broad daylight and especially in low light. So, if your type of action sports photography isn't just captured with big telephoto lenses, but also sometimes dramatic in-the-action shots, you'll really like this lens' advantages of being built professionally durable, and having very reliable autofocus.
Just about the only drawback would be that you can't attach threaded filters to the front, in case you'd like to add a layer of protection against splashes with things like water sports.
Landscape Photographers
If you shoot traditional landscapes, then you might not need f/2.8, plus, you might actually need filter threads. In both of these regards, the Sigma is at a disadvantage. However, it's still one of the sharpest lenses around, even at f/8-11, and it's still more portable than any other f/2.8 zoom that gets to14mm.
If you want to go wider than 14mm, there are 11mm or 12mm primes and zooms out there, however, none of them will offer the same corner sharpness that this Sigma offers, except maybe the legendary Canon 11-24mm f/4, when set to 14mm and f/~8.
All in all, it depends on your shooting style, but basically, this is one of the best performers out there.
Nightscape & Astrophotographers
Last but not least, (in fact, virtually the exact opposite of least) we come to the nightscape or "astro-landscape" photographers out there, for whom this lens is probably the most perfectly suited. Because, of course, it is one of the most (optically) demanding photography subjects out there.
Unlike "traditional" landscape photographers, who spend almost all their time with their aperture at f/8 or f/11, a nightscape scene will almost always involve some amount of shooting wide-open. Not only that, but this introduces concerns besides central sharpness and corner sharpness. Vignetting, field curvature, and coma/astigmatism all become very important.
The Sigma 14-24mm f/2.8 DG DN delivers on all of these concerns, and is, in fact, one of the best-performing lenses ever to hit 14mm.  Even the highly-praised Sigma 14mm f/1.8 Art can only beat the 14-24 Art for vignetting when stopped down to f/2.8; the new Sigma zoom still beats the Sigma prime lens for low coma/astigmatism, and overall sharpness, at f/2.8:
[Related Reading: Sigma 14mm f/1.8 Art Lens Review | The New Champion Of 14mm Ultra-wides?]
If that's not impressive enough, let's compare the Sigma 14-24mm against another one of the hottest nightscape photography lenses, the Sony FE 24mm f/1.4 GM: You would think it's not possible for a zoom to achieve such impressive results at both ends of its range, and yet once again the Sigma almost matches the Sony for sharpness and low coma/astigmatism, only losing out (understandably) in terms of vignetting at f/2.8:
So, yes, the Sigma 14-24mm f/2.8 DG DN Art is the new champion of astro-landscape photography zooms, and gives even primes a run for their money.
Sigma 14-24mm f/2.8 DG DN Art Review | Pros
As I've already made clear, as one of the best-performing ultra-wide lenses we've ever come across, it's going to be hard not to sound like a fanboy here. Just remember, this is a specialized lens, and, as near-perfect as it is, it's still not the RIGHT lens for everybody. There are still other options out there that might suit you better if you're looking for something even more portable and/or more affordable.
With that said, let's talk about how perfect it really is…
Image Quality
Sharpness
All wide-angle lenses lately have been very sharp, admittedly, but this Sigma 14-24mm f/2.8 takes that sharpness to a whole new level. To get right to the point- this lens is ready for your ~40-60-megapixel cameras.
If you don't pixel-peep corners very much, and if you're "still" shooting with a 20-24 megapixel full-frame camera, then you might not be as concerned about sharpness. Still, you'd see the difference if you looked for it. We already shared the 24-megapizel sharpness comparison between the Sigma 14-24 DN and the Sigma 14mm f/1.8 Art and the Sony 24mm f/1.4, though, so we'll call it good with these 61-megapixel sharpness examples.
Bokeh
As a 14-24mm lens, there are not many situations in which bokeh (background blur) will play a crucial role, however, rest assured, it is indeed smooth if you are ever presented with an opportunity to create significant blur.
Colors & Contrast
Color reproduction and overall "pop" in images is another area where Sigma Art lenses have excelled since the very beginning, and this 14-24mm is no exception. Only in very controlled tests might you be able to discern a slightly warmer or cooler overall look to your images compared to other lenses, which is something easily corrected for by simply mastering Kelvin White Balance.
Vignetting & Distortion
Even with the natural vignetting of a sunset, image corners remain pretty bright!
Sigma 14-24mm f/2.8 DN Art, Sony A7 III, 1/200 sec, f/2.8, ISO 100
Distortion is virtually zero, partly thanks to the built-in lens correction profile, (See the sample above, under "Architectural Photographers") …and vignetting is low too. You can turn off these profile corrections separately in-camera, and see what the images look like without any correction, but if the corrections can be "baked into the raw file", why not leave them on?
Still, it's good to know that Sigma isn't trying to hide some ridiculous level of vignetting behind a correction profile.
There is still a faint bit of color shift from dead-center to the edges/corners, as we have begun seeing on all wide-angle lenses from both name-brand and third-party makers. This is especially common on lenses in the ~14mm range,  and we've seen it on other Sigma, Sony, Nikon, Rokinon, and Tamron lenses.
Thankfully, this phenomenon simply isn't visible unless you're heavily editing your images, and they include a lot of smooth-toned, relatively colorless surfaces in the frame. (Such as a picture of a snowy white-out scene, for example.) Just go easy on the contrast and "Dehaze" in post-production, and you'll be fine.
Sunstars & Flare
Sunstars are nice and prominent by f/8, but not super pin-point sharp. They're about normal for modern autofocus wide-angle lenses.
Flare is minimal, with only a few "dots" occasionally in the worst (sun in the frame) conditions. Indeed, sometimes even in such conditions, there are zero flare dots at all!
Color Fringing, Aberration, Coma & Astigmatism
This is where the truly incredible lenses continue to shine, instead of falling short. If you're a nightscape photographer or astrophotographer, you care a lot about all of these things.
And, as we mentioned, all of them are extremely well-controlled, in fact they're virtually non-existent by f/4, which is truly impressive.
Macro & Close-Up Photography
The lens doesn't lose any sharpness when focusing extremely close, and it focuses close enough that you can get some really creative imagery, even if the magnification is "only" 0.14x.
Design & Durability
Imagine the DSLR version of this lens, but shockingly smaller. (Well, you don't need to imagine; the photo is right there.) Many photographers will appreciate the traditional arrangement of the zoom ring being closer to the camera than the focus ring, although this is becoming increasingly arbitrary lately. Which way the focus and zoom rings rotate is also just a matter of muscle memory, but thankfully these days you can at least reverse the rotation direction of the focus ring if you dig deep into the camera menu.
Also, the Sigma 14-24mm f/2.8 DG DN Art adds an Fn button, since Sony offers it on a lot of their G and GM lenses.
Weather Sealing
Sigma calls it "weather-resistant construction", but I never know for sure if that means it's as meticulously sealed as a name-brand lens or not. All I know is, I stopped worrying about Sigma Art lenses being susceptible to rain, dust, and anything else many years ago. They're definitely made
Metal Construction
It's built like a [cute little] tank, with some obviously metal exterior parts. The hood seems to be made of some high-grade plastic, which is usually a good thing because when designed correctly, plastic hoods absorb impacts nicely; that's their other job besides keeping flare at bay.
On that note, remember that being made of metal doesn't always mean a lens or camera is indestructible, or inherently superior to plastic construction. It's about how the lens is actually assembled, down to every last screw and how it is tightened and held in place. Historically, Sigma Art lenses can still "come apart" under absolutely torturous abuse. I've had to tighten the screws on the mount of the 35 Art and 50 Art once or twice, back in the day. So, just know that you still should care for your lenses, no matter how solid they feel. After all, they are an optic, and a very severe bump could soften the left or right edge of all your images, even if the lens still looks physically fine on the outside.
Autofocus Performance
The autofocus of the lens is very reliable. This is great news for both Sony mirrorless shooters and for all Sigma fans in general because historically not only did mirrorless autofocus used to be unreliable, period, but Sigma DSLR lenses often suffered from front-focus or back-focus issues.
Now, thanks to both Sony's incredible mk3 and mk4-generation A7-series cameras, (or the entire A9-series) and whatever new autofocus technology Sigma is using, (they've dropped the "HSM" from the name, in case you didn't notice) …the frustrations regarding mirrorless and/or Sigma Art autofocus performance are gone.
I would pit this lens against its Sony GMaster competitor, the Sony FE 16-35mm f/2.8 GM, and say that it will autofocus just as reliably in any lighting condition. Any tiny difference in keeper rate that you might be able to measure in a highly controlled lab test will disappear in real-world use, simply due to the human factor. In other words, just worry about using good AF technique and mastering which Sony AF Area mode is right for your situation, and you'll love this lens' AF reliability.
Value
At around $1400, this lens is neither dirt-cheap, nor high-priced. All name-brand, flagship-grade, full-frame mirrorless f/2.8 zooms these days are well over $2000, whether from Sony, Nikon, Canon, or Panasonic. Also, the competing third-party f/2.8 zooms are all in the same $1200-$1500 range.
This, combined with the fact that the Sigma 14-24mm f/2.8 DG DN Art is the best of the bunch, should automatically give it "great value" status to any photographer who can possibly save up to afford it.
You could purchase an alternative for under $1000 if you're willing to shop used, and use an adapter to put a DSLR lens on the Sony E-mount. However, that would be a compromise that you'd definitely feel in practical usage, and likely also image quality, so the value factor would be diminished as well.
Let's put this another way: I'm actually surprised that Sigma didn't make this a $1999 lens. If it had been a name-brand optic, it would have been $2300 or more.
Sigma 14-24mm f/2.8 DG DN Art Review | Cons
We're going to have to grasp at straws here, because there's not much at all to dislike about the lens. Despite amazing image quality, sturdy build quality, and full advantage of Sony's E-mount lens protocols, (the customizable Fn button, and the focus distance indicator functionality through the EVF and rear LCD) …there could be a couple things that certain highly specialized photographers may miss.
Limited Manual Focus Throw
One of the universal drawbacks of autofocus lenses is that no matter how smooth you make the manual focus ring, they're still a bit more difficult to nail manual focus with due to what is known as short "focus throw".
A manual focus lens, by comparison, can offer extreme focusing precision by requiring more turning of the ring, and this allows focus on things like stars in astro-landscape photos to be much easier.
Having said that, manual focus with the Sigma 14-24mm f/2.8 DG DN Art (E/FE) isn't terrible, in fact it's quite precise, as long as you have a delicate touch on the focus ring.
Here's something for Sigma (or mirrorless camera body makers) to think about, especially when it comes to lenses like this that will be extremely popular among nightscape photographers: It would be wonderful to see a "night focusing" option where the electronically-controlled manual focus ring takes on some sort of lowered gearing ratio, with effectively 2-4x longer focus throw, so that manual focus is a lot easier.
No Focus Distance Scale (On The Lens)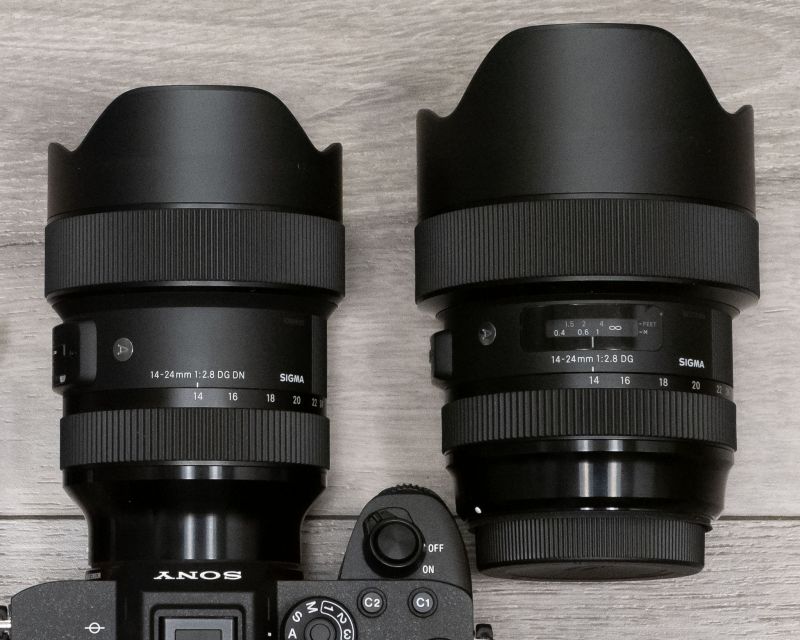 While we can't fault any modern zoom lens for lacking hyperfocal markings, we do miss having a physical focus window that gives us a consistent starting point, especially when turning the camera off and on again, and especially when trying to set focus on the stars.
This was a small convenience that landscape photographers may miss; however, having to re-set or re-check focus much more often is not a deal-breaker. I'd still buy this mirrorless lens 10/10 times. Just keep this in mind: Sony's in-camera distance scale isn't flawless, especially if you're trying to focus on stars; you can't just set it to what the camera says is "infinity", you must always focus manually on the night sky. (Even then, the number of meters at which the camera says stars are in focus can vary, too, so neither can you just always set the lens to 100m and trust stars to be perfectly sharp.)
Again, this is a minor nit-pick that should not be a deal-breaker for anybody. We are simply giving these review points a quick mention so that hopefully Sigma and/or Sony can improve on them slightly in the future.
No Filter Threads
This is a drawback that all 14mm f/2.8 lenses have, prime or zoom. Maybe that will change in the future, but for now, we must still mention it as an overall drawback for those whose options are more flexible. In other words, if you're willing to go with a zoom that goes to "just" 16mm or 17mm instead, you can gain the convenience of filter threads.
(Or, if you're a Nikon user who is reading this review in hopes that Sigma is working on Z-mount lenses, you can consider the Nikon Z 14-30mm f/4 S, which is currently the only ultra-wide zoom to go to 14mm and accept 82mm filters, if you're willing to lose f/2.8.)
Sigma 14-24mm f/2.8 DG DN Art Review |  The Competition
First and foremost, let's categorize all the options out there: Some photographers might only consider native, name-brand Sony FE lenses. (Or Panasonic / Leica L-mount lenses) Some photographers may be considering all options, name-brand or third-party. Lastly, of course, we must also consider if you already own a good ultra-wide lens, but are curious about upgrading.
That last one is important because honestly, ultra-wide zooms have all been pretty impressive for literally a decade or so. Ever since the Nikon 14-24mm f/2.8 shattered the mold of "primes are always sharper than zooms" back in 2007, the realm of ultra-wide lenses has been dominated roughly equally by both zooms and primes, and almost all of them offering incredible sharpness.
Which brings us to this first conclusion about competing options: If you already own a full-frame ultra-wide lens, and you don't mind using an adapter and/or lugging around what is probably an utterly massive, heavy beast of a lens, then you might not need this new Sigma option very badly. Even on a 40-60+ megapixel camera, you'll still get incredible results from the likes of the Sigma 14-24mm f/2.8 DG HSM Art.
However, let's move on to the glaring fact that these DSLR-made lenses, especially when used on an adapter, are downright ridiculously front-heavy and flex-prone on the relatively small (for full-frame) E-mount and L-mount. In other words, most people just don't fall into that 1st category we described; most people dislike using adapters, and most people would like to avoid a 2-3 lb lens that puts their setup awkwardly off-balance.
Simply put, virtually everybody should consider this DN optic. (Again, "DN" is Sigma's designation for optical formulas designed specifically for mirrorless cameras, not DSLRs.)
There are only a few small remaining caveats. Let's say you're not cool with the whole bulbous front element, and would rather have an ultra-wide f/2.8 zoom that accepts 82mm front filters. On Sony FE, the only option that approaches the overall image quality and build quality of the Sigma is the Sony FE 16-35mm f/2.8 GMaster, and it's a $2200 optic. (That's $800, or ~57% more)
Let's say that the relatively svelte, sub-2lb/sub-800g weight (795g, 28oz) still isn't lightweight enough for you. There's the Tamron 17-28mm f/2.8 Di III RXD, another Sony E-mount ultra-wide zoom that weighs a mere 420g/14.8oz, but of course, it only goes to 17mm on the wide end, and isn't as flawlessly sharp in the corners, either. The Tamron is also pretty much all plastic besides the mount, while the Sigma boasts pretty much all-metal construction.
If you really want 14mm in a lighter, smaller package, you could get the Rokinon or Samyang  AF 14mm f/2.8 FE, an $849 lens that seems to find itself on sale for $549-599 pretty regularly, and only weighs  505g/1.1lbs. It's a very sharp lens, indeed, but, like the Sigma 14-24mm's it does not accept front filters. Oh, and Rokinon lenses, historically speaking, don't have the same long-term durability reputation as Sigma Art lenses.
Lastly, maybe you hardly ever go wider than 24mm, and so you want the tiniest, cheapest lens available; you might consider the Rokinon/Samyang AF 18mm f/2.8 FE– a lens that only weighs 145g/5.1oz, only takes up as much space in your bag as a "nifty fifty" 50mm f/1.8, accepts 58mm filters, …but ONLY goes to 18mm, which is a far cry from 14mm, indeed. This is an "apples-to-oranges" comarison if ever there was one, but at least you have an increasing array of diverse options on full-frame mirrorless comared to just a few years ago!
In summary, no matter how you compare all the options, or what your personal preferences & priorities are, the Sigma 14-24mm f/2.8 DG DN Art stands alone in its category. Whether you're considering price, size, weight, balance, image quality, or all of the above, there's one or more advantages for you with this lens. Lastly, yes, even if you already have a great ultra-wide lens on an adapter, you should probably try to trade it in for this new modern marvel.
Sigma 14-24mm f/2.8 DG DN Art Review | Conclusion
Hopefully, that wasn't too much superfluous hyperbole for you readers. The lens is, in fact, that good. And to be totally honest, we didn't expect it to be! Sigma hasn't had a flawless track record for wide-angle, fast-aperture lenses, and they've struggled with coma/astigmatism in particular with virtually all of their previous lenses that go any wider than 35mm. This lens changes all that.
When we first laid eyes on it, we thought for sure that it was an optic with significant compromises, due to its diminutive size compared to the similar DSLR competitors that achieved such good image quality even on 40+ megapixel cameras. We were flat-out wrong.
So, whether you're a total pixel-peeper, or just someone who is looking for a reliable, decently affordable ultra-wide f/2.8 zoom that goes to 14mm and doesn't weigh 3.5 bricks, (1.4 anchors :P ) …this is the lens for you. You might consider one or two alternatives, but only if you don't actually do very much ultra-wide shooting.
By the way, for those who are itching to comment and accuse me of being a total fanboy of Sigma lenses, don't worry, our next lens on the review list from Sigma is the 35mm f/1.2 DG DN Art, another full-frame mirrorless lens, and it is an utterly massive lens, (in fact, it dwarfs the 14-24 DN!) …so I will definitely have a thing or two to say about that total reversal of the "mirrorless can be lighter!" trend. Stay tuned for more gear reviews coming soon!
Check Pricing & Availability
Pros
Superb sharpness & image quality
Durable build quality
Very compact form factor for a full-frame f/2.8 zoom
Reliable autofocus
Full advantages of Sony FE mount (Fn button, focus distance indicator)
Cons
No Focus/Hyperfocal Markings On Lens
Focus Throw Narrow For Astro-landscape work
Design & Build Quality
10
Ergonomics & Portability
10
Autofocus & Manual Focus
10
Final Verdict
Finally, after so many years of full-frame mirrorless lenses being either just as big and heavy as their DSLR competitors, or lighter & smaller but compromising significantly on image quality, Sigma has begun achieving the impossible- this lens is nearly perfect, and breaks the mold of what is required for a lens to achieve such results, too.