Medium Format sales had taken a bit of a hit as full frame digital cameras began to encroach on their territory, and I'm thinking specifically here of cameras like the D810 and A7Rii, but if this year has taught us anything it's that Medium Format is coming back, and perhaps more democratized than ever. With the Hasselblad X1D and the Fujifilm GFX50s there are now 50MP medium format cameras to be had for under $10K.
But before those existed there was the Pentax 645 (in various evolutions) also under $10k, and the 645z the latest iteration of it. The heart of the 645z is the same Sony sensor you'll find in the Phase One IQ250 and Hasselblad H5D-50C and H6D, and those go anywhere from $15k to north of 30, making the 645Z a bit of a bargain even at its intro price of $8,500, but now you can get one for $5,500 (body only) given a recent rebate at B&H.
Sure you don't have EVF, and it's not the prettiest camera around, but you're still getting that sensor, giving you 16 bit color and 14 stops DR, and of course the access to the rather spectacular line of Pentax lenses, like the 90mm f/2.8 D FA 645 Macro ED AW SR with Pentax Quick-Shift Focus System for rapid switching between auto and manual focus modes, or any number of others.
If you're looking to get the benefits of a MF sensor then this is about the most economical way to do it at this time. The only problem is, the Fuji GFX-50S is newer, perhaps a bit better specked for about $1k more. Still, the Fuji system is a little less proven, and if you're one for OVF then this is your baby. Check it out here.
You can check out the work of Chris Knight, who relies on this kit for his work, on his Instagram and in the articles below.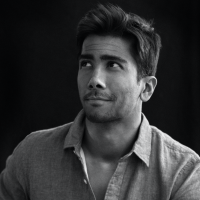 Kishore Sawh
A photographer and writer based in Miami, he can often be found at dog parks, and airports in London and Toronto. He is also a tremendous fan of flossing and the happiest guy around when the company's good.