Dating back to Greek mythological times, muses have been a source of influence for artists. Historically speaking, women have been at the forefront of inspiration for some of art's leading names, including the likes of Van Gogh, Manet, and Avedon. Their ability to ensconce their truest being and become the character has graced us with some of the world's greatest art pieces.
Artists draw inspiration from what they know or have had an emotional attachment to. More often than not it is the skillset of a great muse that is able to vividly personify that imagined character. The relationship between an artist and their muse will forever be a therapeutic reprieve and create some incredible works.
In modern society, muses still have a place at the artist's table on a grandiose scale, and there are pros and cons to this, especially in a culture where attention spans are waning.
A post shared by Brittany Smith (@brittanysmithphoto) on
Pros
When an artist and muse work together at the beginning stages of their career they are in a mutually beneficial scenario and help each other rise among the ranks together. There is something beautiful and poetic about this because each has the same end goal, therefore neither vision is overstepped along the way.
The muse may have an idea and present it to the artist and together they continue to create, inspiring each other during the journey. The portfolio that is built is easily recognizable with the duo becoming synonymous with each other.
There is a deep connection that is formed on a subconscious level when a working relationship develops. There is an ability for a photographer and the model to feed off of each other, creating something far superior than what either thought was originally possible. Each new piece is seemingly better than the last and it becomes easier to bring the imagined idea to life.
Cons
Because of the working relationship and connection that is built when working with a muse, it can be frustrating when working with another subject and that same bond doesn't innately manifest. It is difficult to communicate exactly what it is that the artist is trying to convey when they aren't speaking the same language. The artist may second guess themselves when the caliber of work isn't on the same level that they are used to creating with their muse.
It may be also difficult to land other jobs if a portfolio is solely comprised of one muse. Art directors and photo editors want to see what is next or what else the photographer can do. Even worse, the prized portfolio can be viewed as lacking true imagination and innovation through a different set of eyes.
A post shared by Brittany Smith (@brittanysmithphoto) on
Balance
One way to be proactive and deal with the cons head-on is by working with and developing more than one muse at any given time. No one person is identical to another, therefore this allows the connection to build without losing the skill of communication that is necessary when working with other people.
The always-evolving portfolio will then include a range of muses that demonstrate to potential peers and employers that you as the artist are capable of deviating off the tried and true path and can adapt to the demands. This is also indicative that inspiration isn't gridlocked to one person, therefore it can be learned and drawn from anywhere.
Balance is the ever fleeting course of life that we are seeking and it is important to find some aspect of it. Creating is so much more than being about art – it is a release and a muse is an integral part of that.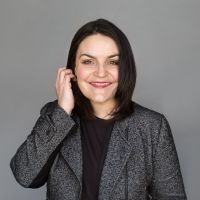 Brittany Smith
Brittany is a fashion and beauty photographer who works between NYC, Montana and LA. She photographs the way she has always wanted to feel and believes in the power of raw simplicity. When not behind a camera she can usually be found at a local coffeeshop, teaching fitness classes at the YMCA, or baking something fabulous in the kitchen. Instagram: @brittanysmithphoto