Picture yourself at the top of a gorgeous mountain overlooking the lush landscape below or on the rooftop overlooking a historic city just after sunset. If you have your camera and your tripod, these moments are the perfect opportunity to capture the view around you by taking a panoramic photo. A panoramic photo comes from a series of photos panning left to right or up and down that is stitched into one large photo.
Taking panoramic photos is a fun and popular way to take widescreen photos of scenic landscape and architecture. The most important aspect of panoramic photo, however, is getting the best shots on camera. If you don't take your time to set up your shots right, it will be difficult and sometimes almost impossible to fix it in post. Here is a checklist of what you should do in order to get the best panoramic shots.
USE A STURDY TRIPOD AND HEAD WITH A PANNING CONTROL
The single most important tool for creating a successful chain of photos is a sturdy tripod and either a ball-head or pan and tilt head that has an independent panning control. This panning control allows you to pan the camera across without being affected by all the other functions on the tripod and head.
It is also important to level the base of the tripod head with the horizon, so be sure to use the bubble level on your tripod if it has one.
USE AT LEAST A 50MM FOR CLASSIC LOOK, SHORTER FOCAL LENGTH FOR A MORE FISH-EYE LOOK
For a more traditional panorama, use at least a 50mm focal length lens (on a full-frame sensor) to minimize distortion. This will give you a more straight-forward shot that is easier to stitch. For the Vincent Thomas Bridge panorama, I used a 70mm focal length from the Nikon AF-S Nikkor 24-70mm f/2.8G ED Autofocus Lens on the Nikon D600.
If you use a wider lens, you may distortion at the edges of the frame. This makes it harder for the computer to get an accurate panorama with minimal distortion. That doesn't mean that you shouldn't try it out, though, if your intention is to have some distortion.
I used a 16mm focal length of the Canon EF 16-35mm f/2.8L II USM Autofocus Lens on the Canon 5D mkII for the Essex Skyline Panorama because I want to make sure I get as much of the building and the ground as I can. I felt that the curving lines of the parking lot that I was shooting from added to the shot.
SET TO MANUAL EXPOSURE MODE AND METER OFF THE MOST IMPORTANT PART OF THE SCENE
When it comes to your camera settings, it is important that they are set on manual. First, make sure that your shooting mode is on Manual. This will prevent the camera from auto-adjusting the exposure as you take your photos. You also want to meter your exposure off the most important part of the scene.
For the Essex Skyline panorama, I made sure that I dialed in the exposure for the side of the building that is reflecting the sky.
SET WHITE BALANCE TO A FIXED PRESET OR KELVIN
Make sure you are using a consistent White Balance (WB) preset. If you use WB Auto, you run the risk of the WB changing, especially in a shot like the Essex panorama where the sky was getting darker as I was shooting.
SET APERTURE TO F/14 OR SMALLER TO MAXIMIZE DEPTH OF FIELD
To make sure that you can get a deep depth of field (DOF), be sure to use at least an aperture value of f/14 or smaller. For smaller crop sensors, you can get away with a slightly wider aperture since the crop factor creates a deeper DOF.
<
In regards to focusing, I suggest to focus 1/3 up the field to ensure sharp focus in front and behind the focus point. Another alternative is to focus on the most important element in your image to make sure that is in sharp focus.
SWITCH TO MANUAL FOCUS SO SHUTTER DOESN'T REFOCUS
Once you set your focus, turn off your autofocus. The last thing you want to do as you start shooting is for your camera to refocus. Although you are shooting a deep DOF, the changes in focus point may break the continuity of panoramic photo.
IMPORTANT! TILT CAMERA DIAGONALLY TO GET THE MAXIMUM VERTICAL RESOLUTION
Now here is my secret in getting a super-detailed panoramic photo. Tilt your camera on your tripod head so that you get the maximum vertical resolution. Since you are going to be overlapping images horizontally, you don't have to worry about getting as much width-wise. If you compare the two shots below, you can see that I was able to get more of the sky and more of the foreground than shooting it in landscape format.
With the Vincent Thomas panorama, I was able to get zoom in at 70mm and still get all of the bridge as well as the sky and ground/water.
LOCK EVERYTHING DOWN AND STABILIZE YOUR TRIPOD
Once you get all your settings good to go, lock down and stabilize your tripod. The only thing that should be moving is the panning portion of your tripod head.
SHOOT WITH EITHER MIRROR LOCK UP, TIMER, OR SHUTTER RELEASE CABLE
To minimize vibration when taking photos with slow shutter speed, use either the mirror lock-up, timer shutter, or a shutter release cable. If you have to use the shutter button, make sure that you are either on manual focus or have remapped your autofocus to another button (I use the AEL button to focus instead of the shutter button)
SHOOT LEFT TO RIGHT AND OVERLAP IMAGES BY 30-50%
Begin by shooting from left to right. Since you are shooting diagonally, start off a little further on the left-side than your usual starting point. As you pan, be sure to overlap your images by 30%. The more overlapping, the less you will have to crop from the top and bottom in post-processing in order to get a rectangular image.
TRY SHOOTING VERTICAL PANORAMAS
Not all panoramas have to be horizontal. Try shooting vertical panoramas as well. In this case, tilt your camera slightly to get the maximum horizontal resolution.
IF SHOT IN RAW, MAINTAIN CONSISTENCY FOR ALL IMAGES WHEN ADJUSTING IN LIGHTROOM OR CAPTURE ONE
If you are shooting RAWs (Which I highly suggest if you want to expand the dynamic range), bring it into Lightroom or Capture One to batch process exposure, temperature, etc. Be sure to apply the adjustments to all the photos in order to maintain consistency across the board.
EXPORT ONE IMAGE TO PHOTOSHOP TO CORRECT FOR TILT
Export an image as a TIFF file to Photoshop to correct for tilt. While you can do this in Lightroom or Capture One, those software forces you to crop part of the image when you tilt.
In Photoshop, I create a Photoshop action by recording the following steps:
1) Duplicate layer (CTRL+J in Windows and CMD+J in Mac)
2) Erase original background layer
3) Create a horizontal guide to align tilt to horizon (View Menu, New Guide)
4) Rotate the image by using the Rotate Image function (Image Menu, Image Rotation, Arbitrary)
5) Use the horizontal guide to guide you in rotating the image until you find the angle that gets you a level horizon. In the case of the Essex Skyline, I had to use a 37 degree tilt, whereas the Vincent Thomas Bridge, I used a 40.5 degree tilt. As you can see, by duplicating the image on a new layer, the empty parts are transparent. This is important because it is the only way Photoshop can stitch the images properly. If the empty space was filled with white, Photoshop will not be able to merge the panorama together.
6) Stop recording the action and save the action.
After you create the Photoshop action, close out the image without saving the file. Then, export the rest of the images as a TIFF file into a folder. Next, run a Batch processing using that folder and the action that you just created (File Menu, Automate, Batch) in order to tilt all the images the same way.
• USE PHOTOMERGE IN PHOTOSHOP TO STITCH IMAGES TOGETHER
Now that we have all the images ready, we can use Photoshop's built-in panorama stitching program, the Photomerge (File Menu, Automate, Photomerge). Load the images from the center of the dialog box.
In regards to the settings, I usually leave it at Auto Layout with the Blend Images Together checked and the rest unchecked. You can test to see if the geometric distortion will help. After that, hit Ok and grab your favorite beverage and snacks because stitching a series of full-resolution TIFFs is going to take a long while.
USE LAYER MASKS TO DO SOME FINE-TUNE BLENDING
Once Photomerge finished the panoramic stitching, you may get an image that looks like this.
With this photo, because I was on a race against a setting sun, the exposure kept on getting darker and darker, and the change in exposure is noticeable from frame to frame. This is not that big of a deal for me, though, because it I can just blend the gradation and make an even nicer image in the end. Here is the image after I blended the layers together using layer masks.
The Vincent Thomas Bridge shot was done around 9pm, so the exposure stayed consistent across the panorama. As a result, I did not have to do any extra layer-to-layer blending.
• USE LENS CORRECTION IF YOU NEED TO DO FURTHER DISTORTION CORRECTION AND CROP THE PHOTO REMOVE JAGGED EDGES
Finally, you may have some image distortion that was not corrected by Photomerge. You can use Lens Correction to fix this distortion (Filter Menu, Lens Correction). This is especially true if you use a wider angle lens like I did for the Essex Skyline panorama. I didn't have to use any lens correction with the other panorama since that was shot at 70mm.
After the Lens Correction, you can also crop the image into a rectangle. Here is my final image for the Essex Skyline panorama. You can click on it to see a larger resolution photo.
And here is my final image for the Vincent Thomas Bridge panorama. Since I couldn't open up the Raw to pre-process them in Lightroom, I had to post-process the panorama Jpeg. I used the HDR Lite Preset from the SLR Lounge Lightroom 4 Preset System and cooled down the temperature a bit to add a bit more pop. You click on the image below to see the final image.
Conclusion
Panoramic photography is a great way to shoot vast landscape or cityscape. The most important thing is to get the shots right on camera. Keep the settings on manual and lock them down so they stay consistent as you shoot the series. Also, tilt the camera diagonally to maximize the vertical resolution. Finally, don't forget to use a sturdy tripod and head to minimize unwanted movement.
When it comes to post-processing, my method of tilting the camera for maximum vertical resolution means that you have to add several extra steps in your workflow in order to rotate the horizon back to level. After that, it is all a matter of layer mask blending when needed, and cropping the image into a rectangular.
That's it! Hope you enjoy this tutorial. Please link some of your favorite panorama either by you or by another photographer.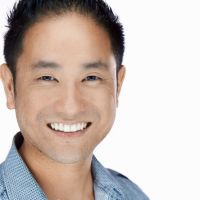 fotosiamo
Joe is a fashion and commercial photographer based in Los Angeles, CA. He blends creativity and edge with a strong style of lighting and emotion in his photographs.