There are cameras you lust after, cameras you crave, and then there are the cameras you dream about. The latter aren't typically the flagships of the day; not the D4s or the MK3s. They tend to be iconic units from iconic brands, and commonly now, they are film cameras. Perhaps this has something to do with the unremitting development of digital gear and in our minds, we know that today's best is outdone tomorrow, but film sort of stays.
Hasselblad and Leica are usually the cameras people dream of owning and it's not hard to understand why. For Carl Pendle, his shelved dream for many years was to have a Hasselblad 500 series, a camera that was neither practical in price, nor practical in use for his career as a professional photographer. So it seems befitting that when he finally had one, he would do something quite special with it.
Taking inspiration (and some technique) from a video we featured not long ago called 'Paris through Pentax', where filmmakers Mathieu Maury and Antoine Pai of production company Maison Carnot shot a street video of Paris looking down into the viewfinder of a Pentax 67, Pendle took the same idea on a quick jaunt around his town in the UK, and added to it.
Unlike the guys from Maison Carnot, Pendle actually loaded his Hasselblad with film (Kodak Portra 400 120) and took photos during the video. You get to see him choose the subject, compose, focus and expose, and then see the actual image that results. Admittedly this was a quick run, and the images perhaps are not that compelling, but it's such a nice way to see street photography occur, and makes me want to buy one of these 500s myself…even more now.
You can find more from Pendle on his Vimeo page, and his site.
Source: PetaPixel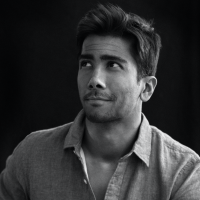 Kishore Sawh
A photographer and writer based in Miami, he can often be found at dog parks, and airports in London and Toronto. He is also a tremendous fan of flossing and the happiest guy around when the company's good.