Welcome to Time Out with Tanya, where I've put my fast paced graphic design career on hold in favor of adventures in motherhood. I'm capturing every moment on camera and you can come along, if you'd like. Sign up for my weekly email here so you'll never miss a Time Out.
When I was 14 years old, I went to work for and live with my Aunt on the weekends. She happened to be the family historian and had an entire closet full of old photos. I'm talking really old photos here. Sometimes, after all my work was done, I would take out the old photo books and look through them. They were fascinating to me. I would look for facial features that matched my own or speculate about their quality of life based on clothing and surroundings. Today, I'm so grateful for those well preserved photos.
Do you have old photos of family members lying around? Are some of them so old you don't even know the names of the people or the stories behind the images? My interview today is with Rachel LaCour Niesen, founder of Save Family Photos. I'm intrigued by her mission to preserve the world's family photos and post them on Instagram. Viewing the worn, faded and torn photos in her feed is a treat, in and of itself, but reading the accompanying stories is what really makes this project captivating. From a writer's standpoint, it's the jackpot of character studies and is fast becoming an incredible sociological archive of snapshots from our past…
Tell me about yourself and your website.

My name is Rachel LaCour Niesen and I'm obsessed with old family photos – the ones hidden in shoeboxes and attics around the world. The Save Family Photos website and Instagram feed are like virtual campfires. They're places where people can gather and share their stories, one photo at a time.
As a photographer and former journalist, I believe stories are the currency of our past, present and future. Without them, we are bankrupt. When we tell our stories, we ensure that pieces of us remain in the world, even when we are long gone. The tradition of oral history, of sitting around a campfire and sharing stories, is often overlooked in the digital era. It's kind of old-school. In the twenty-first century, humans are creating content at warp-speed using digital devices. We're drowning in digital content. That's why one-of-a-kind analog media – like Polaroids and Kodachrome slides – are priceless artifacts of our existence. They proclaim to future generations, "We were here! Remember us!"
When we take time to tell our stories, we preserve them and keep them from being lost forever.
What is the mission of Save Family Photos?

Our mission is to encourage families to save and share family stories. And I believe family photos are one of the best ways to trigger stories. They are like glue that holds my story — and our stories — together over time. Every family has shoeboxes and drawers full of old photos. Those photos mark milestones like birthdays, graduations, vacations and weddings. Often they're simple moments that showcase the beauty of everyday life. I think those photos are priceless and I'm committed to encouraging families to preserve them for future generations.
Where did you get the idea for Save Family Photos? What motivates you to keep it going?

My grandparents were the inspiration for Save Family Photos. I'm lucky to have matriarchs and patriarchs who love telling stories.
My grandmother has a large, wood-paneled wall of family photos. As a child, I used to walk along that wall and stare at my family's faces. I saw my grandparents as children; my father graduating from high school, my uncle as a student in New York City, my aunt at a swim meet. I saw faces full of hopes and dreams – before I ever existed. In those moments, I realized something powerful: my story started before ME.
And when my grandfather died this year, I wanted to celebrate the legacy he left behind. So I started scanning old photos of him – from his childhood to military service to marrying my grandmother and raising my mother. Then, I posted a photo and story about him on Instagram and invited family and friends to do the same for their loved ones. In turn, they encouraged people in their networks to share. Now I receive family photos and stories from around the world. It's amazing and is probably my favorite part of each day.
Yet Save Family Photos is more than a community project; it's a movement to catalyze each of us to preserve our family history. Most families have hundreds of disorganized, deteriorating analog photos in their homes. These photos hold valuable family memories and are highly susceptible to damage and loss. To historians, family photos exist on the margins of global history. They aren't considered "newsworthy," so they won't be catalogued in the National Archives. Yet for families, photos are personal history made visible. Within each collection, there are icons of family history – birthdays, weddings and anniversaries. But without the stories that explain these photos, their value is diminished. Most of these stories live inside individuals' memories; when they die, the stories die with them. That is why many family photos tragically end up in thrift stores, as anonymous artifacts.

Are people eager to share their old family photos and stories?

Yes, they are enthusiastically sharing family photos and stories. And I'm honored to be a steward of their stories! I've been humbled by people's participation and support. When I started Save Family Photos, I had no idea it would spark such immediate interest. At first, I reached out to friends and family to ask for photos to feature on my website and Instagram feed. I had to curate proactively to keep up with my commitment to feature new photos every day. In less than a year, we've grown from just a few followers to over 7k followers and over 4k hashtagged photos (#savefamilyphotos).
Yet there's still so much more that we can accomplish as a community. There are an untold number of family photos hiding and deteriorating around the world. So, it's really an incredible honor for me to serve as a steward of stories. Some stories have triggered tears; they are so personal and poignant. Honestly, I pinch myself every time I get a remarkable new family photo and story in my inbox. I'm grateful for families who recognize what we're trying to do and support our mission by sharing their stories and photos.
What's the benefit to posting and archiving personal photos on a public platform like this?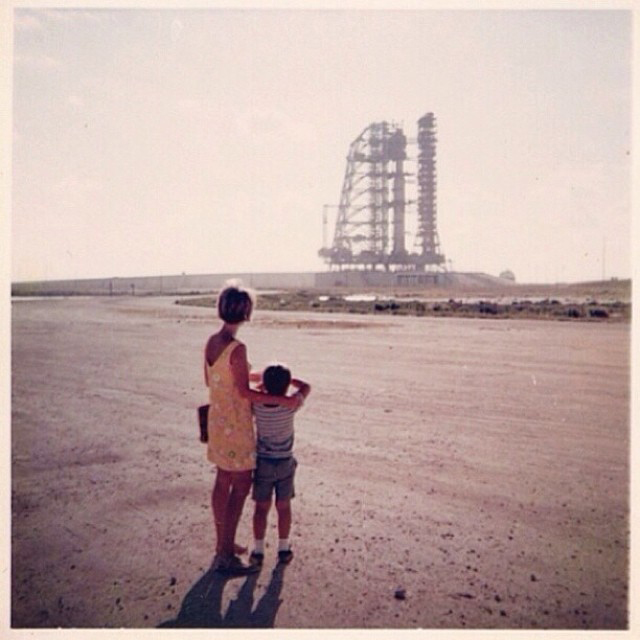 I believe sharing family stories and photos publicly encourages community participation and action. No matter who you are, or where you come from, there's a universal understanding that family is important. Our family histories matter and they deserve to be preserved. That's why gathering around a virtual campfire as a community can be so powerful: when someone else shares their story, it encourages us to tell our own. We can all celebrate each other's histories, while still respecting our individual legacies.

Are there any copyright or other legal issues involved?

Since sharing stories is a uniquely personal process, I feel like I've been entrusted with family histories. It's an honor and also a responsibility. Each person who shares a family photo and story retains their copyright. When families share stories and photos with the broader community, everyone benefits. I simply serve as a curator and create a platform for celebrating family photos and stories. My main goal is to gather folks around a common campfire – albeit virtually – where they can celebrate each other's stories through photographs.
Are you a photographer yourself? If so, what's in your camera bag?
I am indeed! My background is in photojournalism, but I spent over a decade photographing weddings around the world. When I chose to pursue photojournalism in college, I wanted a front-row seat to world history. Later, when my professional path turned toward wedding photography, I realized that I had a front-row seat to family history. That was a rare privilege and it sparked my interest in family photos.
My bag is pretty basic: 2 Canon 5D Mark IIIs, a 35mm/1.4, a 50mm/1.2, and a 135mm f2. I also have a bunch of 64GB CF cards, two Canon strobes and a handy tool for focusing in low-light. I always seek out great ambient light, and try to avoid adding flash unless absolutely necessary. That's why I invested in fast lenses, and also why I love old analog photos! Some imperfections, even some motion blur, make photos more magical. Perfection and sharpness are overrated. :)
Is there anything you wish was in your camera bag?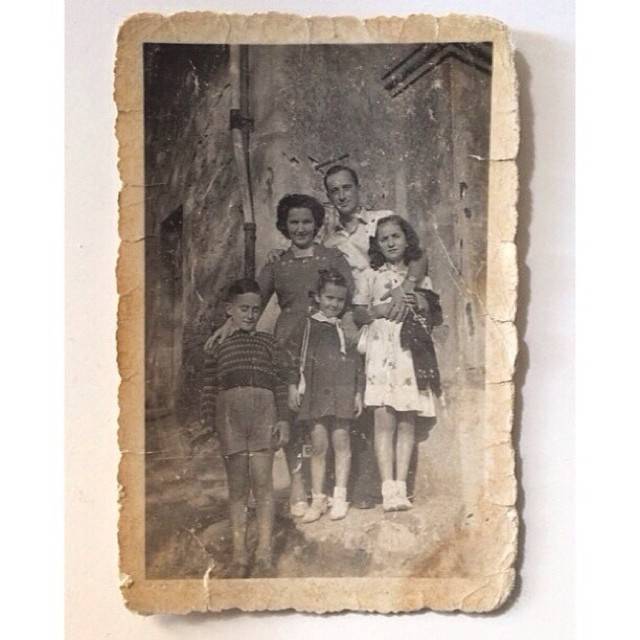 Nope. After years of hauling around too much gear, and abusing my shoulders, I'm happy to say that I've finally slimmed down my bag to the basics. Less is more; the gear I've got is serving me well.
What's the biggest challenge you have faced in creating this community and how have you overcome it? Or are you still working through it?

Curation – that's the hardest part of this project. A balance of artistry and discipline is required to curate compelling photos and stories for daily features. I made a commitment to my followers to deliver an awesome photo and story every day, and I haven't missed one yet. But it's tough to stay ahead of the game and constantly curate fresh photos. I strive to share photos and stories that are compelling, unique, inspiring, heartfelt, and even quirky! Another consideration is balancing the number of black-and-white versus color images on my Instagram feed. Visual variety is important. Although technical quality is also important, the most important thing is the story that accompanies the photo. The story trumps everything else.
What's your vision for the project for the future?
This is the question that keeps me awake at night. (Many nights!) I have so many ideas for Save Family Photos, including innovative tools to help families capture and preserve stories that are triggered by old photos. My husband, Andrew, and I actually used Save Family Photos as the basis for his recent MBA thesis. Our hearts are invested in this project and we would love to turn it into something much bigger that serves families.
Anything else you want to share with the photographic community?

There's no "convenient" time to preserve your family history. Just start somewhere. Start today. Dig into your basements, closets, drawers and shoeboxes. Gather your old photos, digitize them and collect the stories they tell. Every family member will remember something different when they see a photo. Take time to ask them to chime in, before it's too late! Check out resources like Southtree for scanning analog photos, and Your StoryHouse for gathering oral histories. As key family members age, it's even more imperative to collect stories and memories.
Anyone who wants to participate by sharing a photo and a story can email Rachel: rachel@savefamilyphotos.com OR simply #savefamilyphotos when you share your photo on Instagram.
For tips on shooting and preserving your current family photos, check out TANYA'S TOP TIPS FOR SHOOTING, ORGANIZING AND PRESERVING FAMILY PHOTOS. If you want to learn how to fix rips or extreme blemishes on your heirloom photos, stay tuned for a few tutorials I'm cooking up…I might even try video. Yikes!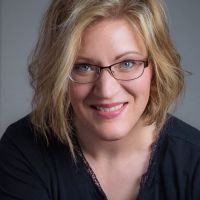 Tanya Goodall Smith
Tanya is the owner of WorkStory Branding Photography in Spokane, WA. Businesses hire her to create story-telling content that sells their high end products and services. She also teachings photographers her unique business model for making serious money as a corporate and personal branding photographer. Find her at
workstoryphotography.com
and
workstoryeducation.com