Few newcomers to the lighting arena make headlines and garner affection the way Godox/Flashpoint has done in recent years, even in the face of their strange power increments, and the XPLOR 600 took that affection and turned it into loyalty, so that there would be a successor to it was obvious and that successor is here.
Posted briefly to the Godox website and then pulled, the new unit is the XPLOR 600 PRO TTL, and even though there has been no official press release published at this time, the units are available for pre-order on Adorama for $968 with R2 Transmitter or $899 without.
Flashpoint XPLOR 600PRO TTL With R2 Pro Transmitter
What we can glean from the listed specs is that the next generation XPLOR 600 PRO is more than just a refined 600, as it seems to differ in many critical areas other than power output, which remains the same at 600 watt/seconds (TLL & HSS included).
The overall shape of the unit has changed, and that new build means a new battery, an LED modeling light that's more powerful than the one found in the B1X and the Siros L, a new non-recessed flash tube design, a better control cluster, integrated reflector, and an overall better performance profile. There's also an expansion of compatibility as there are now R2 variants for Sony, Fuji, Canon, and Nikon.
Perhaps the most obvious change to the XPLOR 600 in this PRO version is the shift of balance between battery power performance and quality of light performance. The new Flashpoint XPLOR 600PRO TTL may have kept the same power output, but it has a higher voltage and that may contribute to the significantly better recycle time. The unit will recycle at full power in 0.9 seconds, which is basically a 2.5x improvement upon the more humble original. That's also faster than the B1X, it should be said.
There is a price to be paid, however, and that is you'll get a significant reduction in number of flashes, and in print they've put a reduction from 500 to 360 at full power. Of course, it's worth mentioning, most will not be shooting at full power most of the time, but for those that do it's a consideration worth having. Granted, the battery packs can be bought separately and apparently charged to full capacity within 2 hours.
Beyond that, however, the most interesting and impressive change is that of color consistency. Color consistency has long been the Holy Grail of premium, and part of the reason Profoto charges what they do, and Broncolor what they do considering they're even better at it, and Briese, etc. But according to the spec sheet the Flashpoint XPLOR 600PRO TTL will feature a 'Stable Color Temperature Mode' for "color temperature changes ±75k over the entire power range.
To shed a little more perspective on that consider the B1X under normal mode will do ±150K over entire power range, +/- 20K flash to flash and Broncolor's ECTC tech suggests ±50k. So coming in at ±75k is actually quite remarkable, and opens up a new and more discerning audience to the Flashpoint system if it works as advertised.
So, while these are all thoughts derived from the listed specs, we'll be interested and keen to get a unit in for testing, and maybe put it up against a B1X and/or Broncolor Siros. But, if you are so inclined to pre-order yours, Adorama has free expedited shipping as an incentive right now. Not that you needed any…
See our full review of the Flashpoint XPLOR 600 here:
Flashpoint/Godox XPLOR 600 HSS TTL | Full Review
Flashpoint Godox AD600 Pro Features
Real 600Ws of TTL Wireless Strobe Freedom
Professional GN of 285ft/87m (ISO 100) with Standard Reflector
Ultrareliable Built-in 2.4GHz Wireless R2 Remote System
TTL Connectivity to Canon, Nikon, Sony, Fujifilm, Panasonic and Olympus
TTL, Manual and Multi Flash Modes at your Command
Spontaneous Link to Simultaneous Multi Camera Systems
Incredible 262′ Distance Remote Range
Blazing Fast 0.01-0.9s Recycling
Generous 370 Full Power Flashes from a Single Charge
Rechargeable Lithium Battery Pack in Only 2 Hours
9 Stop Control from 1/256 to 1/1 in 25 steps
Multiple Light Rotation Masking for Layers in Image Processing Software
Stable Color Mode Guarantees 5600K±75K
Brilliant 38W LED modeling lamp / 400w tungsten equivalent
Proportional, Variable and Synced Modeling
Sun-stopping HSS with up to 1/8000s high-speed sync flash
Vivid LCD Info Panel with all Features, including Flash Duration
Optical Slave with Preflash or Single Burst Sensitivity
Fan Cooled for Stable Performance in Rapid Fire
Automatic Safety Preventive Modes keeps the flash secure
Plethora of Custom Functions
Portable Power with No Excuses
Strong and Sleek Body Speaks Style and Performance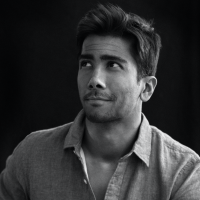 Kishore Sawh
A photographer and writer based in Miami, he can often be found at dog parks, and airports in London and Toronto. He is also a tremendous fan of flossing and the happiest guy around when the company's good.