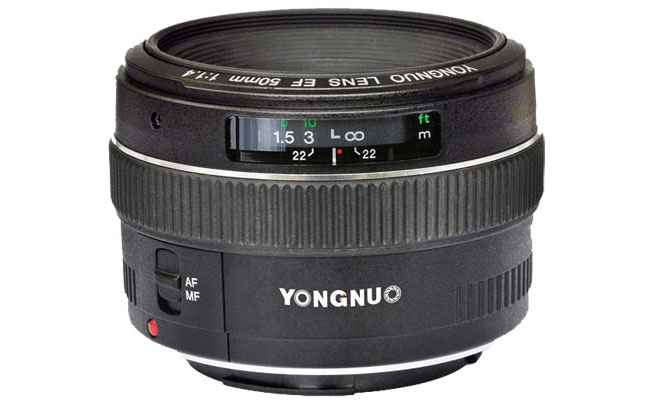 Yongnuo has leveraged its great success at cloning Canon speedlights and is apparently moving on to the greener pastures of the lens market. The Chinese company has announced their first ever lens, a 50mm F/1.4, which looks almost identical to the Canon 50mm F/1.4.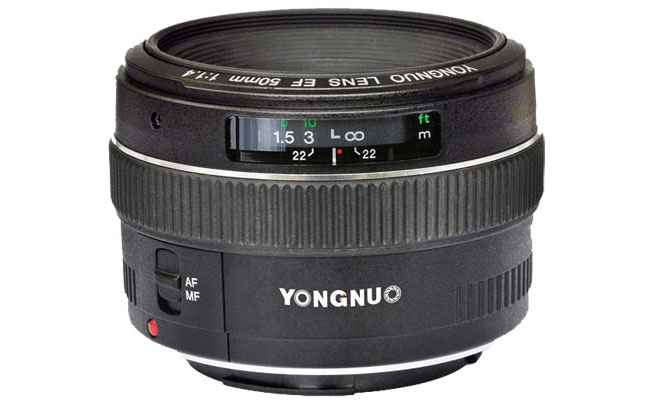 According to Yongnuo, this would be the first large aperture autofocus lens made in China. The new lens, while looking almost identical to the Canon, does have one significant difference: an old DC AF motor, while the Canon has the newer ultrasonic silent AF motor technology. Another noteable difference, the Yongnuo appears to have a plastic lens mount, where the Canon's is metal.
Yongnuo 50mm F/1.4 Lens Specs
Lens Focal Length: 50mm
Lens Construction: 6 Group 7
Aperture blades: 8
Minimum aperture: 22
Closest focusing distance: 0.45 m
Maximum magnification: 0.15 times
Drive System: DC motors
Filter diameter: 58mm
Maximum diameter and length: about Φ75 × 58mm
Weight: 239g
I am curious to test this lens for sure, but I am not going to praise this as an achievement or anything given it appears to be a complete ripoff of the Canon. I am curious what Canon will do, if anything, about this. It's one thing to clone a speedlight, but a lens, surely that is not something they will be happy about.
I also recently read a bit about how only Japanese companies can get AF licenses for EF and F mount from Canon and Nikon (partly why Zeiss has no AF lenses for those systems). If that is the case, then this lens would not be a "legal" EF lens. So that makes this announcement even more interesting.
Regardless, this new lens will no doubt come in at a vey affordable price, may even be pretty decent optically. I am very curious to see how this all shakes out.
___
What are your thoughts on this? Would you trust a Yongnuo lens to produce a high image quality? Leave a comment below!