It's strange, isn't it, that the company perhaps most widely associated with external hard drives (thanks to the fact they line the easy-to-reach shelves at Costcos and BestBuys), seemed almost reluctant to quickly adapt SSD, when it was pretty clear that was the way things are going. Well, with their acquisition of SanDisk that changed, and WD seems set to make up for some lost time with the release of their first portable SSD.
The My Passport SSD borrows heavily in outer design from its larger counterparts, making it instantly recognizable as a WD device – just shrunken. But in that diminutive casing can be found 256GB, 512GB, or 1TB of storage, with transfer speeds maxing out at 515 Mb/s, priced at $100, $200, and $400 respectively.
Those specs and prices put it squarely in line to take on Samsung's own small portable SSD, the T3, and it all makes sense given that Samsung, LaCie, and Seagate all offer portable SSDs now, but perhaps not as attractive as the WD and Samsung options.
It bears mentioning, however, that this max speed comes at the expense (or benefit) of using USB-C. That's right, the new drive opts out of the standard USB 3.0 Micro B port for USB-C, which will certainly have new MacBook Pro owners pleased as punch. However, for those who aren't USB-C'd out, there will come a USB-C type A adapter in the box which should still manage just about the same speeds.
The other points of mention are that it's drop-proof from 6 feet, and has 256-bit AES encryption, which is all dandy, but it's nice to see more competition in this arena which will hopefully bring out better products and bring prices down, even though these prices aren't bad at all – I won't really leave the house without a Samsung T1/T3 because they're just so fast and small, and I frequently tell photographers using LR to drop their files on that and you can move catalogues on multiple computers with ease.
If you're interested in these, check out our review of the Samsung T1.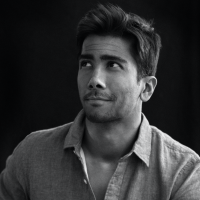 Kishore Sawh
A photographer and writer based in Miami, he can often be found at dog parks, and airports in London and Toronto. He is also a tremendous fan of flossing and the happiest guy around when the company's good.