The Canon TS9120 is an all-in-one-printer designed to print double-sided documents, scan, make photographic prints on photo paper and print on CDs. It is the flagship of Canon's photo-oriented all-in-one series, and has an MSRP of $199, though it is currently available at B&H for $169. Naturally, as a photography site, our testing leaned most heavily toward seeing just what we could do with the photo printing feature.
SPECS
Print, Scan, Copy
Print Resolution: 4800 x 1200 dpi
Maximum Print Size: 8.5 x 14″
Print Speed: 15 ipm Black / 10 ipm Color
Optical Scan Resolution: 2400 x 4800 dpi
Maximum Scan Area: 8.5 x 11.7″
Front & Rear 100-Sheet Paper Trays
6-Color Ink System; Duplex Printing
5″ Touchscreen LCD; SD Card Slot
USB 2.0, Ethernet, Wi-Fi, and Bluetooth
The TS9120 has an updated, six tank ink system over the TS9020 which replaces gray ink with 'photo blue' in order to reduce graininess.
FIRST IMPRESSIONS
Upon unboxing, the unit was found to be compact, not lightweight in particular nor exceedingly heavy, but a little plasticky feeling. Keeping in mind this printer's price point that wasn't unacceptable, and set-up was simple.
Its color touchscreen will walk you through the set-up experience to a degree that it almost feels sentient; it can sense certain things and chime in to help you out. For instance, if you've never inserted printer ink cartridges, never fear because an animated looping video will show you, step by step, exactly how to do it, and works right out the gate.
PERFORMANCE
The first thing tested was printing via a wireless connection from a smartphone using Canon's app, which was fast and easy to set up and use. You can choose your cropping in the app, send it over, and have a print in just a few minutes.
•Office Tasks
Every office task tried was fast and easy. Pages print rapidly, scans can be initiated remotely and are sent to the computer in just a few moments. Everything is pretty intuitive, and for all office-types of uses, this is an impressive printer. Scanning appears to be better suited to document purposes than photo, but is still usable for photos.
•Photo Printing
This, unfortunately, is where the TS9120 falters a bit. Printing was still easy to do, but colors can be unpredictable. The best results were had when printing from the iPhone app onto 4×6 glossy sheets. Some colors were a wee bit off, but it is suspected that a consumer crowd would see no issue here.
Printing from Photoshop was a bit different. If one is trying to make a serious print, this is often how it will be initiated, but there were issues with this method and the TS 9120. There seemed to be a color-management conflict – either 'Photoshop manages colors' or 'printer manages colors' may be selected, but a warning is repeatedly issued when trying to print that in the print driver settings, color management should be disabled, however, no color settings can be found in the print driver, at least on a Mac.
Different rendering intents (relative colorimetric and perceptual) were tried as well as each method of color management to the best of the tester's ability, with varied color and tone results.
Some lovely Red River Paper packs were sent along with the printer to try, but results with the TS9120 and the first paper tried, Polar Pearl Metallic, were very off in color. When attempting to use the manufacturer's .icc profile, colors were bright and vibrant, but there was a blue cast and some odd emphasis on magentas in certain places. When allowing the printer to manage colors, the result was flat and dull. The same paper was tested with a Canon Pro-10 with much better results. It may be that .icc profiles will need to be updated by paper companies, as this is a new printer and has a new ink formulation compared to its predecessor.
The TS9120 fared better with Canon papers, of which an understanding is inbuilt. When you lift the shield on the rear paper feed, which is where photo paper is loaded, you are prompted on the touch screen to tell the printer which medium you are using and Canon papers are easily selectable. Fortunately, there was Canon Photo Paper Pro Luster on hand for testing.
Even with Canon papers, results were mixed. The same photo as was attempted with the Polar Pearl Metallic paper came out vibrant if slightly over-saturated but overall looking nice on the Pro Luster paper. Some other prints on the Pro Luster paper appeared dimmer and desaturated inexplicably.
To the printer's credit, and the scanner's discredit as a professional photography tool but not a perfectly usable office tool, the prints look better than the scans. The scans can appear a bit grainy, where the photos do not, and black detail is more visible than the scans would indicate.
Direct-printing from an SD card with color-correction disabled and enabled:
Direct printing with no color correction yielded a result similar to the Photoshop print while enabling color-correction was more like printing from My Image Garden, but not as bright, which is a good thing. Of all the attempts with the TS9120 to print this particular image, the direct print with color correction was the most accurate.
With all this talk of color discrepancies, it's worth noting that the prints do look sharp and colors generally look rich and not grainy.
THE BOTTOM LINE
The TS9120 is a great office printer which also prints photos. It doesn't take up much space considering everything it can do. It scans, prints, and copies very well, is user-friendly for office purposes and mobile photo prints, and is well-connected. It sets up easily and guides its owner through the setup with color animations and the use of a responsive touch-screen.
When you combine so many functions into one device, you can't expect everything to be as good as with a dedicated device, and that's the case with this printer when it comes to printing photographs. It's not a professional photo printer, but other than the discerning most will be satisfied with the prints produced with photo paper.
4×6 glossy prints created via the iPhone app were very usable in a just-for-fun capacity, and for consumers wanting to make their iPhoneography come to life with the same printer they use for documents, this printer could be that. Also, those printing directly from an SD card who aren't picky about letting the printer decide on colors will find decent photo printing results.
Overall, this printer is fun and futuristic-feeling in operation and incorporates useful, modern features.
If you are simply looking for an office printer and would like it to be able to make decent photo prints, this, and likely any other in the line-up of newly released printers, would make a solid choice.
The TS9120 is now available at B&H as well as Canon papers, and if you'd like to check out Red River Papers, you can find them here.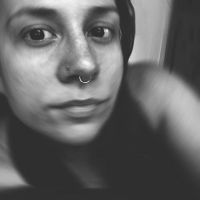 Holly Roa
Seattle based photographer with a side of videography, specializing in work involving animals, but basically a Jill of all trades. Instagram:
@HJRphotos