A Summer Fairytale
Today, I have a behind the scenes video for you from Erik Almas. This is the third in his series for the shopping center Trondheim Torg in Norway, working with HK ad agency to create some stunning pieces of art. The series is becoming an incredible whole, and this latest piece is no exception. The fairytale created gives a feeling of wonder, and a glowing warmth reminiscent of a child's first summer. The feeling is further accentuated by a mysterious woman swinging in a beautiful gown, and a brilliantly incorporated, sunflower lined, brick pathway which leads the eyes to the iconic statue in Trondheim square.
Watch Erik give some behind the scenes insight into the making of this image:
One thing to note here is that Erik had his unfinished composite on the computer screen about 1:58 before taking shots of his model, indicating that while the concept of the image is planned out, the process is still a working one in some respects. He's constantly looking for ways to make improvements and tweaks to the images throughout the whole process, and that's an important part of creating captivating work.
As I've said before, it's incredible how much goes into one image. Seeing Erik's imagery promotes quality over quantity, and he only uses the best of the best for each photograph. That focus on extremely high quality for a small number of images is a big part of the price gap separating beginners who like to offer a high image count and professionals who focus on one quality photograph at a time.
Below are previous works from The Trondheim Torg Shopping Center ad campaign. After you're done reading here, you can click each image for a corresponding article, and BTS footage.
This was the first image of Erik's for this campaign, and it was incredibly well put together, creating a winter landscape where there was none, and even replacing the statue in the square with a custom-made miniature ice sculpture. This first article offers a lot of studio lighting and technical analysis on how the image was put together; it's a good read.
Erik's spring BTS video offers a lot on how to incorporate the different parts of an image for a cohesive whole, showing how Erik gathers his source material for the composite, and later puts together pieces from the studio and other locations to make the final piece.
Seeing this campaign unfold has been incredibly informative and the images produced are truly one of a kind. As you may know, Erik Almas is one of the brave few in this industry who gives of his knowledge freely and willingly, though having the full package only comes with his DVD: Erik Almas| On Aspects of Image Making.
More work by Erik Almas can be found on his website, which features a cover shot of the hit TV show "24", or you can find his Facebook Page and Youtube Channel. If you liked seeing this, more articles featuring Erik Almas can be found here.
-Ryan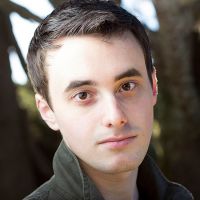 Ryan Filgas
Ryan Filgas is an aspiring portrait photographer and studio arts major at Humboldt State University. His life consists of talking with friends, taking classes, and planning his next outdoor adventure. You can find his work on his
website
,
Facebook
,
Google+
, or connect with him via
email
.