Southwest Florida is known as the "Paradise Coast" and boasts some of the best sunsets in Florida. Our white sand beaches touch the Gulf of Mexico and have expansive views of perfect Florida sunsets. The state & county parks are nature preserves, so seeing wildlife such as manatees, dolphins, sea turtles, many native birds including the American bald eagle, and alligators is a given on most days.
Southwest Florida contains the following main cities and areas: Naples, Marco Island, Everglades City, Bonita Springs, Estero, Fort Myers, Fort Myers Beach, Cape Coral, Sanibel & Captiva Islands, and some smaller cities nearby. I'm only going to focus on the areas nearest our studio which is located in North Naples.
As a longtime resident of Southwest Florida (lived in Naples nearly half my life) I'm going to focus on my favorite locations that most of my destination clients ask for – the beach & natural Florida greenery.
Lover's Key State Park (Bonita Springs)
Lover's Key State Park is highly underrated. It definitely has some quirks (like the trolley only being available for transport from the parking area to the beach until 4:45PM) but you can WALK back on your own. It has a great assortment of areas that you can photograph in – such as the butterfly garden (available in the second parking area), the driftwood area (beach area), fishing pier (beach area), and an expansive beach with the sunset being slightly offset from the middle of the horizon. Parking is $8 and the beach has wifi.
Address: 8700 Estero Blvd, Fort Myers Beach, FL 33931
Bowditch Point Park (Fort Myers Beach)
Bowditch Point Park is a wonderful location for both sunrise and sunset portraits! It has both a green area and a more natural beach. It does have a rock jetty, but you can't climb or photograph on it (with signs!); however, you can still use it creatively in your portraits. During the heavy rainy season, the beach area breaks out in fields of yellow flowers! It's just one of my favorite places to shoot. There is a smaller parking lot area and you must leave shortly after sunset. Parking is $2/hour.
Address: 50 Estero Blvd, Fort Myers Beach, FL 33931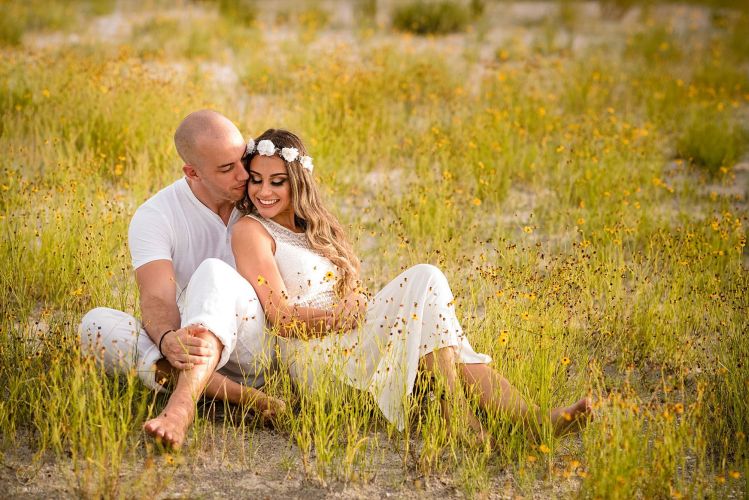 Barefoot Beach Preserve (North Naples)
Barefoot Beach Preserve is located in North Naples and is part of the Collier County Parks & Recreation system, so if you are a resident of Collier County, your beach sticker will give you access to Barefoot Beach Preserve free of charge. There are three parking lots and each have great photographic spots depending on what you are looking for (boardwalk, mangroves, seagrass, etc). The beach parking fee is $8.
Address: 505 Barefoot Beach Blvd, Bonita Springs, FL 34134
[Related Reading: Best Engagement Photography Locations In Toronto, ON, Canada]
Wiggins Pass State Park (North Naples)
Wiggins Pass is so cute! I love the natural look of old Florida beaches and Wiggins is no exception. There are so many great spots all along the shoreline. The shoreline is very small unless it's low tide, and then you get these great expansive beaches for some really gorgeous photos. Admission is $8.
Address: 11135 Gulf Shore Dr, Naples, FL 34108
Koreshan State Park (Estero)
What a great non-beach location. Koreshan State Park has SO MUCH to offer. It has both indoor and outdoor options. You can shoot the entire day at Koreshan and still produce beautifully lit photographs depending on how you read the light and the location. I 10/10 recommend this place. Due to Koreshan's popularity over the last few years, they have strict photography and video rules. No non-biodegradable confetti or similar, no cake smashes, no smoke bombs, no climbing on rocks/trees/buildings or set ups in the park. What you bring in you MUST take out. It's a historic site, so please treat the park with respect. Parking is $4 for a single person in a single car and $5 per vehicle.
Address: 3800 Corkscrew Rd, Estero, FL 33928
3rd St South (Downtown Naples)
3rd St South is a posh area in Downtown Naples that gives a charming yet relaxed Florida city feel. You'll find a great assortment of cute bars and restaurants, cobblestone alleyways, and so much amazing greenery; you can really work in a small area for a lot of variety. Parking is street parking and it's free. It's also a short walk to the beach! There is a parking garage located on Board St.
Address: 3rd St. S, Naples, FL 34102
Naples Pier (Naples)
The Naples Pier is one of the MOST POPULAR locations in Naples and for good reason. Naples boasts some of the BEST sunsets and beaches in Florida. It's extremely hard to get photos at the pier without having a crowd around you. The best way to avoid the crowds is to have a sunrise session! Parking is charged by the hour via a meter or a Collier County beach parking sticker.
Address: 25 12th Ave S, Naples, FL 34102
Downtown Naples
Downtown Naples is HUGE in comparison to everywhere else I've shared, because it encompasses so much of what Naples is known for. From 5th Ave, to multimillion dollar homes, to gorgeous architecture, there is just SO MUCH you can do and it can easily become overwhelming. I would highly suggest starting in one area and just exploring the location with your couple making magic together. Parking is free on the street and there is a parking garage with an entrance located on 4th Ave S (for 5th Ave area).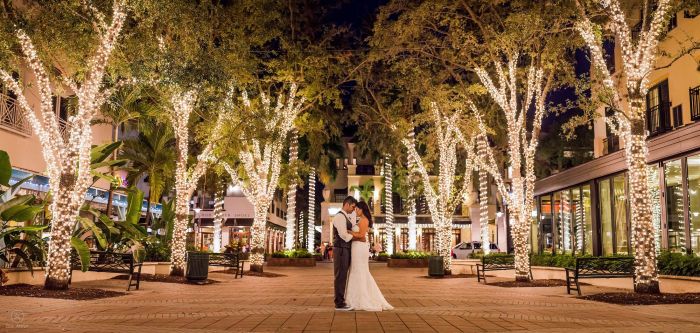 [Related Reading: Best Engagement Photography Locations In Raleigh, North Carolina]
North Gulf Access
A little hidden gem in North Naples. This used to have such a larger beach area and a cute little rock jetty, but after Hurricane Irma came through, the area lost a lot of its beach due to erosion. It's located near other great inlet beach accesses (Horizon and Miramar, for example) and it's nestled between luxury condos and homes. You will need a Collier County beach parking sticker or else pay the meter; parking is limited.
Conclusion
I love and respect our area so much – otherwise, I wouldn't live here! I hope you enjoy visiting and shooting in these locations. Please remember to be mindful of the wildlife, the restrictions, and pick up after yourselves so that others can enjoy these locations as well.
You can find more of Anna's work via the links below:
Anna Stratton: Website | Instagram | Facebook
Anna Nguyen
Anna has photographed over 400 weddings and related events since 2010. Anna began her photo career in commercial photography: photographing high end fashion and fine jewelry for e-commerce and advertising while photographing events for public and private commissions. Anna is a proud alum of Florida Gulf Coast University and loves encouraging and educating young entrepreneurial students interested in building a career in photography through her continued relationship with the photography classes at FGCU. When she is not working in her business, she can be found netflix binging with her corgi and shiba or spending time with her husband at Disney.