The Pirelli Calendar is possibly the most celebrated calendar on the planet, and also one of the most exclusive. You couldn't just choose to buy one, you were chosen by Pirelli.
The tire company's UK subsidiary has been publishing a calendar filled with only the most glamorous and celebrated fashion and beauty icons of their respective times, shot by the best or most avant-garde photographers of the time, and then limiting the print of the calendars to Pirelli's most favored clients and influential persons. So it was reserved, in other words, not for us plebs, and became something of a personal statement of importance and achievement.
Truth be told, it wasn't until the internet came about that many of us were blessed with seeing some of these images for the first time. They were provocative and evocative but not trashy, and for many, like myself, they were inspiring. It was sex without the sleaze, and pretty without being perverse. But what else would we expect with the names associated with it: Robert Freeman, Bruce Weber, Greg Avedon, Francis Giacobetti, Herb Ritts, Mario Testino, Peter Lindbergh, Patrick Demarchelier, Steve McCurry, Helmut Newton, Annie Leibovitz, and Watson.
The Scottish photographer made the announcement he would head the Pirelli Calendar over his Instagram account posing for a casual photo with his dog, which is a contrast to the striking images he's shot over his career. As someone who has regularly shot campaigns for the likes of Chanel and Prada, Watson has also been responsible for some of the most memorable images of everyone from Alfred Hitchcock, to David Bowie, Steve Jobs, The Artist Formerly Known As Prince, and about every major ultra model in existence.
The direction of the calendar this year is yet to be seen, but we do wonder if this will be another departure from the classic calendar in the vein of what we have seen from Annie L and Tim Walker, which have been as much about imagery as they have been about social commentary of the times. Or, much classic in the vein of Lindbergh. Either way, it should be spectacular and we look forward to seeing it.
You can find more from Watson here, or, frankly, in any major fashion publication over the last 30 years.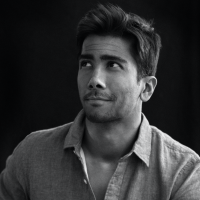 Kishore Sawh
A photographer and writer based in Miami, he can often be found at dog parks, and airports in London and Toronto. He is also a tremendous fan of flossing and the happiest guy around when the company's good.