*UPDATE: There IS a workaround. See end of the post
We here at SLR Lounge don't shy away from showing our affection for Sigma's Art series of lenses, and we know we're in good company of an army that feels the same. The Sigma 35mm 1.4 Art was truly transformative and continues to turn the industry tide in Sigma's favor.
Likewise, we love Canon, and when Canon releases a new flagship, you pay attention. Well we've got the new 1DX MKII in-house to review, and the thought of pairing it with Sigma glass for a big shoot this weekend seemed as natural as breathing, and a recipe for refined and unconstrained shooting pleasure. But then this happened:
What you're looking at above is an image that's the product of using the 35 Art on the 1DX MKII, and those circular bands around the perimeter of the frame are actually ON the image itself! When Pye began testing various other lenses this 'phenomena' was absent on the Canon lenses tested, but present on the Sigma 35, and the Sigma 85. Curious, very curious.
Of course, everything is contextually dependent, and while it certainly is disheartening for Pye, who was all set to shoot it this weekend, the 1DX MKII is fresh off the line, and new cameras always come with a certain level of compatibility issues – the assumption being that this is a firmware issue that can be rectified with relative ease and pace. Have any of you seen anything quite like this before?
The Fix:
This workaround is the result of an SLR Lounge Community effort, special  thanks goes out to Ning Wong, Julian Dominique, Scott Taetsch, and  Jaron Schneider at Resource Magazine who tested and confirmed the fix.
The problem you see in the image, the strange 'bands' seems to be caused by the 1DX's auto vignette controls, and here are the steps to fix:
Locate the Lens Aberration Correction setting in the first menu on the 1DX MK II, and enter its sub-menu.
Switch Peripheral Illum Corr to OFF
And that's it, and clearly this is more of a workaround and not a final 'fix'. The fact that this 'resolves' the issue indicates that the camera's software is trying to compensate for what it deems vignette from the lens, but only creating a whole different problem. As we noted, this seems to be affecting the Sigma 35mm ART, and the Sigma 85mm f/1.4 EX DG.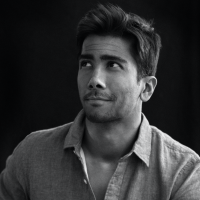 Kishore Sawh
A photographer and writer based in Miami, he can often be found at dog parks, and airports in London and Toronto. He is also a tremendous fan of flossing and the happiest guy around when the company's good.