Few products come onto the market that gather the attention of both the amateur and professional, as well as be attainable for both, especially when it comes to lighting. We may all look with hungry and lustful eyes at Broncolor when they release a new light, but for most of us, their prices make it impractical or unjustifiable, as incredible as they may be. It's one of the reasons why the new Profoto B2s are sure to be a hit, since they offer so much flexibility and professional quality from a great brand at a little lower cost. Similarly, Westcott's IceLight is one of those products that just hits a sweet spot, and that spot has become a little bigger, and a little sweeter with the incarnation of the IceLight 2.
The Icelight, for those who may be less familiar, is a portable, dimmable, handheld, continuos LED light source that's the love-child of renowned wedding and portrait photographer Jerry Ghionis, and Westcott –  and that's quality lineage. As you'd expect and in kind, it's a quality product, and since its inception it's been an object of desire for many. The design is one of light weight, and it's daylight balanced with a high Color Rendering Index (CRI) which allows for really accurate skin tones and hues. It can be used continuously for an hour, and modified with ease, and it's totally flicker free making it ideal for filmmaking. The Icelight 2 does everything just that much better.
I've had a chance to chat with Westcott and play around with the Icelight 2 which is about to be made available, and I'm happy to report the changes are all in the right direction, and clearly a product based off market feedback. In other words, the changes are function over form, but with an attention to form and usability.
It's a little larger than the previous version as you can see from the image above, so your'e getting an even broader light source, but the changes aren't solely cosmetic. The power output is 50% greater and yet it still retains the same battery life, and has an even higher CRI then the first version (now 96), assuring extremely natural color renditions. And in case you wanted longer use, the new model features a removable battery, so you can just have spares ready and waiting. The spares will cost you $49 but that seems worth it for two hours of continual light of this quality, on the go.
The handle and controls have also been changed, the new model has a dedicated ON/OFF switch so you no longer have to hold the arrow buttons, leaving them dedicated to selecting power output levels. In addition, those power levels are now displayed on a small but clear LED screen so you know precisely where you stand, and making continuity in shoots that much simpler and more accurate. In the same vein this new version has a memory, so when you turn the device off and on, it remembers the last power setting and starts there.
But perhaps you've got your Icelight on a stand and you're not satisfied with the current level of power, the current model will allow you to change its settings remotely via an app for your phone, making the Icelight more of an option now for a wider array of set-ups, with less fuss, not that using it was fussy to begin with, as holding it as a highlight or even two held by a model for clamshell lighting is a breeze – this just extends the utility. And now you can get an Icelight V2, for free, from us. Click here to enter the give away, or place your pre-order here.
WPPI Specials
If you happen to be at WPPI, or know someone that is who can get one for you, Westcott is doing some nice specials, making it even more enticing. They've knocked $50 off the retail price of $549 bringing the price to $499, and they're also giving each pre-order either an extra battery or a set of Icelight barn doors, and some Jerry Ghionis videos. If you're not at WPPI click here to order yours now, as B&H is also offering $50 off the retail price but for a very limited time!
We'd like to extend a huge thanks to our partners at B&H for being our sponsor for WPPI 2015, where we'll be continuing to bring you the latest from the show floor and all the exciting new products and services from the forefront of photography.
You can see our full review of the first Icelight below: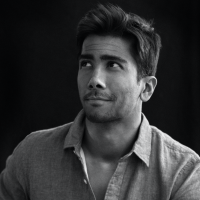 Kishore Sawh
A photographer and writer based in Miami, he can often be found at dog parks, and airports in London and Toronto. He is also a tremendous fan of flossing and the happiest guy around when the company's good.