Walking around the expo floor here at WPPI, storage products can easily be glanced over with all the presenters drawing crowds and new consumer electronic products being showcased around every corner. While hard drives and RAID systems most likely aren't at the forefront of everyone's agenda, they were for me. I have personally been interested in seeing what the storage solution company G-Technology has to offer. With a new line of light and extremely durable hard drives just recently announced, I was very interested in stopping by their booth to talk to their reps.
Having a professional quality storage setup is a must if you want to avoid the inevitable hard drive crash and losing your files and images forever and ever into the great abyss of nothingness. Reliable storage and backup solutions aren't cheap, but at the same time, they fall under the category of you get what you pay for. G-Technology is one of the best in the business and offer a number of different versatile options for photographers as far as storage goes.
[REWIND: Digital Storage & Back-up Overview]
The new G-Technology EV Series of hard drives are quite impressive in person. The drives themselves, the G-Drive ev RaWs, are very sleek looking as well as being extremely light. The EV all-terrain cases have been designed to handle all sorts of punishment. They are designed to handle drops as well as having the ability to float with its watertight compartment. There is also a rugged bumper that is available for the ev RaW drives that can withstand a 1.5m drop and are pretty easy to pop on and off as needed.
The G-Drives themselves come with up to 1TB of storage, transfer rates of 136MB/s, USB 3.0, and a very impressive 3 year warranty. They also come with a SATA interface allowing them to be used with the G-DOCK which is pointed out in the video below. The price of the G-Drive and which comes with the removable bumper is $129.95 for the 1TB and $99.95 for the 500GB. The G-Drive ev ATC is the All-Terrain solution that comes with the new durable and air-tight case and a tethered thunderbolt cable. The actual size of the case itself is 6.46"x 4.25"x 1.20" and it will run you $229.95 for the 1TB drive.
I got the chance to talk with the G-Technology Sr. Director of Marketing Diana Cartwright who was a pleasure to talk to, take a look.
Thanks to B&H Photo for sponsoring our coverage of WPPI 2015!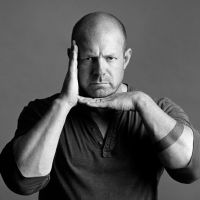 Jay Cassario
Jay Cassario is a fulltime photographer from South Jersey, owner of the multi-photographer wedding and portrait studio
Twisted Oaks, and Brand Ambassador for Leica Camera USA. WEBSITE:
Jay Cassario Personal Facebook:
Jay Cassario Business Facebook:
Twisted Oaks Studio Google Plus:
Jay's Google + Twitter:
@JayCassario