Harsh light with little to no diffusion is a personal favorite. While some photographers view its unforgiving nature as a travesty and avoid it like the plague, others embrace it and capitalize on the moodiness provided by the added contrast. When manipulated properly, harsh light sings.
Hands down one of the most underrated and overlooked modifiers has to be barn doors. They are more commonly seen on film sets as opposed to photo studios and come in two variations; 2-door and 4-door configurations. Unlike a snoot that creates a very small and circular beam of harsh light, the doors control the spill of light similar to the way a flag would by shaping the light without affecting the overall quality.
A great tool for both single and multi-light setups, barn doors are usually paired with smaller, hard light sources and can vary depending on the intended use. My experience with barn doors stems from fashion and beauty setups.
The Gear
For this particular shoot, the barn doors were placed at approximately 90 degrees forming a rectangle, drastically reducing the light spill. The Broncolor Scoro was set to its lowest power setting with the Picolite positioned slightly to the right and above the model and angled down to approximately a 45 degree angle.
The Picolite was placed much closer to the model than other modifiers typically are and this created a wonderful separation from the background. It was necessary to stop down to the lowest aperture in order to shoot sync speed at ISO 100 because of the close proximity.
I tend to gravitate toward more contrast and shadows in my work, therefore I was satisfied with the overall image initially. Out of curiosity, we added a slight fill to add a touch more separation. The difference was very subtle and still provided the tonality of the harsh light that was originally sought.
Harsh light is exceptional when capturing women who have a defined bone structure and great skin. If this is not the case it is probably better to opt for something a little softer and more flattering. Men, on the other hand, photograph very well in harsh light; in fact the more texture the better.
Barn doors are a great way to enhance creativity and the overall lighting setup. They are relatively inexpensive in comparison to some of the other lighting modifiers and are available for all budgets and brands of light. While this piece is geared toward portraiture, barn doors are also essential to product and still life photography.
Want to buy a set of barn doors for your lighting? Check these out:
B&H also carries a large variety of barn doors to fit your lighting needs.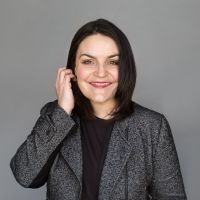 Brittany Smith
Brittany is a fashion and beauty photographer who works between NYC, Montana and LA. She photographs the way she has always wanted to feel and believes in the power of raw simplicity. When not behind a camera she can usually be found at a local coffeeshop, teaching fitness classes at the YMCA, or baking something fabulous in the kitchen. Instagram: @brittanysmithphoto