Nikon's replacement for the D7100 has been officially announced, so we can finally end all the speculation and wishful thinking about what it might be, or what it should be, or which competition it aims for.  Ladies and gentlemen, I present to you the Nikon D7200.
(Available from B&H in early April, at $1,196 body-only, or $1,696 with the 18-140 kit lens. Scratch that, just $1,496 with the kit lens, thanks to an existing rebate!)
Nikon D7200 Specifications, With Commentary
Newer 24 Megapixel DX Sensor
Considering the image quality I've seen from the other 24 megapixel Nikon DX cameras, I'm probably going to be very happy with this new sensor.  24 MP is about all I care to squeeze out of a 1.5x crop sensor, and thanks to the lack of an AA filter it barely hangs on in the battle against diffraction.  Unless there is deep shadow banding like in the D7100, (which is highly unlikely) …this will be an amazing image maker.
New Autofocus System, capable in low-light down to -3EV
Like the D750, this new AF system is definitely going to impress anyone who shoots in low light. It may not be one of the common, excitable specs, but improving from -2EV to -3 EV makes a huge difference for candid and portrait photographers who often find themselves shooting in dimly lit reception halls, churches, or even outdoors after sunset when the light is still beautiful.
ISO 100-25,600
Again, considering the image quality I've seen from the Nikon D5300, D3300, and hopefully soon the D5500, I bet I'll be impressed and happy with what the D7200 offers.  In fact if you rarely ever shoot higher than ISO 1600-3200, I'd argue that a DX sensor is all you'll ever need!
[Rewind: The Canon 7D mk2 – A crop-sensor option for wedding photographers?]
How will this sensor compete against the likes of the Canon 7D mk2, or the gorgeous 16 megapixel sensor in the Fuji X100T and Fuji X-T1?  That remains to be seen, of course.
On a related note, for some reason Nikon has only allowed the higehst "HI" setting, 102,400, in black and white mode.  (Presumably therefore a JPG file?) Interesting…
6 FPS, with 7 FPS using 1.3x crop mode
Here is where things start to get disappointing, depending on how serious of an action sports shooter you are.  While 6 FPS is indeed more than enough for almost anybody, it might leave a bit to be desired for sports or wildlife photography.  Especially considering that the "ancient" Canon 7D offered 8 FPS, and the newer Canon 7D mark II bumped up to 10 FPS. Oh, and the Nikon D300s / D300 could hit 8 FPS when using a vertical grip, too.
We'll get to whether or not this is a deal-breaker in just a minute, but for now let's just say most folks will be very happy.
[Rewind: Canon 7D mk2 review: An action sports photographer's perspective]
No AF-ON Button
Let's just put this right up there with the 6 FPS number, for the action sports shooters.  Yes, you can re-program the AF-L / AE-L button to perform AF-ON with the D7200.  However its lack of a dedicated, secondary AF-ON button means one less button to re-program, and/or the inability to use BOTH the shutter release and the AF-ON button for autofocus.  (This is something I've never minded doing without on my Nikon D750, but many others find it to be a deal-breaker.)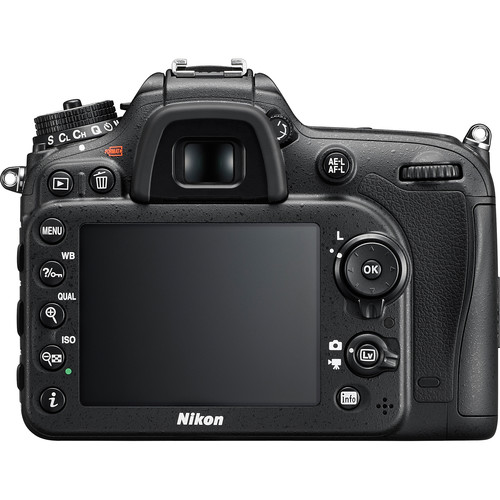 WIFI: yes. GPS: no. Articulated LCD: no.
I grouped all of these "bells and whistles" into one category, since they seem to all be in the same love-or-hate category.  Everybody is going to be highly opinionated about each one of these features, however personally the more cameras I review the more I actually miss each of these features when they're absent.  I really, really wish the D7200 had adopted the Nikon D750's overall body style, with not just the articulated LCD but also the new battery orientation that allows for the thinner, deeper grip- something I've totally fallen in love with.
GPS would have been nice, too.  I actually don't mind paying for aftermarket accessories, if they're not too pricey, however the WIFI and GPS accessories I've used have always proven to be extremely cumbersome to use, highly impractical for rugged adventure / action photography. That is the real reason why I prefer to have them built-in.
The Big Question: Is This The Nikon D400?
Yes, the D7200 is a good camera.  Yes, even a sports shooter who owns a D7100 should seriously consider buying this, for its greatly increased buffer.
However, the D7200 is decidedly NOT the offspring of Nikon's (discontinued) D300s. In other words, it is not the DX D810 (with 8-10 FPS) that some were hoping for.
And yet, with the emphasis in Nikon's press release about the increased buffer, it seems apparent to me that the message is clear: there will be no D400, folks.
Aside from the general look / layout of the camera, there are really very few things that the D7200 lacks which a DX D810 might offer- a PC sync port and an AF-ON button are all I can think of at the moment.  The D7200 has 1/8000 shutter ceiling, 1/250 flash sync ceiling, a 100% viewfinder, and all kinds of programmable buttons and other pro features.  (A few which even the D750 and D610 lack, actually!)
The D7200's Increased Buffer
The increased buffer is admittedly quite significant, especially considering that their measurements are for 14-bit lossless RAW files.  (18 shots)  If you bump the camera to 12-bit compressed RAW, I bet you'd gain 50-75% in buffer depth, giving you a good 4-5 seconds worth of flat-out shutter spamming.  Bump into 1.3x crop mode, and you'll hit 7 FPS, and the ~15 megapixel images will still have plenty of detail while offering even more buffer space.
Considering these available  space-saving options, and considering how fast SD cards are getting lately, (95 MB/s is almost considered average speed now!) …I'm willing to bet that it'll be quite hard to "miss the moment" for this reason alone.
Or, if you're able to shoot in JPG, (in easy conditions where you can nail your white balance and exposure, without needing extreme dynamic range) then you're in for a real treat: the buffer is ~100 images deep!
Initial Opinion / Verdict
Yes, a DX version of the D810 would have been nice, but considering this camera costs less than $1200, (instead of the ~$1800 that the D300-series lineup used to cost) I'd say it's the best move Nikon could have made given the circumstances.
Is it a Canon 7D mk2 killer?  Despite the D7200's generous buffer, the answer would be NO, not if you crave FPS and that extra versatility that a truly dedicated, pro-grade sports camera can offer.  (The 7D mk2's autofocus is 100% cross-type, too, by the way)
However, I wouldn't jump ship for the 7D mk2, nor should 99% of Nikon photographers. The market is currently still to volatile for just this one feature to be a deal-breaker, in my opinion.
Who should buy the D7200?
The Nikon D7200's feature set (and image quality, probably) seem to make it a very formidable DSLR.  Advanced amateur photographers who shoot pretty much anything will be thrilled with it, and even pros whose main camera is a D610, D750, or Nikon D810 should consider this to be a highly capable 2nd camera or backup camera.
Disclaimer:  Considering Nikon's track record of camera recalls lately, I'll first answer the question "why should buy the D7200?" with one thing for sure:  Only the brave, early-adopter folks! Keep this grain of salt in mind as you read the following final thoughts.
Landscape / adventure photographers who rarely shoot at extremely high ISOs, or fast speeds, or at shallow depths? Do you want dynamic range and sharp detail that will make even (some) full-frame cameras jealous? A new ultimate all-weather travel camera is here.
Part-time portrait and wedding photographers, who do shoot at high ISOs and/or with shallow depth lenses, but are on a budget?  This camera will give its full-frame siblings quite a run for their money, especially in the low-light AF and high ISO departments.
Casual action / sports shooters, photographing their kids' team sports, or gymnastics, or stage performances? Pair the D7200 with a couple f/2.8 zooms and/or fast primes, and again, you've got quite a formidable setup at an impressive low price that will leave room for you to pick up a new lens.
Nikon D7100, Sigma 8-16mm DC (Click here to read our Nikon D7100 review!)
Your Thoughts On the D7200
So, what do you think, folks?  Is the D7200 good enough, or does it miss the mark?  Personally I feel a faint twinge of sadness that we're nailing shut the coffin of a mythical Nikon D400, just like we did for a mythical high-speed D700 replacement. But if I consider the vast majority of this camera's intended market, I understand that if Nikon had to pick between two high-end DX camera bodies, this was the better decision considering its incredible price & value.
(Available at B&H in early April, at $1,196 body-only, or $1,496 with the 18-140 kit lens, thanks to an existing rebate!)
Take care and happy clicking,
=Matt=