One of the biggest hurdles I've ever dealt with, and continue to deal with in photography, is posing. Posing can quite literally make or break a shoot, because you could be working with a subject as beautiful as a Victoria's Secret Angel, but it just won't come across if they can't pose, and you have no idea how to instruct them. That's right, there's a lot more to it than just having a pretty face.
Of course, this doesn't just apply to fashion or beauty models, but to couples in an engagement session, senior portraits, or absolutely anything with people. It's the finer adjustments in a person's body that can have the largest impact on an image – a tilt there, an inch here, can turn a person with the aerodynamic properties of a bungalow into an irresistible figure smoldering on the sofa. But how's that achieved? Well, some direction can help, and destination wedding photographer Lexia Frank has some very good direction for you. It's a great place to start.
Frank is a luxury wedding photographer who continues to use film photography for weddings, portraits, and commercial photography. She's also a former dancer, something evident in how she looks, moves, and instructs. That broad gamut of experience has required a good understanding of how to best flatter the human form. In a series of short videos, she details some of her favorite tips on how to always look the best in an image.
This is information anyone can use to better the images they take and the ones they're in. Is the list definitive? No. Debatable? Maybe, but from where I stand it echoes what other notable photographers have said, and it's explained and demonstrated very well.
This is also the kind of advice that is easy to digest, and that can help those shy or self-conscious subjects to look their very best by elongating the body, and making the most out of the parts we may not like best about ourselves.
Photography Posing Idea That Hides The Upper Body And Elongates Lines
How To Get Rid Of Your Double Chin In Photographs
How To Look Good In Photos And Lose Inches From Your Waist
The Secret To Looking Amazing In Photos Is Your Feet
You can find more from and about Lexia here on her site, and Instagram, and should. And if you're in the business of photographing people, for engagements or indeed anything other, might I recommend taking a look at the Natural Light Couples Photography Workshop which will give you hundreds of poses to use in any situation, giving you a greater understanding of how to pose men and women differently, and what flatters each. It'll also go into planning, how to use props effectively, lighting and composition, and full on post production for every skill level, covering all the bases you'll need. Get it here.
Sources: ISO1200, LexiaFrank.com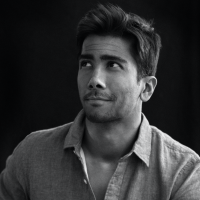 Kishore Sawh
A photographer and writer based in Miami, he can often be found at dog parks, and airports in London and Toronto. He is also a tremendous fan of flossing and the happiest guy around when the company's good.