I have had my Sony A7 II for many months now, and I have used adapters for old film lenses like Canon FD, Nikon F, and Olympus OM. But I have been missing the optical quality of some of the newer lenses that are available.
Don't get me wrong, the optical quality of many of these film lenses are good (some are even better than good), but they don't have all the latest coatings and other advancements that modern lenses do. I decided that I wanted to open my kit and start renting some Canon glass. This meant that I needed an adapter, and since I was only going to be renting Canon glass on occasion, a super expensive Metabones adapter was not a viable option.
After talking to a lot of other photographers, and doing some research, I decided to give the Commlite EF-FE AF adapter a try, and today I wanted to give my thoughts on it.
Commlite EF-FE AF Adapter
Opening the box and looking at the adapter, it was built as well as I would have expected a $100 adapter to be built. It is solid and attaches solidly to my Sony A7 II, but things were not all rainbows and bubblegum from the get go.
The first lens I decided to try, which also happened to be the only EF lens I had at the time, was a Sigma 150-600mm C. The adapter let me control the aperture perfectly, but it couldn't focus. I would press my button to focus, and you could hear the lens trying, but nothing would happen. Manual focus worked fine, but I immediately took the camera and adapter to my local camera store to try it out on some actual Canon glass and see if it was an issue with my adapter or with that lens.
Long story short, the Canon lenses (50m F/1.2 and 70-200mm F/2.8)  worked and focused on the A7 II with the adapter, so my guess is that the 150-600mm just did not like the adapter. Anyway, as has been documented fairly well by others, the AF performance on these lenses with the EF-FE adapter is slow. It works; it's accurate, but it's slow. If you were shooting in studio, or doing portraits where the subject is not moving at all, you could use it, but in general, I would stay away from it.
But I am ok with that, and I knew I was ok with that going into it. Why? Because the reason I wanted the adapter was to give me aperture control of the EF glass. I was already going to be manually focusing if I was using my film lenses, so manually focusing my EF glass isn't a problem. But not having aperture control, that would be a deal breaker; hence the need for an adapter like this.
Above, you can see one of the test shots I did with the Canon 50mm f/1.2. That shot was using the AF focusing on the 'Phantom 3' line of text on the box. It was slow, but as you can see, it did get the focus correct, and more importantly, the image quality still looks good – no weird artifacts or odd flares.
The next lens I tested was the 70-200mm, and I was curious if the camera could focus these lenses faster at a higher F/stop like F/4 or F/8, or even F/2.8 (a lot deeper DoF than F/1.2). To my surprise, the camera did not focus any faster than when it had the 50mm F/1.2 at F/1.2.
After the 70-200mm, I tested out the 100mm F/2; a lens that I loved when I had my Canon kit. Again, the focusing speed was just about identical to the other two lenses. This leads me to believe that trend will continue, no matter what lens you use – at least with this camera/adapter combination (it is likely better overall on the newer A7R II).
Final Thoughts
Is this little adapter worth the $100 I had to pay for it? Well, the build quality is as good as I would expect, and it does work about as well as I was expecting, so yes. I would say it is worth the $100, IF you know the limitations and are comfortable working within them.
Would I reccomend this adapter over a dummy (no camera/lens communication) EF-FE adapter? Absolutely. The ability to control the aperture alone is reason enough to spend a bit more and get this adapter. The only reason not to get this adapter, in my mind, is if you absolutely need to have good AF performance, in which case you need to either buy native Sony FE lenses or Sony A mount lenses and one of Sony's A-FE adapters.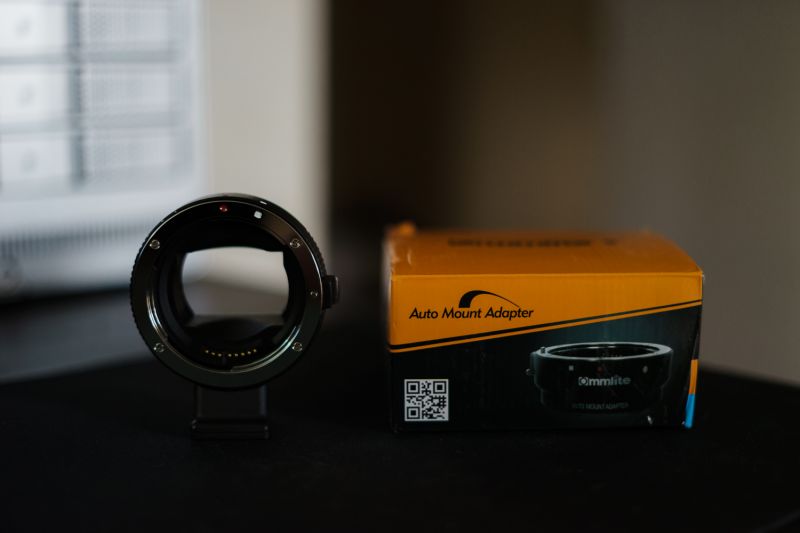 Some things to note about this (and all of the EF-FE adapters out there): There is a lot of talk about odd flares and other things like that. I did not experience any of this, and I did try a little to coax some flare. This leads me to feel like the flare issue is not as bad as some would have you believe, or maybe it's possible that Commlite has updated their adapter and addressed that issue.
I am looking forward to trying this adapter out again when I have a chance to try out the A7R II to see if the AF performance with this adapter can match the good things I have been seeing with people using the latest Metabones adapter.
The only other note I have is that the aperture values that you do see on your camera are odd in some cases; for example, F/1.2 is displayed as F/1.3. But, this is more of a quirk than a problem, in my opinion.
If you are interested in this adapter, I found mine over on Amazon for $95. There are also similarly priced ones like Fotodiox available over on B&H here.