"Success is not final, failure is not fatal: it is the courage to continue that counts."
-Winston Churchill
These words remind me a lot of what the journey has been like while trying to get my foot in the door as a fashion photographer in New York City. There have been so many trials and even more failures – Failure. There it is. The fear of that enamourous word seems to plague so many, including myself. Failure can be discouraging, terrifying and oh so heartbreaking, but it is in those failures that a faint gleaming light creeps through the cracks, illuminating a new way or path, as if prodding to try one more time.
Prior to relocating from Montana, I spent the previous three years working to go for broke while assisting for free and absorbing as much as possible to apply it to my own work when I got back home. The mindset was that this education was an investment for the future. The first summer I was here, I had set up meetings with some of the smaller boutique agencies to see if I could do some test shoots with their models. Modeling agencies always request to see a book of work beforehand. The feedback received was that they saw potential, but the quality of work was severely lacking. They gave me one chance to prove myself and luckily some of the images made it to their comp cards.
First test shoot in New York City.
Gear:  Canon 5D Mark III, Canon 85mm 1.2L II
Tech Specs: ISO 100, f/4.5, 1/200 of a second.
I continued to progress, fail, and learn from those failures over the next few years while journeying to the 'Big Apple' in hopes of making it a little bit farther than before. I was able to assist a high profile photographer while he was shooting a major advertising campaign. I even applied for a job with him and was granted an interview. The more my work improved, the more people and agencies alike were willing to work with me and I was able to produce several editorials. The closer I got each year to making my professional life a dream come true, the worse my personal life became. I had to question myself often if this was in fact what I wanted to do with my life. I always assessed if the end result was worth the risk, and as long as that answer continued to be "yes", I kept trudging along.
After several trips to the Big Apple, I made one final trip before heading this way last summer, and I set up meetings with the big players in the scene. To my surprise, almost all of them not only liked my work, but they were willing to do some paid testing in the future so long as I could continue to produce. The only question was when I could start, as fashion week was fast approaching.
I ended up heading home to properly plan for the trip instead of winging it. Keeping in touch with all of the agencies along the way, I finally made it here six weeks later. Ironically, all of the doors I had previously opened had seemed to close shut during this time.
Gear: Canon 5D Mark III, Canon 85mm 1.2L II, Profoto D1 500, Profoto Silver Soft Light
Tech Specs: ISO 100, f/7.1, 1/160 of a second
What I learned from this is that when New York is ready for you, you act immediately! Otherwise they forget about you faster than a New York minute. It has been very difficult trying to re-open those doors, and in some instances it feels futile. When I stood back up and brushed the dust off of me, I realized that I need to go about this another way.
I knew that I would have to also have a job in addition to photographing fashion before I ever came out here. I have sent out hundreds of applications and resumes, and of those only about 20 have contacted me for an interview. These range from entry level, non-paid internships on up the ladder to being a studio manager for high profile photographers. While some of the interviews have gone incredibly well, others have gone catastrophically wrong.
Gear: Canon 5D Mark III, Canon 85mm 1.2L II
Tech Specs: ISO 100, f/11, 1/200 of a second.
For instance, I emailed one of the premiere studios directly to inquire about job openings. I loved the fact that this studio does it all and after having had the privilege to work there, I knew I liked the professionalism with a personable environment. They responded promptly and asked me to send in my resume. An interview was scheduled. Prior to the interview, I looked at the openings to see that there were thirteen different internships available. Having done so much assisting and producing for my own portfolio, I was confident that I would be able to do any of the jobs well. Whether the gentleman interviewing me remembered our previous email chain or not, going in with this all-inclusive mindset was a big mistake.
The first question he asked is why I wanted to work at this particular studio. My answer began along the lines of the studio was one of the most elite production houses I had encountered and before I could specify what I liked about it when I had been fortunate to be on set, he shook his head and said they were so much more than a production house. He assumed I wanted the notoriety and scolded me for not doing my research, as it was plentiful.
I was then asked why I wanted the internship and I froze because I realized at that moment I should have picked one and gone with it. His immediate response was that he couldn't believe I didn't know what job I was applying for. Rather than argue, I got up and thanked the man for his time and shook his hand. The lesson learned is to find that balance of being able to schmooze them effortlessly while having enough confidence to sell myself as a top candidate without coming across as cocky. My intimidation and lack of confidence failed me here. It's also that you need to know what you want and why.
Gear: Canon 5D Mark III, Canon 85mm 1.2L II, Profoto D1 500, Profoto Silver Soft Light
Tech Specs: ISO 160, f/13, 1/160 of a second.
I have also had numerous positive interviews that went as far as emailing a studio or photographer to confirm a start date the following week. When I impatiently waited to follow their schedule and emailed accordingly, I was met with radio silence. I have even encountered this with unpaid internships. I can only gather that they found a candidate more suitable for the job. I have made more strides with paid positions that are higher up the ranks. My challenge is to find a way to convince them that this small town girl can play with the big dogs and will be an incredible asset to the team.
In the meantime, I have been carving out a different pathway by taking freelance work in other genres. I have been assisting again and networking with other agencies that are excited to start shooting when it will work out with our schedules. I have broadened my horizons to include shooting more men and also reach out to aspiring actors. I have helped with various workshops where I can also participate a little, as this keeps me shooting and my skills fresh. The challenge now is to build a new creative team, and it seems finding a stylist willing to do TFP is like finding a needle in the haystack. Also, being able to take a step back to look at the big picture and try not to take things personally. This is a tough journey and requires such thick skin, but so far the sacrifice is still worth the end result. As discussed previously, there is no how to guide or one size fits all pathway to becoming a successful fashion photographer. Perseverance is key.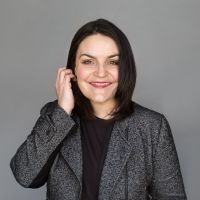 Brittany Smith
Brittany is a fashion and beauty photographer who works between NYC, Montana and LA. She photographs the way she has always wanted to feel and believes in the power of raw simplicity. When not behind a camera she can usually be found at a local coffeeshop, teaching fitness classes at the YMCA, or baking something fabulous in the kitchen. Instagram: @brittanysmithphoto