Videos of 360-degree wedding films have already been surfacing on social media, garnering heavy attention because it truly isn't like anything we've seen before. Couples are enticed by the idea of knowing what was going on during their wedding day, even if it means the surrounding areas of beach located near their ceremony site – case in point:
According to popular wedding registry & inspiration site, The Knot, we should expect to see VR making a huge impact on wedding cinematography in the near future, and in a big way. Although VR technology isn't a new concept, many don't quite know just how much of a desire and demand there is for it across the board. Nikon released their findings on the subject and published them recently (see below), and 45% of Americans asked wanted to use VR for milestone events, so the notion of implementing it into wedding cinema style is definitely revolutionary but in demand. The Knot specifically mentions VR Networks, a company that films and produces virtual reality wedding videos nationwide and is one of their premium vendors.
Virtual Reality: Insert Yourself Into Your Wedding
VR Tech for weddings places you directly in the center of the action, giving you a 360 degree 3D video of your big day. VR Networks sells several packages that give you the option to choose portions of your day that require the accompaniment of VR or to have your entire day recorded using live VR.
Of course, this new tech requires a virtual reality headset, which "contains a VR-capable smartphone that has motion sensors that allow you to look in all directions and feel like you're actually standing in the space". This presence is ideally why brides are intrigued by the technology, giving them new views and perspectives of their wedding that they may have missed, but is this indeed something desirable? With big media players like VLC offering support for 360-degree video compatibility, it isn't too far fetched to think that this trend will indeed hold a prominent place in our future of consuming media.
What are your thoughts? Do you think this new trend is here to stay in the wedding industry?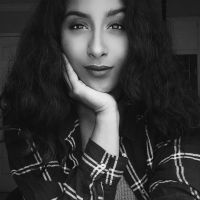 Shivani Reddy
Shivani wants to live in a world where laughter is the cure to pretty much everything. Since she can't claim "Serial Bingewatcher" as an occupation, she'll settle for wedding/portrait photographer at Lin and Jirsa & marketing coordinator here at SLR Lounge. For those rare moments when you won't find a camera in her hand, she will be dancing, eating a donut, or most likely watching Seinfeld. Follow her on Instagram:
@shivalry_inc