Diversity in growing-up is something that seems to bring with it an emerging geography of children and childhood. Arguably, most of the focus we have on this new geography has been afforded to the experience of children in an urban environment. Environments which are not very nature-centric, nor self-sufficient. There seems to be less care about rural life as our generations continue undistracted from their relentless pursuit of moving forward, and conceptions of 'the good life' are changed.
In La Famille, French photographer Alain LaBoile turns our attention back to the virtues of a simpler time; one of mischief, drama, camaraderie, imagination, and innocence. What can come across as a chronology of memoirs, can feel like a tribute to family, and a salute to generations past.
[REWIND: Moving Images Of A Nation Still Emerging From Soviet Control: 'I Am Georgia']
Hailing from Bordeaux, LaBoile is a photographer and father of six. His step into photography seems to have come as it has for many; a surprise. He was a sculptor and required photographs of his work for a portfolio, so he acquired a camera and the rest is history. Moving from macrophotography inspired by his love of entomology, he shifted subjects towards his family.
…in a realistic depiction of their atypical lifestyle in "La Famille," or in bizarre stagings around a pond in "Réflexion autour du bassin"
La Famille is an intimate evolving series shot entirely in black and white, focusing on the six children which inspire his work. Shooting with a Canon 5D Mark III with a Canon 35mm f/1.4, LaBoile captures a hometown life that seems almost non-existent. It makes sense then that LaBoile records his family life on a daily basis from their family home in Grionde, his hometown in which he has always lived.
Shooting daily and sharing his family life over social networks, LaBoile has not labored without attention, recently warranting a gift from Leica – an M Monochrome with a Leica 35mm f/1.4. The photos you see he says, are never posed. Perhaps it's this freedom and familiarity with their father and the camera which allows the action and soft moments to occur and look as though there was no camera around.
Thoughts
Regardless of what your own upbringing was, or where it took place, the truly intimate visuals presented in La Famille feel familiar. The children may not live where you did, or look like you do, but there is a universality to the experience which is entirely identifiable. The sense of movement in the photos really envelops you, and I love that the choice of gear is so simple, and there's no mention of speed lights or bounce flash. It's naked, much like the children running around. On the same note, I think sharing the children running around without so much as a sock is wonderful. What they are to me are not so much naked, but revealed, and that reveals the feeling of the environment. The enchanting life, and innocence somehow gets pushed to the forefront of the photos, and reminds me of my own family growing up in the Jamaican and English countryside.
Find more from LaBoile on his site

CREDITS: All photographs shared by Alain Laboile are copyrighted and have been used with permission for SLR Lounge. Do not copy, modify or re-post this article or images without express permission from SLR Lounge and the artist.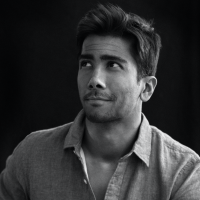 Kishore Sawh
A photographer and writer based in Miami, he can often be found at dog parks, and airports in London and Toronto. He is also a tremendous fan of flossing and the happiest guy around when the company's good.