Great family photographers understand the impact of posing on family portraits. They masterfully use body language and cues to elicit emotive expressions to capture their clients' charisma, presence, and warmth. If you struggle at all with establishing relationships with your clients and capturing the magical moments your clients want, don't miss these 5 easy family portrait poses.
The following article focuses on posing for family photography.  For a higher level overview of family photography, see our article on family photography tips.
Before Your Clients Strike a Pose
While most photographers reach for the camera to start a session, we suggest putting the camera down. Here's why: Directing is 10 times easier and more personable when you're not hidden behind a camera. Take this opportunity to connect with your clients and show that they are your complete focus. We start every portrait session by running our clients through the Foundation Posing Framework.
Classic Family Photo Poses
Begin with the classic pose and have your subjects face the camera in order to get them comfortable for the session. The classic pose is one of the easiest family portrait poses for the following reasons:
Simple Pose – Your clients have likely posed for photos using some variation of this pose.
Quick Pose – Because it is a simple and familiar pose, getting in and out of this pose requires little time.
Safe (albeit Boring) Pose – While not very creative, it's the traditional, must-have shot.
Transition your clients into a V-Up pose and frame them within the scene by creating equal visual weight throughout. In all of our family portrait poses, we want to show connection and familiarity with touch points; the more touch points we create, the more intimate a pose becomes.
This photo is often the one they use for holiday cards or for their wall art, so make sure you're happy with the results from this pose before moving on!
Affectionate Family Photo Poses
Is there such a thing as too much space between family members? Of course! In order to create more of a connection (literally) between family members, direct them to hug into the middle. Doing so not only creates more intimacy but also ensures we have a focal point in our images.  This is a perfect family portrait pose for a family hugging onto their child, grandparent, or other person of focus.
In family portrait sessions, we want to highlight connection while also keeping the photos as authentic as possible. Utilize multiple touch points and wait for natural reactions. Keep an eye out for distractions like natural pointers and negative or tight framing.
Action Family Photo Poses
Sessions with children typically include a unique set of challenges, most of which leave the photographer working on borrowed time. In these instances, we need to move very quickly, but always remember the family is looking to you for direction, charisma, and warmth – no pressure right?
Incorporate action to engage the entire family and then wait for the right moment to capture natural reactions. We like to refer to this as assisted photojournalism – watch this webinar to see what it's all about!
Seamlessly transition from the classic pose to something more candid by directing the family to run, jump, or even compete in a posing contest. These less formal poses will help you capture more authentic looking images and, because they're fun to do, they can help delay any meltdowns. Also, if your clients are actually having fun, there's a good chance that will be reflected in the imagery you create!
Editorial Family Portrait Poses
We typically get requests for editorial family photos during weddings rather than family portrait sessions. When shooting in an editorial style during a wedding, it's important to communicate that even though these shots are complex, time-consuming and risky, they often stand out (in a good way) as the most memorable photos.
Don't be intimidated by group editorial posing. It takes practice, research and time to fine-tune due to the nuances and focus needed for every subject in the image. By asking the family to smile with just the lips, for example, we can capture a serious but soft gaze.
Be sure to understand your client's vision before attempting editorial family formals.  This style of photography is a departure from traditional family photos and should only be used when you know that the clients wants it.
Family Photo Poses with Tight Crops
As photographers, we're aware of the importance of being in the right place at the right time. However, with a bit of directing, we can take a more active role and convincingly recreate candid moments.
In large family portraits, space changes the presence in the photo and creates a mood and sense of symmetry, even with an odd number of people. Reducing the amount of space in the frame has the same effect. To make a moment more intimate, we suggest reframing for a tight crop. By limiting distractions, the focus is on emotion and body language. To reinforce familial relationships, focus on hand placement to establish a connection.
Conclusion
I hope you enjoyed this quick overview of 5 easy family photo poses. Group posing can be a tricky task for photographers who lack the experience, confidence, or knowledge to guide and communicate with their clients to get the perfect shot.  For some, especially those who consider themselves to be introverts, it's the most challenging aspect of portrait photography.
See more tips from The Complete Posing Workshop to perfect your family portrait sessions! Or start streaming the workshop as a Premium member right now!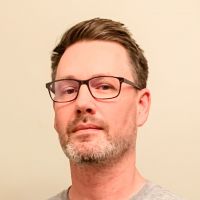 Sean Lewis
Sean fell into photography while teaching for a non-profit. What started as a minor task - documenting guest speakers and classroom activities - grew into a major obsession, and eventually led to a position shooting with Lin & Jirsa. Nowadays, at SLR Lounge, Sean's work as a marketing associate merges his interest in the fields of photography and education.