20 years ago there were those who were into gadgets and those who really didn't give a stuff, but that was then and this is now and the world is a very different place. Our day-to-day on a whole is fueled via electronics and equipment that require power, and that goes very much so for teens as much as it does their parents. Suffice to say the need for power is vast, and we live in a world of constant monitoring of depletion.
While there is no shortage of juice packs and external batteries to help keep you untethered from a wall outlet, they're mostly all the same, and their flexibility tends to be limited due to smaller capacities and restrictions on output type. But, there's currently something brewing that looks quite a bit different, a bit unusual, and a bit exciting. It's called CRANK Juice Box, and it's a "lightweight power bank that charges your computers, USB devices, cameras, and can even jumpstart your car," now funding on Kickstarter. While we don't often promote Kickstarter projects this one does look interesting.
"The Crank Juice Box is a lightweight power bank for our most used devices. We've designed a compact unit with a huge battery to keep all of your USB devices, 3 generations Apple Mac books, iPads, iPhones, Kindles, Android Phones, Google Phones, PC Laptops, camera support, professional cameras, and also new generation computers with USB C."
One of the faults of other external and portable power sources is that while the primary purpose is one of utility, there isn't a focus on encompassing functionality to bring out the full utility of said devices. Typically, there is only a USB port for power output and cabling and so forth are yours to supply. The creators of CRANK appear to want to avoid that so the potential of the device can be reached from day one, so the number of ports for output are wide.
It comes with a suite of cables to power generations of laptops, an LED display, built-in-flashlight, wall charger, cigarette lighter charger, jumper cables for your car (so it seems this functionality isn't so much an afterthought as much as an engineered purpose), and a hard and soft case – all built around the beating heart of CRANK, the 18000 mAh battery.
For photographers and videographers the uses of this are relatively obvious, in that it can charge/power your cameras, mobile devices, external monitors, computers, and all other periphery that's essential to operating on location unhindered and untethered. Perhaps it helps to know that the device itself is part designed by professional photographers and filmmakers.
It's currently in its Kickstarter campaign and you can check out more about it here and lock in a 52-70% discount on the suggested retail, and what extras come with. As with all Kickstarter products we feel obliged to remind you that the time to production often changes, and we are not affiliated with the product itself. Again, that said, the obvious utility of this is certainly of interest and piques ours.
The Crank Juice Box Kit Comes With:
Your Choice Of Black or Orange Crank Juice Box
Jumper Cables For Your Car
USB Wall Charger
USB Cigarette Lighter Charger
3 Generations Of Apple Chargers For Apple Laptops
Charger Cable For The Crank
8 Adapters For Various PC and Electronic Inputs
The 4 Cables Squid. Thunderbolt, Micro USB, Mini USB, & Apple iPhone & iPad 30 Pin Connector (Old School)
Hard Travel Case For Crank & Accessories (see Below)
Crank Battery Size is 18000 mAh
Flashlight Built Into Crank –
TECH SPECS
3 Settings Continous, SOS, Strobe
Capacity 18000MAH
Applicable Engine Type: <6.0 L Gasoline & <2.5L Diesel
Output Voltage At Auto Start End: 12V
Output Voltages: 8.4V/2.1A 12V/2A; 16V/3.5A; 19V/3.5A
Dual USB Outputs: 5V 2.1A • Start Current: 600A
Peak Current: 750A(<3S) Battery Type: Lithium-ion Polymer Battery Charge Mode: CC/CV 15V/1A LED Power: 1W (White) LED Light Modes: 3 (Steady-SOS-Strobe) Cycle Life: > 1000 Times
Operation Temperature Range: -20 Degrees C to 80 Degrees C\
Product Size: 180x86x43 mm
N.W: 1.5 Lbs or .68 KGS
Certificate: CE ROHS FCC
UL Listed Battery Jumper Clamps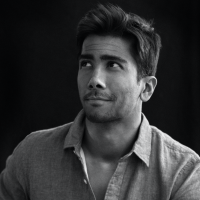 Kishore Sawh
A photographer and writer based in Miami, he can often be found at dog parks, and airports in London and Toronto. He is also a tremendous fan of flossing and the happiest guy around when the company's good.