Validation. We all seek it. For some it is that first gallery showing, an artist spotlight or a feature. For me, that stamp of approval that let me know that I was indeed on the right track came in the form of a fashion editorial. After two years of testing and building model portfolios, it seemed like the next logical step.
Gear: Canon 5D Mark III, Canon 85mm 1.2L II USM Lens
Tech Specs: ISO 1000, f/1.8, 1/160th of a second.
The Plan
After working with Arley and being amazed at her naturally toned physique, the seed was planted to create a lingerie story as a means to showcase it. The styling aspect seemed simple enough. The mood board was a mix of athleticism and tomboy chic, balanced with a touch of femininity. The challenge was to create a  story with a local team that looked like it could have been shot in a NYC loft or a European apartment; anywhere but Montana.
I had a friend who owned a boutique clothing store and specialized in all things to do with style, and was in the process of renovating the second floor of his building and asked if it may serve as a location for the story. With its white walls and ebony-finished floors, the location was nothing short of perfection. The geometric shadows and contrast created by the October sun beaming in through the windows was going to be an excellent source of light and provide the perfect mood for the story.
Gear: Canon 5D Mark III, Canon 50mm 1.2L USM Lens
Tech Specs: ISO 640, f/1.8, 1/125th of a second.
Not everything goes according to plan…
The weather was forecast to be bright and sunny all week leading up to the shoot and therefore no lighting equipment had been rented. A brooding storm rolled in the night before out of nowhere and a downpour settled in for the entirety of the day. The available light in the building was soft and delicate; completely changing the hard hitting mood that was initially sought. One thing was painfully obvious; the original story was not going to work. At all.
With an open mind, the team reconvened downstairs in the clothing store to see if there were any pieces that could be pieced together and still mesh with the lingerie that had been purchased. Black and white pieces were pulled because they are classic in nature and not limited to seasonal fashion.
Gear: Canon 5D Mark III, Canon 50mm 1.2L USM Lens
Tech Specs: ISO 800, f/1.8, 1/160th of a second.
The overall feeling on set that day was that of being in Europe on a rainy day. It was romantic and intimate. A friend made the comment that it sounded like "Nuit Blanche" which is an all-night celebration of the arts in Paris (and Toronto). That idea of getting ready for the big night out became the theme for the remainder of the day.
The gear for the shoot was very minimal, consisting of one camera body and two lenses; a 50mm and an 85mm. The  naturally diffused light coming in from the windows was the only source of light. The white walls served as a bounce, and in some cases a fill while the dark wood accents acted as a black v-flat, absorbing the light to create the subtle graduation and desired contrast. The ISO was set to 640 and higher for the duration of the shoot, producing grain very similar to film.
Gear: Canon 5D Mark III, Canon 50mm 1.2L USM Lens
Tech Specs: ISO 200, f/2.8, 1/10th of a second.
What I learned
"You are only as good as your Team."
This statement carries so much weight. It was a challenge to capture seven different looks with the various crops in a race against the fleeting light. Since the original story board was null and void, the styling and art direction from head to toe was a collaborative effort. There is no way that this story could have been achieved flying solo.
This experience set a precedent that better oversight and planning for the unexpected is a must going forward. It would have been so easy to throw in the towel and reschedule the shoot. It may have even been the wiser thing to do. But we decided to throw caution to the wind that day, knowing that it may be a complete and utter disaster, for the common goal of creating a few usable images to add to our portfolio. Risks were taken that wouldn't have otherwise been taken, and as a result, the end product was an elevated form of everything that had been previously imagined.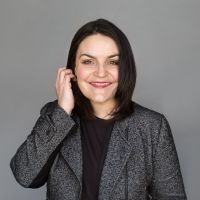 Brittany Smith
Brittany is a fashion and beauty photographer who works between NYC, Montana and LA. She photographs the way she has always wanted to feel and believes in the power of raw simplicity. When not behind a camera she can usually be found at a local coffeeshop, teaching fitness classes at the YMCA, or baking something fabulous in the kitchen. Instagram: @brittanysmithphoto