Last year was a momentous year for my family. My aunt and her now husband finally got formally hitched after 3 decades of being together, though they were more married than most married people I know even before. So cause for celebration? We generally don't need an excuse for that, but this was one. Most of the family from all over the world came to England and we had a really lovely, small wedding in Devon, South West England. I was, as to be expected, happy snapping the whole day even with very limited gear on me; Nikon D7000, Nikon 80-200mm f/2.8 AF-D ED, Nikon 35mm f/1.8G, and Nikon 17-55mm f/2.8G ED-IF AF-S. (The 17-55 I used most of the day, and what a gorgeous lens for a DX.)
It was the first time I got to see some of my baby and kid cousins and so I forced a lens in front of their faces more often than they'd probably like, even if they are all modelesque. Without any proper lighting gear or anyone to assist me, I ended up with some great shots, and some mediocre candid ones. Why didn't anyone tell me how hard it is to photograph kids?! Regardless, in an effort to salvage the mediocre and make them into something great, I ran them through Lightroom and I'm going to show you here how to pull a nice photo, out of an unremarkable one.
The Setting & Set Up
At the dinner table with a bunch of adults chatting away, the kids were bored and my adorable little cousin decided even the ground was more interesting than anything I had to say. Finally getting her out of someone's arms, I snapped this shot.
The lighting was not ideal, but manageable. There were a few semi-blown out highlights, and the off white color of the walls and floor made for a small mess for my auto white balance (didn't have time to select the right Kelvin when she was running around). Anyway, I liked her expression and that she locked gaze with the lens, so into Lightroom I went.
Developing
First – it needed a crop. I wanted to have the shoe appear less of a focus and bring the photo in tighter on her face.
Mixology & Adjustments Used:
01-10 BASE – SOFT: 10b. Soft-Import+Profile
Graduated Filter: 02 Burn (Darken) -1.0 Stops
Adjustment Brush04 Dodge (Brighten) +0.5 Stop
Adjustment Brush: 15 Hair | Lashes
Mixology

Application & Further Tuning
Preset Application
I'm using our Lightroom Preset System since, well, they're good, and make life easy. Applying the preset is as simple as clicking the one you want from the Develop module. You can get a preview of the preset in the Navigator section before applying it, as you move the pointer over each one.
 I chose 01-10 BASE – SOFT: 10b. Soft-Import+Profile because it added a slight vignette and punched up the colors just a bit. In fact, I went over to my sliders and dropped the saturation down a notch to better deal with the yellows.
Darkening Empty Space With Graduated Filters & Selective Burning
As stated, and would be obvious, the focus here had to be my cousin, and there wasn't much interestingness around her anyway. Using the Graduated Filter tool and it's "02 Burn (Darken) -1.0 Stops" preset, I put one on either side of the photo, slightly rotating their orientation. I dropped the saturation a touch also, and already, things are looking a lot nicer.
Adjustment Brushes For Sharpening & Making The Most Of The Sun Rays
She has really beautiful brown eyes which the photo doesn't really highlight – so I'm going to. Using the 04 Dodge (Brighten) +0.5 Stop brush preset I quickly glided over the iris to get a look that was true to how they appear in real. I briefly used the 15 Hair | lashes to give more definition to the eyebrows.
Lastly, I wanted to make the most out of the sun rays hitter her face and dress. Going back to the 04 Dodge (Brighten) +0.5 Stop brush preset I used it with a very feathered brush and clicked over the spots of sun, adding a bit more of a highlight look.
That's it. It took about 3 minutes using the presets to make nice photo out of a mediocre one. Here is the before and after.
Before
After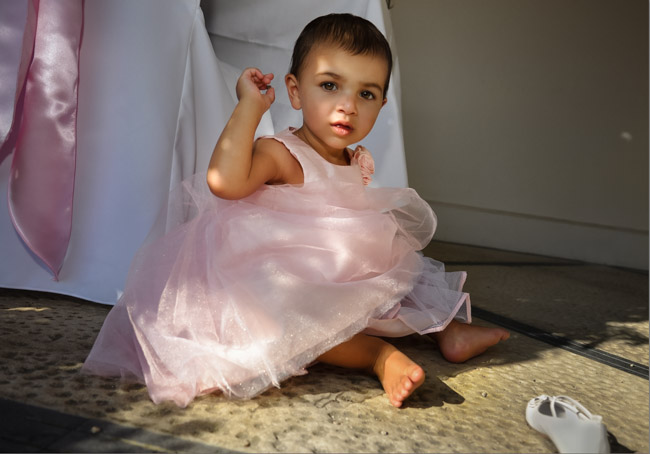 [REWIND: How To Easily Add Copyright In Lightroom & In Camera]
The SLR Preset Sytem
If you're a habitual Lightroom user, or would like to become more proficient in your editing and workflow, the SLR Lounge Preset System is created by professional photographers enable you to achieve virtually any look and effect less than 5 clicks. You can drastically change, correct, and improve your photos in record time, and to high effect. From color correcting, application of color and black and white effects, specialty lens effects, HDR, and professional retouching, and more, it's the benchmark Lightroom system. The links above and below will take you to them. The SLR Lounge Preset System is available for both Lightroom 5, Lightroom 4, and Adobe Camera Raw. (Bridge CS6 and CC only, click for more info.)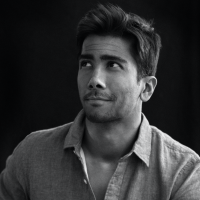 Kishore Sawh
A photographer and writer based in Miami, he can often be found at dog parks, and airports in London and Toronto. He is also a tremendous fan of flossing and the happiest guy around when the company's good.