Apple and PC's both have their pros and cons. This video isn't about that –  all we wanted to do is compare Lightroom Classic performance with two similarly priced high-end computers. The first being the new iMac Pro, and the other being a custom build from Puget Systems. Watch the full video below to determine which is the best desktop computer for photo editing.
Budget & Specs
Let's start with the budget and specs. We started with the iMac Pro configured with:
For comparable warranty, we also added AppleCare to the iMac which gave us a pre-tax total of just over $6,700. Not cheap, but it does also include the beautiful 5K retina display which has beautiful and accurate colors out of the box. Not too long ago, I shared my thoughts on Apple products for photographers, and let's just say it's been a love-hate relationship. I will say that since the article, and since all of my machines have been repaired, I haven't had any more issues (knock on applewood < see what I did there).
On the PC side, we know we can build our own machines for cheaper. But, honestly, we don't have the time anymore. If you enjoy building and troubleshooting your own machines to squeeze out every bit of performance, great, you can do it cheaper. We need pre-built machines that just work and we need the manufacturers of those machines to stand behind them so we can focus on what we do best, take pictures, and create education. Our research pointed us to Puget Systems, who designs purpose-built PCs for specific software applications. We selected the Lightroom machine and had a working budget of around $5k since we wanted to leave plenty of room in the budget for whatever monitor/tweaks upgrades you might want.
The PC was configured with:
Our pre-tax price, including our additional storage, was just over $4,800. This leaves us $1,900 for the monitor and potential upgrades. Side note, this price also includes Puget Systems lifetime labor and tech support warranty, as well as 3 years on parts. For the monitor, we added the BenQ PD 3200U 4K display for an additional $700 and pocketed the $1,100 difference. Also, keep in mind that we've built this system with an OS SSD and an additional 10TB drive. Had we built it with the same 2TB storage option as the iMac Pro, we'd drop another $640 from the price tag. At this point, I felt that familiar freedom in designing what I needed with my PC, versus just taking what Apple offers. And on the Apple side, we're going to use this same iMac for our Premiere testing as well, because what Apple has done that's impressive is design a powerful machine that's a solid performer all around. We'll do another video discussing the advantages of each, for now, it's neither here nor there, let's talk about their performance in Lightroom Classic.
The Lightroom Speed Tests
Both of these machines are highly capable, but our testing is specifically designed for Lightroom Classic use since it still remains a CPU intensive and under-optimized application. This means that those of us processing large amounts of images will see dramatic time savings with each second worth of time saved per image. But don't take these results and apply them to other areas like video editing, 3D graphics, gaming, etc..
Within Lightroom Classic, we divided our tests into two categories, Passive tasks, versus Active tasks. Passive tasks are the things that we generally do when we are away from the computer taking a break, while using other apps, or completing overnight. Passive tasks include things like importing, rendering previews and exporting images. Active tasks are the things we are doing while working on images actively, this includes moving from one image to the next, applying a Preset or Develop settings, using local area adjustments and brushes to fine-tune an image, as well as creating panoramas. Of the two categories, Active Tasks are more critical since these tasks directly relate to how much time we spend in front of the computer editing, while Passive Tasks are things we can complete while we're away or working on other things.
Puget machines are all designed for the specific application you select and their Lightroom machine is specced towards Active Task processes. We like this approach, but if you're looking for more overall processing power, we'll have suggestions for you as well, while remaining in your budget.
For each set of tests, an identical Lightroom Classic Catalog was placed on each computer. Each specific task was tested twice to ensure accuracy.
Passive Task TestS
IMPORTING WITH SMART PREVIEWS (WINNER = iMAC PRO)
We tested importing the same 100 images with Minimal Previews on, Smart Previews Selected, and with both catalog settings set to render the largest default preview size of 2880 pixels.
The iMac Pro completed the import in 36.1 seconds, beating the PC's time of 39.71. After repeated tests, we concluded that the iMac Pro was around 10% quicker in general import time.
Rendering 1:1 Previews (WINNER = iMAC PRO)
Let's move now to rendering 1:1 Previews. We deleted both catalogs, started fresh with the images imported and no previews rendered. We then rendered 1:1 Previews where the iMac Pro completed the task in 96.3 seconds compared to 121.3 on the PC side. After repeated tests, we found the iMac Pro to be consistently around 25% faster in rendering 1:1 previews.
Exporting Images (WINNER = IMAC PRO)
The same catalogs were deleted and reloaded, and we exported all 100 images at full resolution, JPEG quality set to 100%, and medium sharpening for matte prints. The iMac completed the export in 125.86 compared to the PC's 148.27 seconds. Again when repeated the iMac Pro showed to be around 18% quicker than the PC.
Passive Task Test Results
It's clear that the iMac Pro had more processing and data churning power. This is no surprise here, but before we turn to active tasks, let me give you an upgrade option. For those that want more overall processing power, with the same storage options, we can upgrade the system to the i9 9920X 12-core which will yield about 50% more performance in passive tasks, while still leaving $1,000 left in the budget for the display. Matching the same storage as the iMac would yield another $640 price drop if desired. These things are worth noting since it's one of the main benefits of going PC, flexibility. For now, let's move to active tasks.
Active Task Results
IMAGE-TO-IMAGE DEVELOP TIME (WINNER = PUGET PC)
The main active task that we wanted to test is the image-to-image time that it takes for Lightroom to load the next image, and serve it up ready to go in the Develop Module ready for adjustments. Here's how we ran the test. With a new catalog, we imported the 100 images and rendered 1:1 previews. With previews completed, we moved from one image to the next, recording the time it would take for Lightroom to load the image, and then make the sliders active and available to begin adjusting. We then ran the test again from scratch.
This is where the PC began to shine a bit with an image-to-image render time of 138 seconds or just around 1.38 seconds per image while the iMac Pro took 153.45 seconds or 1.53 seconds per image. Both machines were quick, but the PC was just over 11% quicker in this active task. This is an interesting result and demonstrates Lightroom's inability to utilize the more powerful processor within the iMac. Hence, the aptly specced Puget machine uses a CPU that maxes LR performance for the budget. Over 100 images, this difference of 15 seconds isn't significant, but wedding and portrait photographers can easily have 5,000 to 10,000 images per client catalog. This is one area where the time will add up. But, it is safe to say that both of these machines are pretty darn quick.
Panorama Stichting in Lightroom (WINNER = PUGET PC)
Next, we tested panoramas. This threw us off a bit, since it was a processor-intensive task, we expected the iMac to beat out the PC. However, In rendering the time it took to create the same panoramic image on both machines the PC actually beat out the iMac Pro in each test by a margin of 10% or more. When rendering a 135 Megapixel panorama, the PC rendered it in 49 seconds compared to 55 seconds on the Mac. When stepping up to a 400-megapixel panorama, the PC again beat out the iMac Pro completing the task in 110 seconds compared to 133 seconds, or a difference of just over 17%. We do consider this an active task since rendering a panorama is generally done while sitting at the machine, it's just not enough time to justify taking a break.
Local Adjustment Brushes (WINNER = PUGET PC)
Now, finally, we have Local Adjustment Brushes. For this test, we loaded an identical catalog onto each machine, each with a single raw image shot from the Fuji GFX 50, a medium format camera. This would give each machine a good amount of data to chew through as we apply a Detail Enhancement brush. Using the same brush preset with the same brush size and feathering settings, we applied 10 applications of the brush with the masking turned on to see how each machine would be able to keep up. We only continued with the brush stroke and application as the mask filled in red.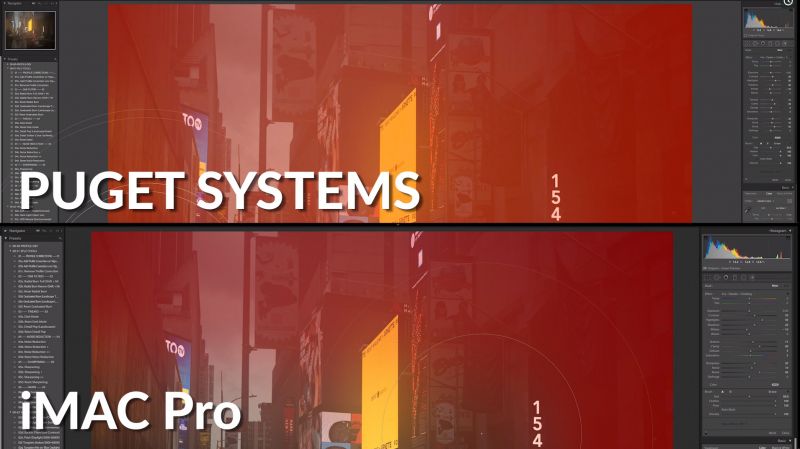 This is where the PC unexpectedly walked all over the iMac Pro. From nearly the first brush application on the iMac, we noticed a significant lag. This lag built with each application. While the application on the PC wasn't perfectly smooth, it was dramatically better as you can visually see in this side by side. These results are consistent with our experience using Apple's vs PC when it comes to Local Adjustments within Lightroom. No doubt, this is a Lightroom issue since both machines have more than enough hardware. Still, the difference was so dramatic that we ran the test multiple times, each time we reached the same result.
Active Task Test Results
The Lightroom PC build by Puget Systems won hands down in each category, from image to image editing, merging of panoramas, and even local adjustments.
Which is the best desktop computer for photo editing?
So what's the conclusion? Well, to be honest, both machines are blazingly fast, and highly capable machines for applications far beyond just Lightroom. But, when it comes to specifically using Lightroom, we'd opt for the Puget System machine over the iMac. While it was a bit slower in passive tasks, all active tasks resulted in significantly better performance. For the volume of images we shoot & process (millions/yearly), this means less time in front of the computer, and more time shooting. Full-time wedding, portrait, and event photographers will likely appreciate this difference. However, if you're only editing a few images here and there, the difference will be negligible.
But, I have to give it to Apple for designing an all-around beautiful computer that's functional and highly capable. In fact, we're going to use the same iMac Pro to test it against a similar Puget Systems build within Premiere. In that test, you are going to see the all-around design and power really shine. In addition, if you prefer iOS and Apple's device integration, then really the iMac will still be your best bet.
For me, I'm riding both sides of this fence. For my office workstations and editing machines, I prefer Puget Systems. For my home and portable computing, I'm using my Macbook Pro and iMac Pro. But, at least we have finally found an awesome PC alternative to Apple with Puget Systems. We're going to do another video specifically on how they develop their machines.