If you're anything like me, when it comes to your gear, you will do everything you can to keep it clean, and in pristine working order. Not only does this look better for yourself, and when guests/clients are near your workstation, it also helps in the resale value down the road. So with that in mind, most of us out there, even if we work off of laptops, we usually all have external mice, keyboards, and additional peripherals that we connect to our computers to keep everything running as smoothly as possible.
For years, i've used the Apple Magic Numeric Keyboard, I grew up on old mechanical PC keyboards, and when I made the transition over to Apple, I never quite felt comfortable on the smaller keyboards that didn't have that additional chunk of function and real estate. So when I say years….I do mean quite literally well over 20 years with larger, numeric keyboards of a plethora of flavors. Over those years I grew to find that the Apple Magic Numeric Keyboards (and their 3rd party brethorin) was the style and design that just worked for me.
[Related Reading: Amazon Basics Light Stand Review | Is A $12 Light Stand Good Enough For Pro Photographers?]
Well in December, my "old reliable" finally broke down and thus began the hunt for a new (Wired), Apple style numeric keyboard. Why wired? Well one thing I have always liked about the wired numeric keyboards, is they always had 2 USB ports that I could use to plug in my wireless transmitters for my devices like a Wacom Intuos Pro Tablet or a Logitech Wireless Trackball (see the featured photo above).  This saved my desk, and computer a lot of space and clutter for things like External Drives and a billion other things able to be connected to the all important "powered" USB connections. So yeah, the wired was a bit of a priority, but much to my chagrin, they were REALLY hard to find these days! Most official stores only carry the wireless versions now (which are great) but they lacked that dual USB connection that I need and love, and then you had to deal with buying and charging more batteries again.
So, that left me on a hunt for refurbished versions, some deep searches through amazon, or to go 3rd party. Now ironically enough I found a refurbished keyboard nearby of an "official" Apple Numeric Magic Keyboard for a decent price, but then as luck would have it, I found the "Xcellon KBM-A2USG" on B&H for even cheaper at only $49.99. So naturally, being the "Always keep a spare" kind of guy that I am, I ordered the Xcellon model as well.
The Details of the Keyboard & The Review
At about 1/2 the price of the official "Magic Keyboard(s)" from apple, this keyboard, tested side by side with an original, has, in my honest opinion, a superior feel for typing, weight, and usability when compared to the "Apple Original."
Yes it's a little bit heavier, but it also feels a lot more solid. The keys have a more weighted feel when typing, while being "quieter" than the Apple version. This to me, as someone who types a LOT, and often in the studio surrounded by other creatives, this "quiet" mode is quite a bonus! Plus, who wants all that clatter while they're editing/writing and jamming out to their favorite music?! Right?!
Additionally, the Xcellon keyboard comes equipped with optional "kick stands" to increase it's angle for an increased control or additional option for your typing preference and comfort. If unused it has practically the same profile and angle as the official Mac Magic Keyboard, so being able to give yourself a slightly higher incline is kind of great!
[Related Reading: Phase One Announces New Capture One Pro Keyboard For Max Efficiency]
Key Features
Wired USB Type-C Connection
Low-Profile Scissor-Style Keys
Mac-Friendly Function Keys
Slim Aluminum Construction
The Xcellon Wired Mac Keyboard is designed to complement your Mac and provide you with quality-of-life shortcuts to multimedia and macOS controls. Featuring low-profile scissor-style keys, it's quiet and comfortable to type on. Moreover, it has a built-in two-port USB 2.0 Type-A hub for conveniently connecting USB peripherals and devices like flash drives. (The built-in USB hub supports data transfer only. It will not deliver power to devices.)
Technical Specifications
Compatibility – Full functionality: MacOS 10.5 or higher. Basic Functionality: iOS, iPadOS, Windows, and Android.
Number of Keys – 110
Switch Type – Scissor
Connection Type – Wired
System Connection – USB Type-C
USB Ports – 2 x USB Type-A (USB 2.0)
Cable Length – 5.6′ / 1.71 m
Material of Construction – Aluminum
Dimensions (L x W x H) – 17.3 x 4.9 x 0.3″ / 43.9 x 12.4 x 0.8 cm
Weight – 1.8 lb / 0.82 kg
What I liked
Fantastic Price ($49.99)
Build quality is fantastic & incredibly sturdy
Design choices are great

available in silver or space grey to better match the model of computer you have

Quieter keys when compared to other keyboards and official "Magic Keyboards"
Darker design stays "clean" looking longer/easier
Comes with a 1 year warranty from the manufacturer
It's USB-C type so it'll connect directly to the new Mac (and PC) devices natively without the need of a dongle or USB converter or hub
Has all the functions and shortcuts you know and love from the original Apple Magic Keyboard
Comes with additional Function keys to help setup shortcut commands
What I Didn't Like
It's slightly heavier than the Apple counterpart (1.8lbs vs 1.4lbs for the "official" version)
It didn't come with a USB-C to USB-3 adapter. (while not necessary, it'd still be nice to have)
Function buttons are positioned in a way that can cause some typos when you've spent years used to the layout of the original Magic Keyboard
USB port is directly on the back of the device vs the hidden on either side underneath of the Apple Magic Keyboard.

This realistically means nothing, but esthetically I did prefer to have my wireless adapters plugged into the keyboard hidden and out of sight. Nitpicking here…but it's what we have to do!
Conclusion
Well, considering i'm typing up this review using the Xcellon keyboard, I'd add this keyboard to the list of "Must Buys" for people who like to have backups and external devices for their laptops. It's great looking, quiet, works fantastic, and most importantly, costs only $49.99! Now that I have both of these keyboards, I plan on using the Xcellon at home at my main workstation, and packing up the Apple Magic keyboard to take with me to the office and while on the road. Overkill? Maybe?! But again I love having a spare, and I actually really am a fan of this keyboard! If you look at my list of "cons" you'll see that most of the cons were very minor and TRULY nitpicked to just find and fill out that list. Granted, i've only had this keyboard a short time, so a TRUE test will be to see how long it lasts, and i'll definitely come back and update this review as the months and years go by if something drastic happens! But given the beating i've been putting this keyboard through since testing began I think I can honestly say this keyboard is definitely worth a shot and to add to your wishlists.
Pros
Great Price
Build Quality Is Great
Design Look And Feel are Fantastic
1 Year Warranty
Quiet Keys!
USB-C cable
2 USB-2 Ports
Cons
Slightly heavier than the "original"
Doesn't come with a USB-C to USB-2/3 adapter
Function Key Position can cause some typos until you get used to them
USB Hub position isn't as "esthetically" positioned
Final Verdict
If you're in the market for a new or spare keyboard for your Mac (or any keyboard enabled device), than this keyboard should definitely be on your "must buy" list! The quality and price point is very hard to beat!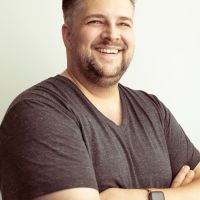 David J. Crewe
David J. Crewe is a full-time commercial photographer and Senior Editor with SLR Lounge. Based out of both Southern California & Las Vegas, Nevada. View his work and blog:
DavidJCrewe.com
Follow his Instagram:
@DavidJCrewe