Most reviews I do are based out of curiosity. I like trying new things and I'm fascinated with technology and innovation. At Adobe MAX last year rather than invest my mind into master classes I spent a lot, like a childish amount of time playing with the Google Tilt Brush and Oculus Rift (still totally open for someone to surprise me with this as a gift, by the way, just saying). I've also put myself in the compromising spot of taking brand new gear on big trips that are new to me to try them out and having a sort of panic when the trip starts to evolve on its own, and it requires me to snap into muscle memory mode rather than play-with-a-new-toy mode.
This trip was a little different. It was a trip to my hometown, Bishop, CA, and I knew exactly what I was going for and the places were all familiar. I went specifically to photograph what is becoming a more well-known gem for us Californians, which is the autumn season in the Eastern Sierra mountains.
A Readers-Digest backstory: One of the very first times I checked out higher end gear from Canon CPS (a 1Ds Mark III and a 16-35mm F/2.8) I went on a trip to June Lake in the fall to drink wine, smoke cigars, read poetry, and rub my face in some quaking aspen leaves. It was on this trip that I first remember being proud of a landscape picture and loving the colors and feeling like what I saw on my camera actually represented the beauty of the place that was so special to me. Then a couple years down the line a hard drive containing years 2009-2012 went dead – all images gone except for the small res versions I have to look at on social, so I felt like there was some emotional recap and some good to be had after so long and as I've developed as an artist and a person, so I went back.
So if you read the above you could say this trip had some personal significance to me; I wanted to feel something and freeze an important memory in time. So as tangential as gear seems to that experience, what I grabbed for this trip was actually important.
Last year I took the Sony A7RII to Banff for a week in the Canadian Rockies and it was impressive, but I left feeling like I didn't get to really use it for all it's worth because I couldn't spend precious moments familiarizing myself with it – I needed to shoot.
It deserved another shot, and this was it. Here are the reasons why I chose a Sony set-up for such an important shoot.
*Side note: I also wanted to make sure to take along Sony's own glass, so I brought the Sony 16-35mm F/2.8 GM and their Sony 24-70mm F/2.8 GM, along with my Slik 724CFL Carbon Fiber tripod – I've been so aversive towards the idea of tripods in my past because they have burdened and annoyed me, but as an ambassador to Slik they found the perfect fit for me, which is something they'll do for you, or anyone.
Live View with Manual Focusing
The A7RII's Live View shooting was something that initially was very foreign to me, but once I got used to it I found myself wanting it. The 'enlarge' and focus peaking functionality allows me to be precise and flexible in the same moment. In landscape photography, autofocus can easily and abruptly switch from ally to enemy, especially when shooting in some of the best light at dawn or dusk. Honestly, most of the time autofocus is fine but with peaking, I'm able to be even more particular or even just confirm. The live view option was a minor adjustment.
5-AXIS IMAGE STABILIZATION
In lower light situations I've usually had to choose between a very static tripod with zoom and adjust focus and wait for 'the moment' to shoot, or run around and sort of trust autofocus. I have unusually still hands and can shoot up to 1/5 handheld most of the time, so I'm not all that concerned about low light, but with added stabilization it was shocking to me how long I could get away with a handheld shot (the image below is one taken around 6 am and handheld).
It was meant to be a still and quiet morning with my parents drinking coffee, enjoying the sunrise and soaking up the 'greeting song' that first light on a lake sings to the world, but the 15-20 other photographers there clearly agree with that plan. Thanks to the newest default background in Mac OS, North Lake has become a hot spot, especially in peak fall. I walk up and immediately see a lineup, no hyperbole here, side to side of tripods along the river's edge.
I was able to find one less-than-ideal spot and set my tripod up, but I took a few photos with it before ditching it for the flexibility of being able to climb up rocks to get my own shots, and this is where the handheld stabilization really came in handy. Often I need to be able to get myself into tight spots where no other gear will fit, so it's nice to know I can handhold and/or push the ISO because the A7rii handles both with equal aplomb.
WHAT REALLY COUNTS
The paramount reasons I chose this camera on this trip were twofold. One, I had already had previous experience and knew it would hold up. I treat any new piece of gear, no matter how great any reviews are, or how high they set the bar, with a little bit of skepticism. But I knew it would work, and I had plenty of reason to believe that with native Sony lenses it would be that much smoother.
Second? The color.
All other technically reasonable choices aside, the color out of this camera is so good (that's Sony sensors for you). I've been actually trying to think of the best word to give it which I think is, pure.
Quite a few of my peers and colleagues who have moved forward with Sony, even before they were leading the industry in innovation and expansion, also all seem to value the pure color quality that comes from this sensor – even more so if you use Capture One (which you get free with Sony cameras).
I couldn't tell you all the reasons it works this way, and the truth is, most or all of you wouldn't care why it works the way it does, just that it does. The first thing that caught my eye about Sony was that these other in-demand professionals who could really choose any gear they wanted were picking Sony, and I noticed something almost ethereal about the color in their images.
With how powerful our cameras are now, even our phone cameras, I'm not very concerned about detail. The details in my first DSLR were outstanding even as a very average APS-C camera, and I'm the first to say that your/my gear is definitely outperforming the user. The topic of 'sharpness' is not something I even think about anymore, because they are all sharp enough, and 95% of my work is viewed on a tiny screen that can't view any more than 1080p wide. Every camera is sharp enough for Instagram. For my paid or stock work I give it some more attention, but even then, like I said above most cameras now are insanely good.
The ability to capture light and color in a unique way is really where all of my attention is now, and the A7RII, even for being a couple years old, is still ahead of the pack, and it's time.
CONCLUSION
There are so many reasons I respect Sony at the moment. From their intentionality with artists to the personal reports I've gotten from friends on their Alpha Collective team, to more industry insider scoop of how well they look out for their partners and their commitment to being the spearhead in tech innovation.
I joined a group of others invited to look at the RX0 up in their HQ in LA not long ago, and just to stand there with people on the inside who are actively listening to creators and their needs is something I've not seen yet. The gear is clearly impressive but I'm always watching the people. And still, while this is all true and good and important when I have something important I want to shoot for me, for my memories, for some kind of strange creative redemption, all of those things matter less than having something that will get the job done – Sony gear gets it done.
The A7RII and the Sony lenses did what I had hoped. Maybe in more dynamic situations I would have needed to address the battery life, or felt a little more nervous about weather sealing (even though plenty of pros assure me that's not an issue), but this trip, where I needed gear to keep up the pace, move with me, get those pure colors, and not spend time fiddling, it was a home run.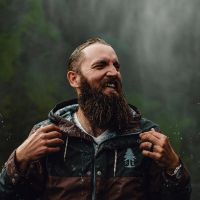 Ryan Longnecker
I grew up in the Eastern Sierras and since I was a kid I loved being outdoors and art. I went to school for music and theology and think both of those weave their way into my photography. I have a passion to change people from being cynical about people and this planet to being hopeful and seeing the beauty in it. I have a wife and two daughters and they could care less how successful I am at taking pictures, and that's great, because it's a constant anchor to what is best.