In what may have felt like an eternity plus a fortnight for an anxiously awaiting customer base, Hasselblad has released the newest firmware update for the beloved X1D-50C. Hasselblad is notorious for choosing to forego risking quality control by rushing to market and instead takes the time to do things well. Good things do in fact come to those who wait.
The new 1.19 firmware update makes the X1D-50C even more user friendly and customizable. Custom controls have been added for the buttons on top of the camera alongside a new function that allows the user to use the rear screen as a touch-pad to select the desired AF point while viewing through the EVF. These new settings alone add convenience to an already intuitive camera and further improves the overall user experience.
The full update for the X1D includes:
Touch-pad selection AF point
New setting: Live view in EVF only
New Setting: Max aperture (Lens Bokeh)
Custom buttons
Create new folder
Toggle overlay in Video Live View with display button
The first Hasselblad cameras were created to provide photographers with the finest equipment and technical excellence to realize their own creative vision. With each new firmware update it is clear that the love of photograph is still at the forefront of their brand. They continue to make tools made for living up to their proposition, "Create to Inspire".
Click here to download Firmware 1.19 for the X1D-50C.
Don't forget to register your Hasselblad within three months after the purchase date and get up to one year of additional warranty.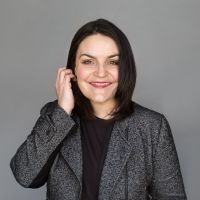 Brittany Smith
Brittany is a fashion and beauty photographer who works between NYC, Montana and LA. She photographs the way she has always wanted to feel and believes in the power of raw simplicity. When not behind a camera she can usually be found at a local coffeeshop, teaching fitness classes at the YMCA, or baking something fabulous in the kitchen. Instagram: @brittanysmithphoto