Ask around. Photographers are always talking about how professional photography is more business than photography: maybe 80 to 90 percent business, with the remaining percentage being actual photography. Personally, we're probably more in the 60/40 camp, but we've definitely learned the importance of the business of photography, even when it comes to the most basic levels of marketing. There is tons of value in speaking with people in person and putting a business card in their hand, for example.
And we're certainly not opposed to sinking a bit of cash into making business cards, which we give to couples who want to share our contact info with family and friends, or people we meet as we're out and about: fellow grocery store patrons, other industry professionals we meet at social events or vendor/venue open houses, and even other parents at our kids' soccer games. We talk at length about our business cards in one of our "Wedding Show 101" articles, "How to Network at a Bridal Show." They cost us about $.20/each.
That said, over the last several years, we've learned that our business cards aren't really enough in a lot of cases, and we regularly print brochures (or collateral as some in the wedding/bridal show business call them). We love 'em because we're able to: 1. include images; 2. give more detailed info about us/our business; and 3. offer an incentive to not throw it out. Keep on reading as we flesh these 3 "tips" out a bit . . .
1. Include Images
Even though we all have immediate access to the Internet, it isn't always convenient to bust out your phone and show a new business contact your Instagram page. And, at best, your business card can probably fit one or two images, really small images. But even a 5.5″ x 8.5″ brochure can hold at least 4 or 5 images, and the size and resolution will be way better than those tiny images you have on your business card. We recommend including images that best represent your brand—images that have been award winners, images that have been popular on social media, or even your personal favorites will do just fine. Including an image of yourself and some of the products that you offer is also a good idea.
2. Provide Specific Info about You/Your Business
Our brochures have basic contact info, of course: website, email, phone, and social media handles. And we also go into detail about our packages, rates, services, etc., which we can't do—or can't do well—on a business card. In our brochures, we describe all of our packages in depth and even give a decent description of the albums we offer. But we particularly love brochures because we're able to put the "about us" section of our website directly in a contact's hand.
3. Offer an Incentive
Let's be honest. Raise your hand if you either file away business cards and never really think about the contact again or just straight up recycle them upon arriving home. Either way, you have to figure most people are going to toss your card. We purposefully make our business cards look interesting so that people are less likely to throw them out, but we like to think that people aren't going to throw out our really nice looking brochures either. Then again, we're optimists. Ha! Still, we always include an incentive for those who don't toss our brochures out, usually in the form of a specicifed amount off a wedding package. Has that worked? You bet!
Conclusion
We didn't really talk about the negative side of carrying brochures: they're large and you have to carry them around, though we've found that they're easily stored in one of our camera bags. Also, the people you give them to will have to put them somewhere, and their pockets likely won't do. We actually see that as a positive though, because your new business contacts will have to carry them around and it's almost a  guarantee others will ask them what their holding.
We provide more details about how and where we specifically print our brochures in another one of our "Wedding Show 101" articles, "Basic Marketing Strategy of a Bridal Show for Photographers." But to summarize quickly: we use UPrinting and don't tend to spend more than $.60/per brochure (on average, about 3 times the cost of our business cards).
What's your preference? Business cards? Brochures? Neither? Both? We'd love to hear from you in the Comments, and if you have a cool image of a card or brochure, let's see it! And, as always, feel free to continue the conversation over at Facebook on our every-growing SLR Lounge Photography Community page.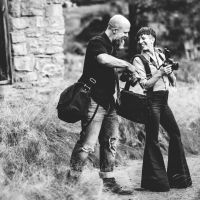 Amii & Andy Kauth
Amii & Andy are a wife and husband team of rad portrait and wedding photographers (Sunshine & Reign Photography) who absolutely love life and are generally just stoked! Yeah! When they aren't photographing or writing and teaching about photography, you'll find them off on a seriously legit adventure with their little ones, lifting weights in their garage, training jiu-jitsu, refining their archery skills, or surfing every chance they get. And on the rare chance they escape off on a "date night"? Yep! They'll find a wedding to crash (true fact). Website:
Sunshine & Reign Photography
Instagram:
@sunshineandreign