Tourism boards for countries and cities all over the world have turned to Instagram travel photographers to showcase the beauty of their cultures and traditions in a way that hasn't been captured before. Just a decade ago National Geographic was most likely the only media source covering travel photography in an in-depth, journalistic manner, but now we see content-creators promoting travel to countries like Japan, Indonesia, India and everywhere else through their innovative imagery.
It's said that 'travel is the only thing you can buy that makes you richer' and I couldn't find a truer statement that depicts the spirit of these 5 mastermind creators, so we asked each of them what piece of gear they couldn't live without, and here are their answers:
A wide angle lens. And that is undeniable clear after taking a quick gander at his Instagram Feed. Most likely, a staple for every landscape, nightscape, and travel photographer is a wider focal length to capture the vast beauty of environments. In Jordan's toolkit, you'll likely find the trusty Canon 16-35mm f/4, his go-to lens for all most every situation.
He also uses Polarizers to darken and saturate the skies in his photos and to remove glares in the water. He recommends the Hoya Polarizer for DSLRs and Sandmarc Polarizer for his drone. See more of his work on his Instagram & Website.
Ryan is no stranger to the SLR Lounge community, as an active member and writer. His jaw-dropping photography captures the vibrancy and natural beauty of Mother Nature to perfection. Here is the one piece of gear he can't live without:
"At one point I would have been much more prone to the bells and whistles of accessories. All I'm concerned with now is, 'Does it do what it claims?' and, 'Does it cost me in color or image quality at all?'. The PolarPro Quartz line filters are not only exactly what they claim, they also have really high-quality packaging and the people behind the product are committed to cutting edge innovation and customer service. The Circular Polarizer is a filter that is always on my camera."
Go back and read Ryan's insightful articles here on SLR Lounge and see more of his work on his Instagram & Website.
Eric has worked with companies and brands ranging from Disney to Mercedes-Benz creating image & marketing content through his creative eye. He recommends his trusty Sony 12-24mm f/4 lens. and here's why:
"Ever since Sony launched an ultra-wide lens I knew I had to get my hands on it and see what I could create. There've been so many instances in slot canyons, shooting the night sky, or wedged in sea caves at sunset where I was wishing I had just a little more in frame. There's a sea cave in San Diego I was never able to fully get in frame and the second I bought the lens it was the first place I headed! It's been so fun re-visiting a lot of places I've been shooting for years and seeing them through a new focal length. Can't wait to continue to push my creativity with this lens on future travel!"
Eric is known for capturing vivid & rich sunsets like you see on the left. You can achieve the look with the help of his Preset pack, great for any travel photographer.  See more of his work on his Instagram & Website.
Chelsea carries around a really small kit, but found it hard to narrow her choice down to one specific object because she has so many essentials.
"If I could only have three things with me they would be my Canon 5D IV, my iPhone, and Goal Zero Sherpa battery pack. My camera has wifi so I can do mobile editing without my laptop, and the GoalZero charger with an inverter has been a game changer as I'm frequently backpacking, road tripping, or in foreign countries with limited access to power."
Her favorite creativity boost comes in the form of an app called Unfold,  a tool she uses to add frames and layouts to her Instagram stories. See more of her work on her – Instagram & Website.
It is no surprise to find Travis Burke on our list considering his incredible work has been featured on the cover of National Geographic as well as Backpacker Magazine. The item he can't live without is one we can all relate to:
"As much as I try to disconnect and be present in the moment, my phone (iPhone 8) is an incredible multipurpose tool that allows me to do what I do. Between the offline maps that I use for getting to remote locations to the apps I use for planning different shots, like predicting the Milky Way and being able to work around sunrise and sunset timelines and locations, to being able to share my imagery through social media, my phone is actually a huge component to my business.  It's all about finding the right balance to use it as a tool without getting too attached."
The image you see here was made possible using the Moon-Phase app and several star planning guides. You can see more of his work on his Instagram & Website.
Hopefully, you get the opportunity to use some of these tools, apps, and tips when on location and out adventuring! See more from Outdoors Week here!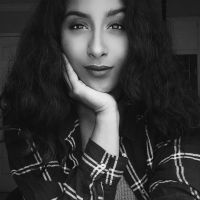 Shivani Reddy
Shivani wants to live in a world where laughter is the cure to pretty much everything. Since she can't claim "Serial Bingewatcher" as an occupation, she'll settle for wedding/portrait photographer at Lin and Jirsa & marketing coordinator here at SLR Lounge. For those rare moments when you won't find a camera in her hand, she will be dancing, eating a donut, or most likely watching Seinfeld. Follow her on Instagram:
@shivalry_inc