Perhaps one of the most challenging aspects of being a new photographer is showing off your work and your abilities. By this, I mean the creation of your personal portfolio, which in the past used to be an actual physical portfolio where you displayed print versions of your photographs and any of your other notable creations.
With all the technological advancements and advantages that are readily available to every photographer, whether beginner or professional, the quality of what would be considered a top-notch portfolio has risen to astronomical levels. Today, a photographer must have at least a basic knowledge of Graphic Design before even considering how to arrange and present their work. It is no longer just a matter of combining images, even if they follow good rational order, but rather about the way a photographer undertakes to present these images along with the font pairing, the visual impact of the portfolio, social media impact of the presentation, and so on and so forth.
In this guide, we will learn some essential tips and tricks for designing a digital portfolio, so we can ensure that all our hard work creating it is not wasted because of poor presentation techniques.
Learn the Essentials
As we mentioned earlier, it is essential to have a basic knowledge of graphic design. This not only ensures your ability to use and fully control all the software programs you will utilize in the creation of your portfolio, it also ensures your ability to take advantage of each and every feature and function of these software programs to create something astoundingly amazing.
Enrolling in a Graphic Design course is always a good idea. Not only will you be able to design a better portfolio after expanding your knowledge but within a very short time, you will also notice your photography work improving.  Working on a daily basis with composition rules and color theory, as well as overall using your creative genius, will enhance your skills as a photographer over time.
In case you don't want to move away for school or don't have the time to attend an academy, sites like Udemy, Lynda, and many others provide amazing alternatives for learning these skills in your free time. The same goes for learning about new software – with the huge numbers of online tutorials, the days of having to spend a tidy sum of money pursuing a conventional course are long gone. Today, you can learn what piques your interest in the comfort of your home, at your own pace, and at little or no cost.

For a photographer looking to come up with an impressive digital portfolio, it is important to learn at least the basics of Web Design. Learning coding languages such as HTML & CSS can also help a great deal when building your personal portfolio, as many social media sites provide options and ways for you to build it digitally. The only requirement for building an eye-catching site or digital portfolio is either knowing how it's done or working with templates found on sites like WordPress.
In short, you need these basic skills:
Basic knowledge of Graphic Design

Adobe Photoshop

Adobe Illustrator/Corel Draw (I personally prefer Illustrator, since it suits a workflow that involves Photoshop better. It also does not crash as much as Corel, especially when handling large sized files)

Adobe Lightroom (for developing your pictures)

Basic knowledge of Web Design

Adobe Acrobat (not only for optimizing PDF files but also for creating interactive portfolios)
Typography
Even in this digital era, typography is one skill that has not outlived its usefulness. Quite the opposite, really. As you may know, publicity campaigns take care to ensure the typography they use has the right impact, especially when combined with certain images. This is equally necessary for digital portfolios.
Once you learn to do proper font pairing, you will not only be able to improve the overall composition of your work, but also to show the world that you actually care about what you are doing. You show that you are not the average user, writing both the description of your project and its title with Arial, but rather a confident user who searches for and tests several font styles in order to create the best possible result for their work.
There is no hard and fast rule regarding how many fonts you have to use in order to get the job done. That said, remember that the more fonts you use, the more complex your designs, website, and portfolio are going to be, and the harder it will be to keep the different elements of your creations in harmony.  It is a good idea to use no more than three different fonts, remembering to use matching pairs like a serif and a sans serif font or a cursive and a modern font.
As a bare-bones guide for this task, implement the following tips:
Concordant fonts are always a classic. This means using fonts with similar kerning, proportions and cap height.

Fonts created by the same designer often share qualities that make font pairing an easier task.

When working with contrast between fonts, always consider size, style, weight, form, and color of the font pairing.

If you work with fonts that are too similar (especially in weight, size and decoration), the composition becomes flat, which, rather than helping the composition, will yield an unsatisfactory result.

Google's Web Font directory is a good site for testing font pairings before buying or incorporating new fonts into your designs and work.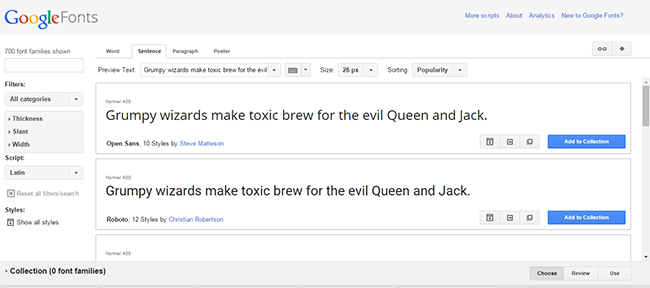 Stick To The Just What Is Needed
Although this seems like common sense and something that needs no mention, it is a problem more often than most of us would imagine. Since money is usually not an object when designing a digital portfolio, the way it might be when printing out a portfolio, most photographers, especially those who are just starting out, tend to upload everything they have, rather than focusing on those of their items that really stand out, the best of the best.
As this happens more often when we are selecting our own products to show off, rather than when doing someone else's digital portfolio, it is advisable to seek the help of a friend to provide an objective opinion about which of the chosen images should go into the portfolio and which ones shouldn't.
Non-Client Work Can Also Be Included
This is especially useful if you are just starting your photography business. Use the files you thought were just for practice if you don't have enough client work to build up a portfolio, but be completely honest about it when doing so. If it is practice work, label it as such. This is true also for university/academy jobs or even personal events such as family parties. The worst mistake you can make is pretending to be something you are not, especially if prospective clients ask for contact information for the "clients" on whose behalf you took the pictures.
Index Your Work
Just as magazines and books have index pages in order to make it easier for readers to know beforehand what they will find inside, do the same with your digital portfolio. Not only will it look much more professional, it also helps organize the photos you are uploading to your portfolio into different categories or types.
For example, you could categorize your photographs as:
Landscape pictures

Portrait pictures

Seascape pictures

Party/indoor pictures

Still nature/artistic pictures

Creative pictures (posts produced using Photoshop or any other software to showcase creativity as well as creative effects such as double exposure, etc.)
Social Media Is Always Helpful
Boost your performance by learning how social media tools work. For example, imagine you put a lot of effort into building up your portfolio, following good advice and practices of Graphic Design, and still end up with very few people visiting your site. That can be frustrating, right?
Well, that does not have to be the case. Build a Facebook page to boost your ability to reach potential clients, but remember always to link them back to your digital portfolio site. Instagram is the prime social media tool for photographers and an Instagram account is something you ought to have.
Regarding Twitter, you have to learn how to create appealing posts of 140 characters, while linking them to your portfolio site. You need to learn the best hours to post in order to attract the most people on Twitter, as well as get followers from areas that are relevant to the things you normally do and post.
Pinterest is something else you should consider. Not all Pinterest users are designers or photographers, rather they are people who like the feel of a "digital-scrapbook" site where they can "pin" images of things they like and which may be useful later on. Many Pinterest users like to pin tutorials regarding graphic design tools, kitchen recipes, interior design tips, etc., while others like to pin "artistic stuff." These are the people you should be targeting with your content and your pins!
Start by creating a Pinterest account using either the Facebook or Twitter ID you set up for your professional work (either way you have to link to both of them after setting up your Pinterest account in order to reach more users).
Create several boards on your Pinterest profile in order to classify different types of photographs and images you have for your portfolio the very same way you did before. You can upload your pictures to these boards or link them from your site using the "Pin-it" button extension found on several browsers, such as Google Chrome. Pinterest also supports pinning of videos from Vimeo and YouTube.
Users can comment on your pins and, if they like them, "repin" them to their own boards. It is quite extensive, the way your work can be shared. If you take a close look at other users' boards, you can see "pins" that have been "repinned" over 70 times. That means the image was shared over 70 times to Pinterest users worldwide.
By following people to receive updates from them or have them follow you, you also increase the reach of your work (that's also the main reason why it is important to link both your FB and Twitter sites). Of course, make sure the boards containing your own personal work are clearly labeled as such. And don't forget to add 'follow me' and 'pin it' buttons to your digital portfolio website, as this is the easiest way for users to "pin" and promote your work on their own Pinterest boards.
SEO Tools
Search Engine Optimization is a must for any website today. The main reason is that it actually helps attract huge amounts of traffic to your site and digital portfolio. It accomplished this by ensuring that you come up first in search results tied to the terms or topics of your website or digital portfolio.
First, make sure your portfolio is HTML based for easier search engine optimization, and then follow these quick rules for getting the most out of your digital portfolio with SEO tools:
A great place to start your SEO campaign is Google Places – easy, free and effective. Since Google owns YouTube as well as over 100 other companies, it is quite helpful to make Google your tool of preference for getting more traffic to your site.

Consider mobile optimization – Several websites don't look quite as appealing as they should or take too long to load if they are not optimized for smartphone/tablet interfaces.

Both your Title and Meta Description should contain focus keywords.

No word should be used more than twice in the title of your photographs or works.

Keep your keyword density under 4% of your text length, especially if you plan to write a brief review of your work.

Power up your site by adding your brand name to your site's title.

Use contrasting colors on your site to create a greater visual impact.

Sign up for Klout. This is a "scoring site" that will give you a certain score depending on how popular your website is and how strong your social media presence is on the internet. Klout works with Facebook, Twitter, Instagram, Google+ profiles and more. NB: If your Klout score is over 63, you are in the top 5 percent of influential people worldwide.
Tell Your Story
By this, I don't mean "go ahead and write 500 words per picture you upload." Provide a concise description of the job you did, adding data of potential interest like the site where the pictures were taken, your camera model and lenses used, if the work was post-produced (listing the software programs used for this), and if you won a contest with the particular picture, you should mention it.
Also, make your digital portfolio site personal. Don't stick to a minimalistic layout because it is "the in thing," when your pictures tell otherwise. Sites like WordPress offer several good-looking templates that may appeal to your tastes and style, and which will tell users a bit more about your personal style when combined with your portfolio work.
Alice Houstons
Photography has been a part of Alice Houston's life for over a decade now. Here at SLR Lounge, she prides herself on being a wealth of knowledge in the latest photography news and tech. Always searching and a self-described "Digital Nomad," she loves learning about those unique stories that inspire photographers around the world!