This is one of those weeks that Sony users can and will be smirking and gloating after this news of new lenses, because first, Sigma announced their Sigma-to-Sony FE adapter series which would have Sigma lenses behave like native Sony lenses on Sony cameras like the vaunted A7RII, and that meant 15 Sigma lenses, including the much-adored Art series glass, would be able to be used on Alpha cams.
Sony FE 50mm 1.8
I truly hesitate to say the term 'game changer' for fear of watering down its meaning, but I just did, because it is. If you wanted a high quality, fast 50mm for your A7, you'd likely have to go with the Sony Sonnar T* Zeiss 55mm 1.8, a great lens in its own right, but at around $1k, not inexpensive. Sigma's release opened up new avenues, making it possible to use the beloved, and faster, 50mm 1.4 Art on your Sony for less than the Sonnar. Now, if even that's a bit rich for your blood, or you want something smaller and perhaps more casual without the need of an adapter, Sony has finally released the FE 50mm 1.8, and they've priced it at a very competitive $250.
It comes in at a weight of less than 7oz, even with a solid metal mount, with an aspherical element Sony suggests will rid the lens of aberration problems, and thus lending to sharp images and higher resolving power. It also has a 7-blade circular aperture for a soft and round bokeh and a DC AF motor. The lens will be available in May, and you can get B&H to notify you precisely when, which is recommended. Get yours here.
This means that Sony is now offering well-priced fast prime natives to their system, only needing to be rounded out by an 85.
Sony 70-300mm f/4.5-5.6 G OSS
This Sony 70-300mm immediately becomes the longest focal length E-Mount lens yet, and it's clearly being aimed at Canon's EF 70-300 f/4-5.6L IS USM. The new Sony telephoto is a touch slower on the short end but the same racked out, and the Sony comes in a hair's breadth cheaper at $1200 versus $1250 of the Canon. How it compares in the field will be interesting to see, but perhaps more interesting is how much desire there is for a lens like this to begin with.
That said, the Sony comes with four aspherical glass elements, 2 Extra-Low Dispersion elements and Sony's own Nano AR coating, which are all technical names given to feature that are meant to solve the issues of aberration that's both spherical and chromatic, and distortion. At 300mm, it's the first FE lens to reach that focal length, but it's also surprisingly decent for close objects with a minimum focusing distance of around 3 feet. Find it here.
Sony RX10 III
Alas, the new lenses weren't all Sony had planned to drop today, as they've released the successor to the wildly unusual but highly regarded RX10, with the RX10 III. The RX10 III boasts an absolutely impressive array of numbers to its already impressive spec sheet. Capping that list has got to be the change from a 24-200mm to a new super-telephoto zoom lens with a range of 24, to an absolutely astonishing 600mm, making this an all encompassing jack-of-all-trades.
It also boasts an impressive 1/32000 shutter speed, 4k recording, slow motion video capture at 960fps, and a special anti-distortion shutter to deal with all of that.
It's also worth noting that this isn't a 24-600 f/4-f8 or something of the sort, but rather a highly respectable and perhaps even enviable 24-600mm f2.4-f4, and the aperture blades within create a circular aperture alike the lenses mentioned above, for smooth bokeh. Of course, with this kind of focal length, image stabilization becomes critical, and the OSS on this lens is supposedly equivalent to shooting at focal speeds 4.5 times faster than what you've set.
The other very notable feature of the camera is the new back-illuminated 20.1 MP 1.0-type, stacked CMOS sensor, which, when paired with the BionZ X processor, gives an ISO range of 64-12800. It's also paired with a DRAM cheap at the rear of the sensor to assist in processing the massive amounts of data it is capable of recording, especially in video.
Coming in at $1500, it's hard to think of a better all-encompassing camera for the price.
Well done, Sony.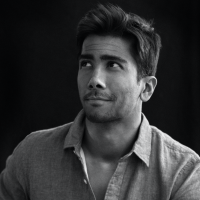 Kishore Sawh
A photographer and writer based in Miami, he can often be found at dog parks, and airports in London and Toronto. He is also a tremendous fan of flossing and the happiest guy around when the company's good.