Kazu Hirai, is stepping down as CEO of Sony; not in shame but in satisfaction, and that's a moment to reflect upon for us in the photography world. It was during his tenure and under his direction that Sony began to focus on digital imaging, and the lion's share of that being sensor technology progress and maturation that has been a catalyst for the development of the state of photography today.
I remember in 2012 when Kaz, newly inducted as CEO, announced his 'One Sony' strategy, and it wasn't to the tune of deafening applause, but headline-grabbing skepticism. There were to be layoffs in the thousands within a single fiscal year, factory closures, and and an early retirement program in a country known for company loyalty. And there, at the top of his list of initiatives was written in bold, to make the core businesses Digital Imaging, Gaming, and Mobile. And he did. And it worked. Have you seen Sony's projected earnings and stock value lately?
Whether you love, like, or don't care for Sony cameras is beyond the point, because it's undeniable that Sony's massive investment and strategy in sensors has shaped the landscape of our industry, and arguably more than any other photography company in the last 20 years (even though news outlets reporting on this move seem to have forgotten the segments exists). The question is now, will it continue to do so?
Like his predecessor, Howard Stringer, Kaz is not leaving the company, but transitioning to Chairman, and in his place is his current CFO, Kenichiro Yoshida. Hirai has ensured that,
"Mr. Yoshida combines a deeply strategic mindset with a relentless determination to achieve defined targets, and the ability to take a global viewpoint…I believe he possesses the breadth of experience and perspective, as well as the unwavering leadership qualities required to manage Sony's diverse array of businesses, and as such is the ideal person to drive the company forward into the future."
That's high praise from a man whom most consider as being responsible for re-focusing and reinvigorating the brand. But it appears Yoshida plans to continue Hirai's 'One Sony' approach.
Just a few weeks ago in Hawaii, I met Kaz for the first time, saw him work a room, and heard him deliver the kind of rousing speech with equal parts elan, smart humor and irreverence that seemed to mirror Sony's movements in the digital imaging space.
I've often thought that companies with histories that can be traced back to a single person tend to have the most character and emotion attached, and while not a founder, it would appear Kaz is that for Sony. It occurred to me that he not only changed our industry but brought personality to what can appear at times to be an otherwise sterile brand. His approach of 'Kando' (the power to make people say, "Wow.") can be felt as much as seen.
Mr. Yoshida has sizable shoes to fill, and, selfishly, we should all wish him the best in pursuit of that and beyond.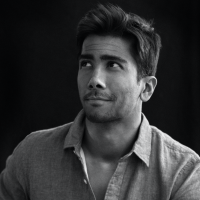 Kishore Sawh
A photographer and writer based in Miami, he can often be found at dog parks, and airports in London and Toronto. He is also a tremendous fan of flossing and the happiest guy around when the company's good.