How You Shot It is a series where you show us how you shot an image. Many who use our presets love to share their special processing recipes. You can join the SLR Lounge Textures and Presets group on Facebook and share your favorite images and recipes as well! For our wedding and portrait photographers, please join the SLR Lounge Wedding and Portrait Photographers group.
Today's post comes from Lanye Bush of L. Michelle Images. Layne is a wedding and portrait photographer based in Arkansas. She especially loves women's portraiture, all of the little wedding day details, anything that sparkles, and cake. Lots of cake. You can find her on Facebook and see her work on her website.
The Vision
When photographing women, I always aim to produce images that have a timeless sophistication about them. The themes that inspire me are romance, emotion and drama. My focus is not only on the physical aspect of boudoir photography, but also the emotional. I want beautiful light, emotional expressions and backgrounds that provide either contrast or texture. My goal is to always capture genuine emotion and to help a woman to feel empowered.
The Process
Most of my intimate sessions take place in the client's home. For that reason I need to schedule in a few minutes to survey the scene and pack a large variety of lighting accessories. When deciding where to put Emily I was looking for two key things; quality of light and a pleasing background. I chose the 85mm lens as it offers not only a wide aperture but also a longer focal length. I prefer to shoot portraits with the longest focal length that the space allows, especially head shots. With that in mind, I chose to place Emily in a small alcove with the window to her right and a grey wall behind her. I sat Emily on the floor with the window to camera left and had her turn her chin towards the window until I found the the balance of light and shadow that I wanted. Then I simply crouched on a chair and shot down on her to get the most flattering angle. I'm a relatively small person which makes the chair a necessity if I'm going to be shooting down on anyone.
The Gear
Camera: Nikon D600
Lens: Nikon AF-S Nikkor 85mm f/1.8G
Aperture: f/2.0
Shutter Speed: 1/500
ISO: 400
The Lighting
The light in this photograph is simply soft window light, coming from camera left. I placed Emily about 3 feet away from the window so that I could achieve a pleasing balance of shadow and highlight. When I look for a window to utilize for lighting, I typically choose one that is parallel to the path of the sun rather than perpendicular because I find the light to be softer. The image below is straight out of camera:

 The Post Processing
The post processing on this image was very simple as I was able to achieve most of what I wanted in camera. In Lightroom, I applied the Soft preset from the SLR Lounge Preset System, bumped the exposure up two notches, and brought the red and orange saturation back to zero to keep the color in Emily's hair.
Then I brought the image into Photoshop for retouching, applied a subtle texture and sharpened for web. Here is the image with the Lightroom edits: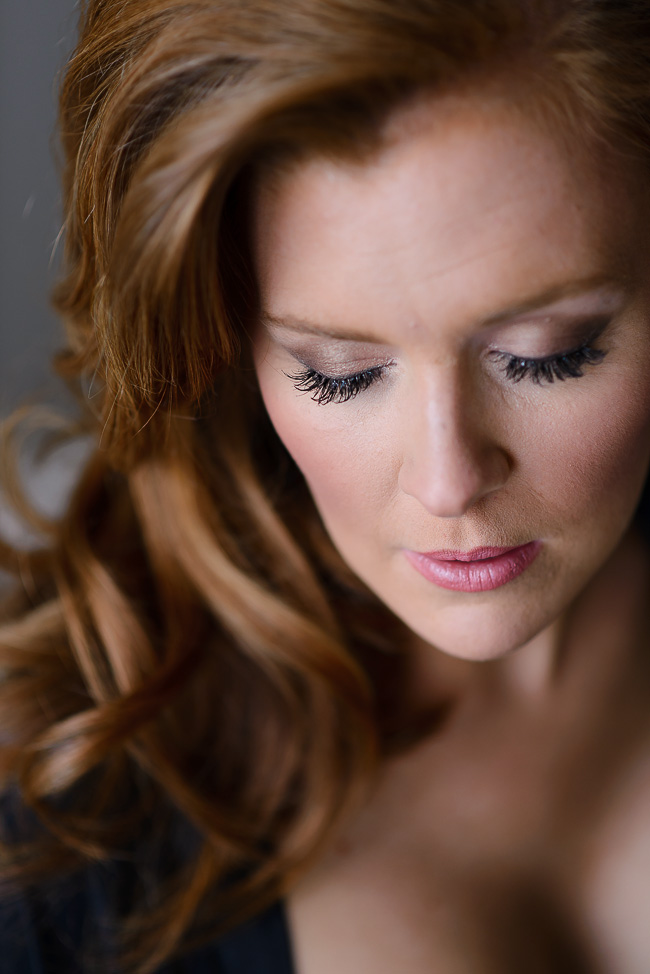 The Final Image:
 About the "How to Shoot It" Series
This educational series highlights amazing images from our writers as well as our community. The goal is to not only feature inspirational work but to provide valuable education for our photography community. If you would like to submit your work, please click here for more info on writing for SLR Lounge.
Alice Houstons
Photography has been a part of Alice Houston's life for over a decade now. Here at SLR Lounge, she prides herself on being a wealth of knowledge in the latest photography news and tech. Always searching and a self-described "Digital Nomad," she loves learning about those unique stories that inspire photographers around the world!