Our "SLR Lounge Artist Feature" articles highlight the top photographers in the world. This article features award winning portrait photographer Sarah Simmons of Charlie Horse Photography (Wellington, New Zealand). Sarah is a well-accomplished portrait photographer who was recently awarded as Grand Champion in the Sue Bryce Education September 2018 Portrait Masters competition. Sarah is also the 2018 New Zealand Family Photographer of the Year (NZIPP Iris Professional Photography Awards, sponsored by Nikon).
Thank you so much for taking the time to speak with us, Sarah. We're excited to have you share with the SLR Lounge community. Congrats on your recent awards too! We'd love for you to tell us about how you first got into portrait photography.
Thank you so much! If someone had told me 5 years ago that I would win New Zealand Family Photographer of the year, I never would have believed it! I am so incredibly grateful to NZIPP, the judges, and everyone involved in the Iris awards. They do such a great job, and it is an amazing thing to be a part of.

I always wanted to be a photographer, ever since I was little. However, it took me until I was 30 to finally get up the courage to go out and make it happen! I have been in business now for just over 6 years and absolutely love photographing people. Photographing women is especially rewarding for me. I know how hard is to be vulnerable and put yourself in front of a camera. So it means a lot to me when a woman (or anyone really) trusts me to do that for them.
We have to say that we absolutely love the name of your photography business. How did the name "Charlie Horse" come about?
Charlie Horse came about while I was looking for a business name. I didn't want to use my own name, as I thought it was a little forgettable! I have a little girl Charlie who we would call Charlie Horse sometimes. That name just stuck!
That's awesome. We love that personal connection, and not just because we also named our business after our children! Where do you look for artistic inspiration, Sarah?
There is always a lot of inspiration online. Of course, I like to follow other photographers that I love. Looking through art books and watching movies and TV shows is an inspirational too. I am always looking for costume, lighting, and background ideas when watching TV, etc. At the moment, Game of Thrones is a particular inspiration because of the incredible sets and beautiful lighting! As well, my children are pretty great for inspiration. They are always coming up with cool ideas for me!
Your photography is so inspiring and you create such beautiful art, Sarah. We especially love the expressions you capture in the children you photograph. We'd love for you to share your favorite tips for photographing children.
First, I have to say that I am a massive advocate for natural portraits of children. I'm not into a lot of props or digital backgrounds or elaborate sets. I just want to photograph that one child as they are right now, just them. And because I love kids, it's never a big effort for me to build a rapport with them. Also, I love asking them questions and finding out about each child.

I honestly don't think there is any one tip or thing that I do apart from getting down on my knees and having a chat with them! I give them time to warm up to me. And while some can definitely be more challenging than others, the only thing that will help is to have patience. Really, the best advice or tip that I can give any photographer photographing children is just that. Be patient and go with the flow. After all, you can't force a child to do anything they don't want to do!
You can see more of Sarah's work on her website (Charlie Horse Photography), and be sure to give her a like on Facebook and a follow on Instagram!
Thanks for reading and be sure to check out the latest SLR Lounge Award winning photographers here. Don't forget to submit by the November 30 deadline to be considered for SLR Lounge's November 2018 awards competition. And, finally, remember that anyone can sign up for an SLR Lounge account for free and submit, but Premium Members are able to submit up to three photographs each month!
All photographs are copyrighted by Sarah Simmons of charliehorsephotography.co.nz and have been used with permission for SLR Lounge. Do not copy, modify, or re-post this article or the included photographs without express permission from SLR Lounge and the artist.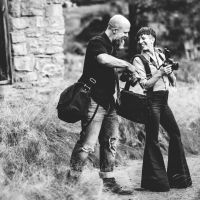 Amii & Andy Kauth
Amii & Andy are a wife and husband team of rad portrait and wedding photographers (Sunshine & Reign Photography) who absolutely love life and are generally just stoked! Yeah! When they aren't photographing or writing and teaching about photography, you'll find them off on a seriously legit adventure with their little ones, lifting weights in their garage, training jiu-jitsu, refining their archery skills, or surfing every chance they get. And on the rare chance they escape off on a "date night"? Yep! They'll find a wedding to crash (true fact). Website:
Sunshine & Reign Photography
Instagram:
@sunshineandreign