It's not that hard to scour the Internet to find sample wedding day timelines. In fact, it won't take that much effort on your part at all. However, you may be hard pressed to find examples of sample wedding day timelines from real weddings. We get asked, rather often, questions like, "Since you do all day coverage on wedding days, what does that actually look like?" Or, "What does all day coverage even mean?" The easy answer to both questions is that we bust our asses from early in the morning until early the next morning, regularly photographing from before noon until after midnight because that's how good wedding stories are made.
So here's a breakdown of a wedding day timeline from a real wedding; this one went down in March of 2016 in Scottsdale, Arizona, and had us photographing from 9:00 A.M. until 2:00 A.M. We also included a few images from the day that are relevant to the timeline.
9:00-11:00 A.M.: Early Morning Activity
We see ourselves as story tellers and that takes creativity and commitment on the part of both our couples and us. That means, to properly tell the story of a couple's wedding day, we're up early, meeting them as they have their morning coffee, hit up the salon, or head to the park for some morning yoga.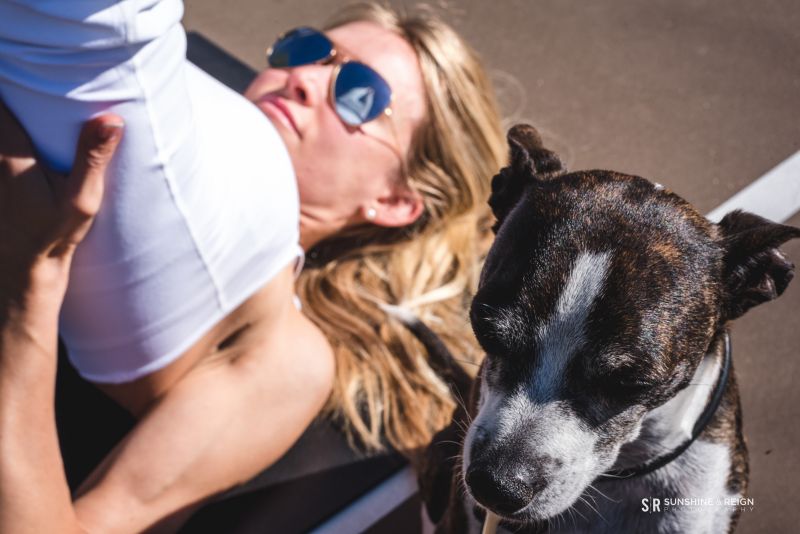 11:00 A.M.-3:00 P.M.: Getting Ready/Details/Portraits
We reserve a good portion of the morning/early afternoon for photographing the couple and the wedding party as they get ready; their details, and any applicable pre-ceremony portraits (individual portraits of the couple, a first look, etc.). If there is a time when the couple can get behind/off schedule, this is that time. Ceremony start-times don't tend to be too flexible, and we've found that ample getting-ready time ensures that the couple and wedding party are at the ceremony on time.
3:00-4:00 P.M.: Couple & Guests Arrive for Ceremony
Capturing every moment is key. If there's a first look, we're obviously getting that for sure, but if there isn't, we like to photograph the couple where they're at, whether the bride is hangin' out in a getting-ready room at the ceremony site, or just chillin' down the street at a bar while the groom is en route to/arriving at the ceremony. We also make it a point to photograph the guests as they mingle, pre-ceremony.
4:00-5:00 P.M. : Ceremony
Is this too obvious? A little bit because this is the key moment, right? Photographing the ceremony is clearly not optional. Most ceremonies are about 30 minutes, but we recommend reserving an hour in case anyone is behind schedule.
5:00-5:30 P.M.: Marriage License & Family Portraits
Like the ceremony, signing the marriage license and family photos post-ceremony are very traditional things to photograph, but we find them very significant, and especially the family photos because this is often a rare moment where the entire family is together.
5:30-6:45 P.M.: Portraits En Route to Reception
Timing portraits around sunset is key for us, and if you're aiming to get some images around sunset, you'll want to flex this such that you're ending your portraits of the couple about ten minutes after sunset. And it's always legit if the couple takes this ride in a limo, and if they do, you better believe we're going along for the ride!
6:45-7:15 P.M.: Reception Details
Getting all the details truly matters because 5 (and for sure 10) years from the wedding day, it's unlikely that the couple will remember what their cake and decor looked like. Undoubtedly, the couple spent some significant time planning/organizing/crafting their tablescapes, centerpieces, etcetera, so it's important to get those elements documented.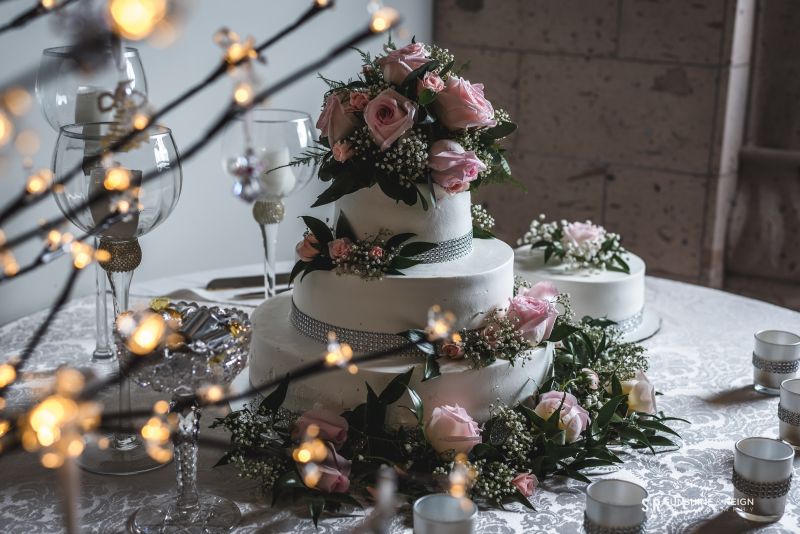 7:15-8:15 P.M.: Toasts/Dinner & Quickly Eat Something
Traditionally, the wedding photographers take a break during dinner. Our break is quick (10 minutes, if that). We don't want to miss the toast or speeches, and while people tend to shy away if you attempt to photograph them while eating, we make it a point to go around and get some images of the dinner plates and at least one group shot of each of the tables while the guests are eating.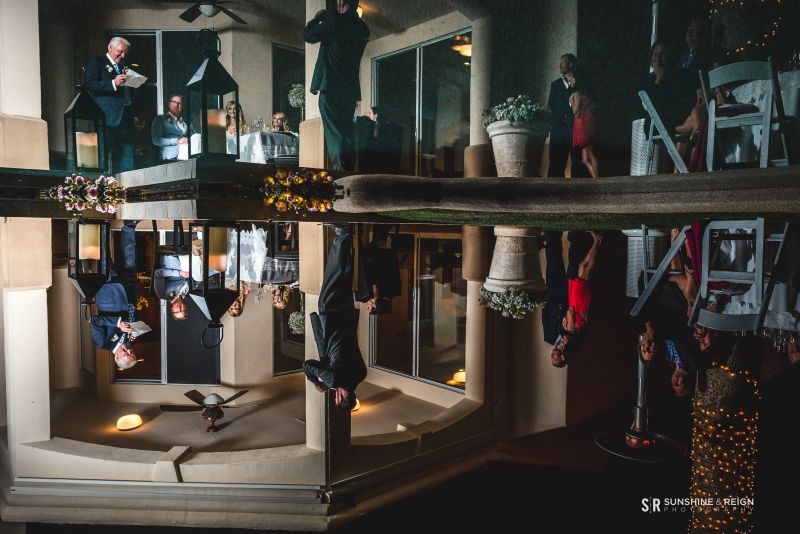 8:15-8:30 P.M.: First Dance/Couple Dancing with Parents
Typically following dinner, the couple has a first dance, and the couple takes turns dancing with each other's parents. Enough said there.
8:30-9:00 P.M.: Cutting Cake/Reception SHENANIGANS
After the cake is cut, there's usually some reception-related activities that go down that you don't want to miss: tossing the bouquet, some kind of game, etc. And your couple isn't going to want you to miss a moment!
9:00 P.M.-2:00 A.M.: Reception
Let the party begin. Who doesn't love a good party? We sure do, and we'll photograph it until the last song is sung and the last dance is danced. Heck, if the police show up due to a noise complaint, and the party moves into the guest house, we're still down to photograph that too (insert winky-faced emoticon).
2:00 A.M.-?: Last Shots of the Day/Night/Early A.M.
When you stay to the end and photograph every last moment, you'll reap the rewards, and your couples will be stoked! So stay strong my friends. Make sure there's coffee around somewhere, and get after it!
And In Conclusion . . .
That is, on average, how we roll. Of course, the times will flex based upon a variety of factors like how early people get up; the start time of the ceremony; when the sun sets; if a venue closes their doors at a certain time, and so on. And do we photograph shorter wedding days? Of course! Sometimes we start at noon, sometimes we end at midnight, but we do average at least 12 hours.
What are some of your best tips for wedding day timelines? Share some below, and include some of your favorite images! And, as always, feel free to continue the conversation (by sharing your images and/or thoughts) over at Facebook, on our every-growing SLR Lounge Photography Community page.
If you're looking for some detailed instruction on wedding day timelines (and planning in general), SLR Lounge has got you covered! You can start out here, with instruction on how to manage time constraints and wedding day timelines. And remember, Premium Members get access to the SLR Lounge's entire Wedding Workshop Series, along with hundreds of tutorials and hours upon hours of educational content; check out "6 Reasons to Join SLR Lounge Premium" and sign up today, friends. You won't regret it!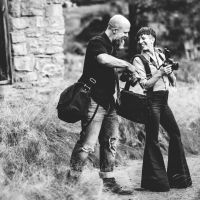 Amii & Andy Kauth
Amii & Andy are a wife and husband team of rad portrait and wedding photographers (Sunshine & Reign Photography) who absolutely love life and are generally just stoked! Yeah! When they aren't photographing or writing and teaching about photography, you'll find them off on a seriously legit adventure with their little ones, lifting weights in their garage, training jiu-jitsu, refining their archery skills, or surfing every chance they get. And on the rare chance they escape off on a "date night"? Yep! They'll find a wedding to crash (true fact). Website:
Sunshine & Reign Photography
Instagram:
@sunshineandreign