Unless you were living in a cave the last few weeks, you've likely seen the work of Russian photographer Katerina Plotnikova all over the Internet. Katerina created a surreal photo shoot featuring models and REAL animals. These amazing photos is not the work of Photoshop magic. Katerina used well trained animals with their professional animal trainers and lots of  patience and caution. These photos became a huge hit on the Internet, she got 1.4M views just on Bored Panda alone.
Dangerous. Mystic. Surprising. Plotnikova's photographs make you feel anything but calm. We were so excited about her art and was very excited that she agreed to answer a few of our questions about this photo shoot, animals, photography gig and so on. (Thank you to our Russian translator, by the way!)
Your photo shoot with animals created quite a stir on the Internet. It was spontaneous? Or you've planned it from the beginning? Tell us about this photo shoot.
Everything I do is spontaneous, most of my work is fair improvisation, a result of interaction between sentiments: me, models, the natural environments. It is the only way to achieve maximum sincerity of the shot and its message. And the series with animals… To be honest, it wasn't planned as a series in the first place.
These are just shots taken over last years that seem like a series. At some point, I just realised that I have many photos with animals in my portfolio. As for the noise on the Internet… See, I have a degree in advertising and it appears to me that such results aren't programmable and can't be predicted or planned in any way. Just, maybe, with a hell of the ad budget, I think.
What kind of animals was surprisingly easier to work with? Can you tell us about some of the secrets of shooting animals?
The bear was very calm. But he is a real star, he has a great experience (he's from a circus). He really knows how to work. In general, it is hard to work with any animal. They will never sit on the ground. It is virtually impossible to catch the very moment. Every time it's just luck. Deer, for example, have to be eating all the time. It was almost a disaster. And when deers stopped eating, they went in search of a new food :)
[REWIND: "AFFINITY" ~ INCREDIBLE CLOSE-UP STUDIO PORTRAITS OF WILD ANIMALS]
There are no secrets except patience. It's the most important. One should not expect that animals will keep calm and do what you want it to do. Usually it does not. Force should not be used (no one offends people models for disobedience, right?). Plus, you won't get your perfect shot if animal is frightened. Be kind, a kind word works even with cats.
Where do you find inspiration? Can you name a couple of photographers, which are worth paying attention to? Anyone we should read?
Everywhere in the world: nature, travels, emotions. I often seek inspiration in DIY stores. That is a great exercise for one's imagination. Interesting props can be found in the trash sometimes.
My short-list is very trivial: Leibovitz, Tim Walker, Smith.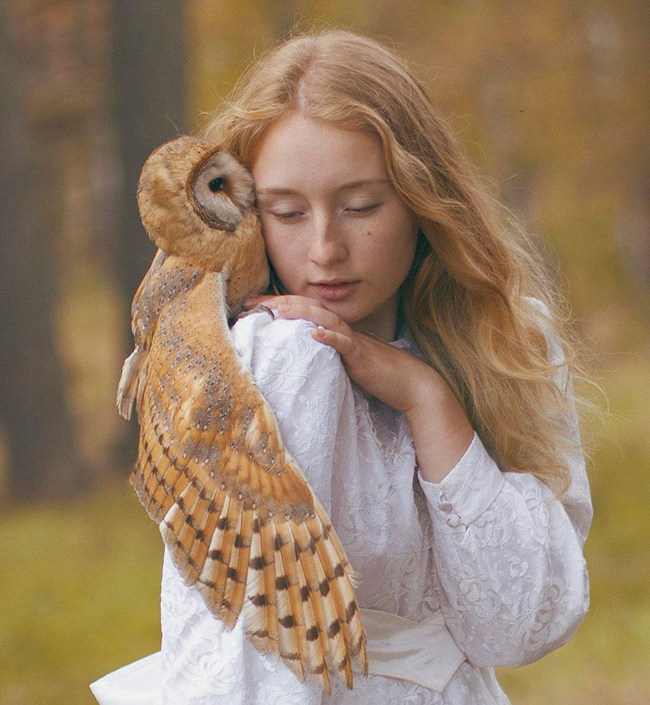 You have a lot of red-haired girls on your photos. Why is that?
Always had some special thing to red hair. Also, when I was in sixth grade, I painted my hair (which was a big surprise for my parents). And now, perhaps, it is really a fetish.
What would you advise people who want to switch from photography as a hobby to photography as a profession?
Change their thought. Guys, it will eat up all your time, money and effort. If you really love the creative process, don't even try to make money on it. Most likely you will spend your entire income either on a new lens, or some interesting prop. You'll become a little crazy (as all creative people). Do photography only if it does come from the soul and the heart.
True. I feel very similar. And the last question – it's my favorite – what genre of photography are you interested in getting your hands dirty with?
Fashion photography. It's like you knew when asked. Want to try it for a long time now.
Everybody has something. It's hard to switch from shooting something you've get used to shoot. Fashion… Hm, I think a bear in a studio could make another million on BoredPanda. Can't wait to see it. Thank you, Katerina. And many good shoots ahead!
To see more of Katerina Plotnikova's work check out her 500px, Facebook and Flickr.
[Images via Katerina Plotnikova/Bored Panda]
CREDITS: All photographs shared by Katerina Plotnikova are copyrighted and have been used with permission for SLR Lounge. Do not copy, modify or re-post this article or images without express permission from SLR Lounge and the artist.
Konstantin Shtondenko
Konstantin Shtondenko is an amateur photographer and chief marketer of TopTechPhoto which is responsible for the bravest developments for photographers on the web. Visit
Edit Pics.io
– online photo editor built with photographers in mind (Curves, support of large image files). They also build RAW capable editor at
Pics.io.