"By failing to prepare, you are preparing to fail." — Benjamin Franklin
As a wedding photographer in Arizona, I have photographed close to 200 weddings. I learned early on that one of the best tools I can use on the wedding day to make sure everything goes smoothly is a wedding day timeline. For this reason, it only makes sense that I do this for every one of my clients — even if they have a coordinator helping them for the day. When I send the proposed timeline to them (or their coordinator) to look over, I typically say, "Here's a timeline I put together for the day for my assistant and me to follow. Of course, feel free to tweak it however you feel fits best for you, as I want you to design your day as you see it. Just let me know if you have any changes in mind, and I'll update it. Thanks!"
If you are new to weddings or still struggle with putting together a timeline that helps the day flow flawlessly, I wanted to offer up some suggestions.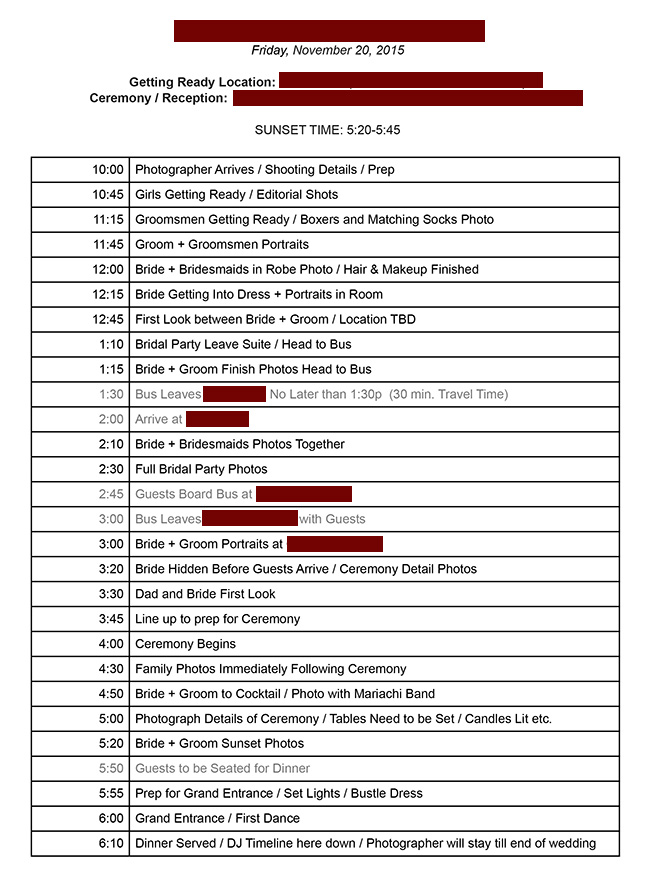 Full Day Coverage Timeline
This first suggestion might not work best for everyone, but it is the one thing that helped me produce a better flow to the weddings I shoot. I include full-day coverage in all my packages. Ultimately, it's the bride and groom's choice as to when I arrive to start shooting, but usually it's 4 hours before the ceremony after the bride has started hair and makeup. I then stick around till the very end of the night and photograph their exit which couples appreciate. Full-Day Coverage means the couples don't have to worry about trying to squeeze all the important events into 8 hours, or stressing if things are running a little behind. On average, each wedding I shoot lasts about 11–12 hours.
Before Starting, Go Over the Timeline with the Bride, Parents, Hair and Makeup Artists
As soon I arrive on the wedding day and get all the congratulatory hugs done, I love to pull out the timeline and go over it with the bride and others in the room. Usually, I'll say, "Is it okay if we go over the timeline real quick just to make sure we are on the same page?" This only takes a minute, but it reinforces the importance of following the timeline and gets the hair and makeup artists on board as well so they know when they should be done. Without being overbearing, I will also just every so often check in to see how things are going and make sure we are still on track to finish on time.
First 30–60 Minutes: Bridal Details
The first thing I tackle shooting are the bridal details. The bride knows this ahead of time and I always suggest that as they gather things up the week prior to the wedding that they put all the small details they would like photographed (rings, shoes, jewelry, garter, invitation, 'borrowed + blue') in a box or all on the same table. That way I can go about photographing those details without having to constantly ask where things are located. If you want to frustrate a hair or make-up artist, just keep bothering the bride where you can find the details to photograph. I often give myself 30–60 minutes to photograph all the details as I love to try and do creative shots with them whenever possible.
Suggest the Bride and Groom Get Ready in the Same Hotel
I always recommend couples get ready in the same hotel, that way it makes it easy for me to jump between rooms and photograph both the bride and groom as they prepare for the wedding. While I always have a 2nd shooter with me on the wedding day, I love capturing both sides of the stories. But even more than that, by shooting each of the bridal parties, it allows me to meet each person involved in the wedding, try to remember their names that will come in handy during the bridal party photos, and build friendships with them. Occasionally, I will have a wedding in which the couple is getting ready on opposite sides of town, and I need to send my second shooter to spend the time with one bridal party as I cover the other. When it finally comes time for everyone to be together, it is always much easier for me to work with those who already know and trust me.
Portraits of Groom/Groomsmen Prior to Bride Getting on Dress
Often the groom and his groomsmen don't need more than 30-minutes to get suited up, hair done, tie knotted and shoes tied. I often suggest the guys do all this and get their portraits done before the bride has even stepped into her dress. This means they will be ready a few hours before the ceremony, but I let them know that after the pictures are done they can remove their jackets, loosen their ties and get a drink at the bar if they would like. By doing these portraits beforehand, my assistant and I can then concentrate our efforts on the bride getting into her dress (shooting from different angles) and then right into portraits of the bride with her parents and bridesmaids.
Use this time with each of the bridal parties to not only photograph the whole group together but also the individuals of each person, after all these are the VIP's of the couple. I like to plan for portraits of the groom and groomsmen to take about 30 minutes. If things are running a bit behind, this is one area that can be sped up and done faster than normal if needed.
Give the Bride Plenty of Time to Get Dressed
Some wedding dresses need to be laced up and can take 20–30 minutes just to tackle that job alone. If I know about this ahead of time, I will plan for it. Either way, I always plan for the bride to have 30 minutes to get into her dress. Here's why. It's not just the dress. After getting into the dress, they now have to do the garter, and then the shoes, then the earrings, necklace and finally touch up on makeup. Oh wait, they just remembered the veil! Who knows how to do the veil? They struggle with that for 5 minutes before the hair stylist comes over to help them out. Before long, you realize just zipping up the dress turned into a 30-minute job. Every so often, I have a bride that gets ready in 10-minutes flat (dress, shoes, jewelry), and I'll use the extra time I had planned to do portraits with her.
First Look for the Couple
One thing I always recommend couples do is a first look. A first look is an opportunity for the couple to see one another before their ceremony starts. We also take advantage of the time to do photos of them as a couple while they are fresh, just after getting ready. Usually, I will do 30–60 minutes with them as a couple, and then have the full bridal party join us as well for some group photos. The advantages of first look are numerous; my favorite though is that the couple can relax during the session time rather than have to hurry through photos after the ceremony, family and bridal party photos. I haven't been keeping statistics, but I would estimate about 85% of my couples now choose to do this on their wedding day. I like to have 45–60 minutes of time with the couple to do their first look and photos afterward.
Photograph Bride + Bridesmaids After the First Look
While the couple is out doing their first look, the bridesmaids are often finishing up getting ready, organizing the room and collecting all their belongings, etc. We pick a time and place for the full bridal party to join us during the first look and make sure we put someone responsible in making sure everyone gets there. The reason I like to shoot the bridesmaids after the first look is because sometimes they need just a little extra time to finish up hair and makeup. This gives the artists doing those things for them a little extra time (about an hour) while not getting in the way of letting the bride do her first look. Once I finish up photographing the bridesmaids, I will bring the whole bridal party in for photos. If we are running out of time, then I will make sure everyone knows we will instead do the group photos after the ceremony, "so don't run off to cocktail hour till after we shoot those photos," I explain. On average, I plan 30 minutes for photos with the bride and bridesmaids.
Bride Hidden 30-Minutes Prior to Ceremony
I like to make sure the bride is always hidden at least 30-minutes prior to the ceremony. This gives her an opportunity to freshen up, rest her feet, do any last minute preparations. This is also a great time for me to go and photograph details of the ceremony and if it's ready (which I hope) photograph details of the reception tables as well.
Plan Plenty of Extra Time for Travel
One of the biggest mistakes I see often in timelines is planning for travel in between locations. If the drive says it will take 20 minutes, plan for at minimum 30, and throw in some buffer time (5-minutes) on each side for loading and getting in and out of the cars or transport. One other important tip, don't ever try to take a different route than the bridal party. I will often ask the driver which way they are going if I want to get a headstart and take that same path, or just follow right behind them the whole way. If there is an accident blocking traffic or some other kind of delay, at least you both will be stuck in it together, so they don't arrive and stand around waiting for you wondering what happened.
Take Family and Bridal Party Photos Right After Ceremony
Make sure the couple informs their family that you will be doing photos directly after the ceremony. If the family members head to cocktail hour, it's like herding cats trying to get everyone together again and lots of precious time is lost. Something like this will happen at about one wedding every season, so don't get too distraught if it does. But do all you can to make sure people are spreading the word to immediate family members to stick around after exiting from the ceremony for photos.
I would also encourage you to do family photos at the ceremony location versus trying to herd everyone to a different spot. Yes there might be an epic location 100 yards away, but getting everyone there, especially the grandparents (and drunk brother that just turned 21, figuring out that his body can't handle that many shots in one afternoon) is nearly impossible without wasting valuable time. If the location is that "epic," consider instead taking the bridal party or just the couple after group photos are done. I usually plan for 20 minutes to shoot family photos and an additional 5–10 minutes for marriage certificate signing. If the family is larger than usual, I will add on additional time.
When to Plan for the Best Sunset Photos
The biggest misunderstanding about shooting at sunset is that the best time to shoot is right at sunset (particularly on rainy days). While occasionally that might be the case, most of the time, the best time to shoot is 10 minutes or so after sunset. That is typically when the sky becomes vibrant with color. If there is no amazing sunset to capture, you can still create some beautiful colors in the sky about 15 minutes after when the blues, purples and oranges all collide during civil twilight. To capture this best you'll need to underexpose the sky by one or two stops and either toss some light on your clients or shoot them as a silhouette. I usually plan for 20 minutes to shoot sunset photos.
Let the DJ Plan the Timeline for Evening Activities
If you are not offering full day coverage, this might not be the best plan. Since I will be there the whole evening, I let the DJ design the timeline after the grand entrance of the couple. Each DJ is different and have different things they like to do during the party. I tell the couples I would love for them to work that out with their DJ and let them know I will be there throughout the evening so they can spread things out however they wish. DJ's love this and sincerely appreciate it. Occasionally, I will have a couple that needs help designing the rest of the evening's timeline, and I am always happy to help them do that as well when requested.
Putting the Plan Together
If there is one thing that will help the wedding day flow smoother, it will be helping the couple put the plan together. They are counting on your expertise and suggestions. Every once in awhile I will have a couple that is interested in making their own plans, which is fine. I will still offer them up some suggestions though and like magic those suggestions are almost always adopted into their plan. Also, if couples are against doing a first look, but their wedding is still a year or so out, I will make two timelines (one with first look and one without) just to show them how things would run on each as a favor. After seeing the different timelines and realizing how cramped everything will be after the ceremony, about half these couples decide a first look wouldn't be a bad idea after all.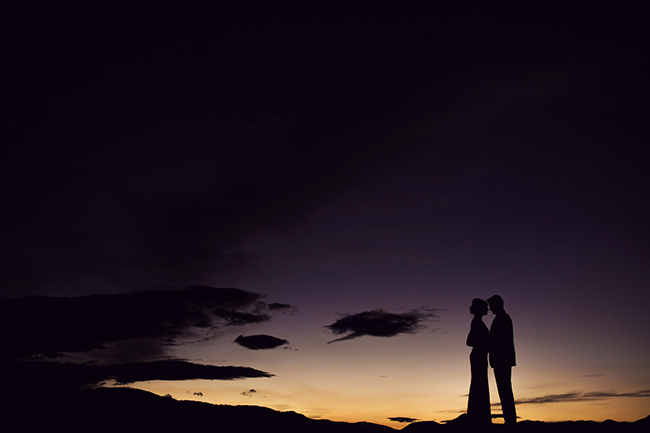 Keep Things Organized and Print Copies
Usually when I arrive at the wedding, the bride has already printed my timeline to give to everyone. I like to bring a few copies as well and make it the wallpaper of the lock screen on my phone, so it's easy to access. Every once in awhile I will be shooting a wedding with a hired wedding coordinator in charge of the whole day that will send me an incredibly detailed timeline showing when different vendors will be arriving, setting up, etc. Rather than just use their timeline, I will still pull out the important parts relevant to me and create my own "photo timeline," and share it with them just to make sure I got everything correct. The key is to be organized and show this to your bride and coordinator, so they feel confident in working with you knowing you are planning for a successful day.
Planning Ahead Opens Up Doors for Inspiration
I have found that a well-organized wedding day means my mind doesn't have to stress about how we are going to get everything done in time. Instead, I can free up my mind's creative side and be inspired by the things I see around me that could be used in the next photo. As Samuel Taylor Coleridge once said,
"He who is best prepared can best serve his moments of inspiration."
What could I be doing better? While I have done a lot of weddings, I know I have plenty of opportunities for improvement as well. What have you guys seen that works well at your weddings?
If you enjoyed this article, please be sure to share it with others so we can help make the wedding photo industry better for one another and the experience better for brides and coordinators. Thank you!
Trevor Dayley
Trevor Dayley is a full-time wedding photographer based out of Arizona. He has six kids and has been married for 15 years. When he is not shooting weddings, he loves helping the photo industry. He has written hundreds of articles and shared countless tutorials. In 2014, he was named one of the Top 30 Most Influential Photographers in the Industry and one of the Top 100 Wedding Photographers by BrandSmash.