Photoshop textures. Most people either love them or hate them. In a world where "everyone's a photographer," adding textures to your photographs via Photoshop can help elevate your images, giving them a fine-art feel or specific tone that cannot be achieved in-camera. Over the years, we've released many Photoshop Texture Tutorials. Here are a few of our favorites:
In this comprehensive written tutorial, Pye will walk you through all the steps you need to know to texture your images using Adobe Photoshop, including how to effectively remove the texture from certain areas of your photograph. He also gives you the tools and knowledge for creating your own unique style of texturing.
Texture doesn't have to equal grunge or antique. You can use Photoshop Textures to add a subtle tone to your images that can't be achieved any other way. In this article and video, Pye shows you how to use a texture to soften the look of a newborn portrait.
Using examples from our Newborn Photography Workshop and Preset Collection, he goes into detail about how to process your RAW file before you even go into Adobe Photoshop and add the texture.
Saving time and frustration is a big deal (especially when it comes to Photoshop!) Learn how to open and combine multiple images into one layered file from Lightroom, Photoshop or Bridge in this quick tutorial. This will save you so much time when adding texture to your image, especially if you're working with more than one texture. This trick also comes in handy when compositing multiple images in Photoshop.
I studied Graphic Design in college, which included multiple Photoshop courses. Blend modes were never explained to me in any college course as well as Pye explains them in this article. Blend modes have always been one of my favorite things to play around with in Photoshop. Having a basic idea of what each blend mode does will help you choose the right texture to achieve the look you're going for.

Keep this handy little chart in mind when using blend modes. This will save you from having to scroll through each one to see what it will do. Now you know, if you want to darken, lighten, etc. you can just go to the section that creates that blending effect.
Adding texture to still life images to give them a painterly feel is a lot of fun! This was one of the first tutorials I wrote for SLR Lounge, which I created while testing out the Photoshop Paper Textures. In this tutorial, I walk you through how to shoot a simple still life scene using natural light and then add depth, warmth and interest with a texture overlay.
In hindsight, I would go back and use the averaging technique explained in the first article on this page, How to Apply Textures to Images in Photoshop, to take some of the texture away from the pear, but I still like it as-is. It has a weathered, leathery look that I love.
More Info
One of my favorite aspects of photography is that there's always something new to learn and explore. If you're ready to start adding Photoshop Textures to your photographs, or if you're looking for more textures to add to your collection, be sure to check out the Photoshop Paper Textures in our Store! See what they're all about in the video below.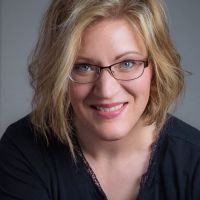 Tanya Goodall Smith
Tanya is the owner of WorkStory Branding Photography in Spokane, WA. Businesses hire her to create story-telling content that sells their high end products and services. She also teachings photographers her unique business model for making serious money as a corporate and personal branding photographer. Find her at
workstoryphotography.com
and
workstoryeducation.com