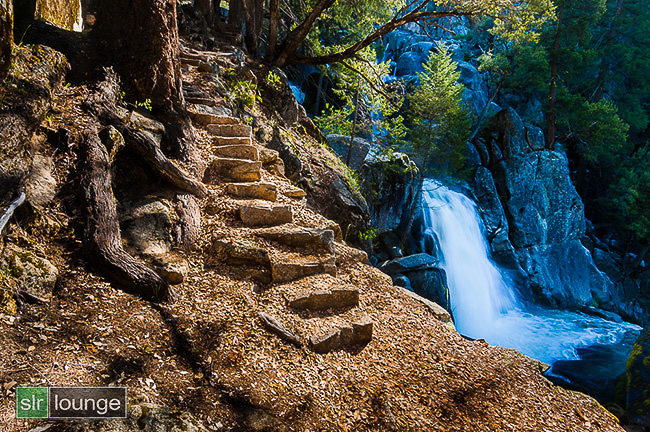 Having been a digital photographer for a decade now, one of my favorite things to do is to re-open old images with the latest and greatest post-processing tools available today.  Here is an example of an image from 2007, which means I first processed it in Adobe Bridge CS, or CS2, using the original 2003 "Process Version".  This version has been re-processed in Bridge CS6, using the 2012 Process Version and the SLR Lounge Preset System for Adobe Camera Raw.  Enjoy!
The Photo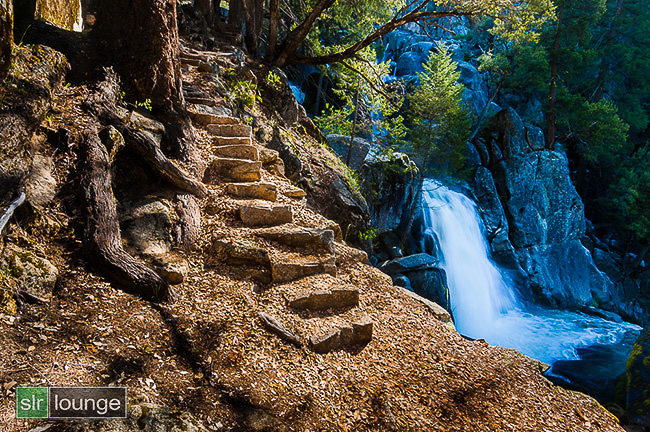 (Click here to view a larger version!)
The Equipment and Settings
Nikon D70
Nikon 12-24mm f/4 DX @ 12mm
Gitzo Tripod
1/10 sec @ f/11 & ISO 200
Sigma EX Circular Polarizer
Manual exposure, Daylight WB, RAW
The Shooting Conditions
This image was taken in the mid-morning on the trail to Chilnualna Falls in Yosemite National Park.  I was captivated by the scene because of the beautiful contrast of colors, the deep cool blue shade and the warm, bright sunlight which had just begun peeking though the trees only moments before.
Just moments earlier, I had spent 20-30 minutes photographing the waterfall in 100% shade, which was a far less exciting image.  So as always seems to be the case, the best image turned out to be an afterthought that I quickly snapped on my way further up the trail.  The lesson learned? Sometimes waiting for the sun to come out can have it's rewards!
I used a Circular Polarizer to help cut my shutter speed down and therefore blur the water.
The Post-Processing
When I first captured this image in 2007, it was not uncommon to spend 30-60+ minutes processing a single image in Bridge and Photoshop.  Camera Raw was quite powerful back then, but still not nearly as powerful as today's 2012 process version.
Here is the image as it was first edited in 2007, and then again in 2012: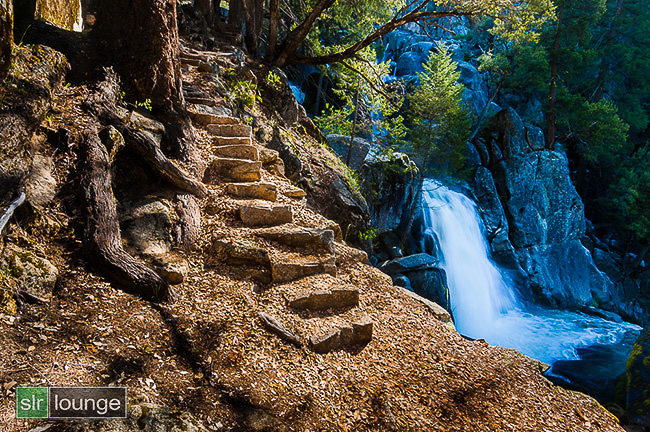 The difference is minimal, aside from a slight hue that might have been due to monitor calibration.  The difference is a lot more noticeable at 100% in the shadows; many people talk about just how incredible DSLRs are getting these days with respect to dynamic range and they don't realize that post-production quality also plays a very large role!  That is part of why I enjoy re-processing old images… Actually, I had to hold back when using the 2012 process version on this image; there was so much dynamic range to be gained that it would have been easy to make the results look flat and boring.  ;-)
Personally, for me the biggest advantage comes in the processing time:  The current processing took no more than a single click from one of our SLR Lounge Presets for HDR images, plus no more than 30 seconds worth of burning & dodging around the edges of the image!
[FAQ: What is HDR Photography?]
The reason this process is so much faster is, simply put, Adobe has gotten worlds better at tonal management, and also at making tonal adjustments very straightforward and intuitive.  Back then it was much more difficult to do things such as recover deep shadows and highlights within a single image, so quite often even though there was enough dynamic range to handle a scene, we would end up double-processing an image and then layering it in Photoshop…..Oh-so time consuming!
I am especially excited about Lightroom 5 Beta, and we're looking forward to updating our SLR Lounge Preset System as soon as it becomes available for both Camera Raw processing engines!
Take care, and happy clicking,
=Matthew Saville=
 Learn HDR Photography
For more HDR education, be sure to check out HDR Tutorial by SLR Lounge. This comprehensive "gold standard" guide will give you a mastery of HDR photography, from the scene considerations to the actual shooting to the post production. Click here for more info.
The SLR Lounge Preset System
The SLR Lounge Preset System is designed to enable users to achieve virtually any look and effect within 3-5 simple clicks. From basic color correction, vintage fades, black & white effects, tilt-shift effects, faux HDR, retouching, detail enhancing, and so much more. The sky is the limit with what has been dubbed the most powerful and intuitive preset system available. Click the link above to learn more/purchase!  The SLR Lounge Preset System is now available for both Lightroom 4 and Adobe Camera Raw! (Bridge CS6)
You can also purchase the SLR Lounge Preset System as part of the Lightroom 4 Workshop Collection.